About Woodhouse Clothing
Woodhouse Clothing was created in 1975 from its iconic home of Oxford Street. With over 135 retail outlets and its online presence, Woodhouse Clothing continues to be one of the top selling men's wear specialists. Woodhouse Clothing strives to bring its customers the best key brand from across the globe. It's the go to place for the latest styles and sought after collections.

Celebrating their 40th Anniversary, Woodhouse Clothing launched its Dapper Stag collection. The dapper Stage collection is British born and bred as they used British designers and manufactures. They wanted to create a range of menswear essentials. The collection features garments made to suit everyone. Pure quality and lasting design. Think style and that's where you will find the Dapper Stag.
Mens Wear Clothing at its Best
Clothing
Jackets, jeans, caps, underwear and knitwear
Loungewear, polo shirts and shorts
Tracksuits, trousers and shirts
Footwear
Boots
Sandals
Shoes
Trainers
Slippers
Accessories and Gifts
Bags and belts
Books and magazines
Cases and sleeves
Grooming and fragrance
Scarves
Wallets
The Dapper Stag
To mark its 40th anniversary, the Woodhouse Clothing brand developed a menswear collection called the Dapper Stag. Using their years of experience, they created a range that are a set of wardrobe essentials that are timeless, beautifully crafted and stay to rue to the heritage of the Woodhouse brand. The range is a first class collection of menswear that's celebrates Great British traditional manufacturing. They used UK design and production so that the collection really is British born and bred.
Brands
The choice of brands at Woodhouse Clothing is big. To give a small example. Vivienne Westwood, Scotch and Soda, Realm and Empire, Paul Smith Shoes, Paul Smith Jeans, Paul and Shark, New Balance, Levis Made and Crafted, Fred Perry, Franklyn and Marshall, Emporio Armani, Cruyff Clothing, Carter and Bond, Blood Brother, Barbour Steve McQueen etc.
Shopping at Woodhouse Clothing
You can easily navigate around the Woodhouse Clothing website. Choose the main category you want and then the sub category. Within the sub category you can narrow the results by choosing price, size, brand, colour and style. Each product page has a good description with delivery and returns details for the product too.
Top Deals
Extra 20% Off Site wide
Up to 50% off sale Products
50% off Hackett Summer Velospeed jacket
Woodhouse Clothing also run a loyalty scheme. They will give you 10% on any full priced order back to spend on your next purchase. All you have to do is register for an account and start shopping. Each order that contains full price items will credit your Deer Sir account 10% (after 14 days) so if you spend £100, you would get £10 loyalty credit to spend on your next purchase.
Sale Section at Woodhouse Clothing
On the top navigation of their website is Woodhouse Clothing Sale section. Grab yourself a bargain by selecting a category from the drop down menu or by browsing all the sale items.
At Zavvi, you can find 'Discount Codes' section. Make sure you check back this section regularly to grab exclusive offers and discount codes. By using Zavvi promo codes order your favourite clothing and gaming collections.
Shop By Size
Woodhouse Clothing lets you avail the wonderful benefit of shopping by size. It is true that most fashion retailers enable you to pick the size that is suitable for you but Woodhouse Clothing brings to you a detailed sizing help through which you can make your online purchase easier. Most people are wary of buying clothes online because they are unsure of what size will fit them the best. But you don't have to worry about this when shopping at Woodhouse Clothing. This retailer offers you a personalized size edit which is given as follows:
On Top
There are a huge number of options available in terms of size when you go for shopping tees, polos, tops, shirts, jackets and other clothes for your top half. Woodhouse Clothing makes it easy for you to pick the size based on how you like to wear your top half. There is a size conversion chart provided on the website which you can check in the 'Shop by Size' section. Some sizes for tops available are XS, S, M, L, XL, XXL, XXXL and XXXXL.
On Lower Half
It can be really tricky to buy trousers, jeans and other bottoms online size each fits you differently. But the same cannot be said about shopping at Woodhouse Clothing. The retailer does every possible thing to bring to you the right fit and size for your lower half by letting you choose the size and fit you usually prefer. Some waist sizes available fall between 24 inches to 42 inches. The length sizes available fall between 30 inches and 34 inches.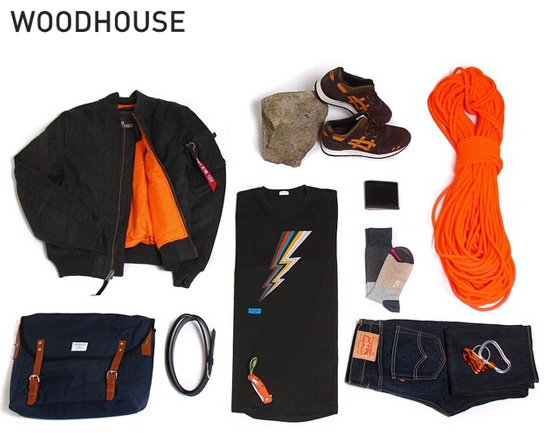 Footwear
Woodhouse Clothing brings to you an amazing collection of footwear as well. An ill fitting shoe can totally prove to be a bad buy. Some shoe sizes that we offer fall between 3.5 and 14! Woodhouse Clothing understands that shoes can be difficult to buy, especially when you shop online.
Caps and Hats
It can be very difficult to pick the size of a cap or hot since the fit depends on many factors including shape of your head, size of your head etc. Some sizes of hats and caps that we sell are S, M, L and XL.
Belts
If you are interested in buying a Belt from Woodhouse Clothing then some of the sizes that you can buy from us are between 30 inches and 42 inches.
Save Using Money Off Vouchers
You can save more money by using money off vouchers and deals.
Find the money off voucher or deal you want to use.
Click the Show Voucher and Visit Site Button.
You are taken to the Woodhouse Clothing website and the voucher is activated.
You can continue shopping for more fashion product or else checkout.
Find the items you would like and add to your shopping cart.
When you have chosen all the items you want you can then add your voucher in the voucher code box and apply the code.
Continue to the checkout to finish off your purchase.
Woodhouse Clothing has their own YouTube channel to show case their designs and stock. Their latest video introduces you to Dapper Stag, an essential menswear range to mark their 40th anniversary.
Delivery and Returns
Woodhouse Clothing delivers to Europe, USA & Canada, Japan, Australia and New Zealand. You can choose between Supersaver which takes 3 -5 days, Weekend and Standard. You can easily see how much an order will cost by using their delivery calculator. For similar money saving deals, browse TM Lewin and Moss Bros.
If you want to return an item you can return or exchange any goods bought from the Woodhouse Clothing website within 14 days from when you receive them.
Social Media
Contact Information
Woodhouse
PO Box 616
Macclesfield
SK10 9JG

Customer Service: 01625 421 100
Contact form available on website.