Virgin Media Discount Codes November 2021
Use our Virgin Media vouchers for a wide range of products and purchase them at incredibly low prices. These Virgin Media discount codes expire soon, so act today and save big.



---
Get free Telly tablet worth £249 with Full house and VIP bundles. Hurry up! Offer valid for limited time!



---
Invite a friend to subscribe to Virgin Media and get a chance to save £50.



---
Take advantage of this great offer from Virgin Media and get up to £300 cashback with Samsung Galacy S7.



---
Get player bundle that includes 70+ channels, unlimited downloads and much more from Virgin Media for just £12 a month.



---
Grab Samsung Galaxy A3 with impressive style and features for £15 a month. Hurry up, limited time offer!



---
Get 150+ channels, subscription of Netflix and unlimited calls to UK landline when you buy mix bundle from Virgin Media for £18 a month.



---
Buy fun bundle from Virgin Media for as low as £26 a month.



---
Get 245+ channels along with 500GB TiVo box to record live TV when you buy full house bundle for just £35 a month.



---
Virgin Media is delighted to offer VIP bundle for just £68.50 per month. Check out now!
About Virgin Media
Virgin Media is one of the best known providers of broadband, mobile and home telephone in the UK. The aim of the company is to create a digital world in which it is simple for people to communicate with each other. As time progresses so the Virgin Media network continues to expand. This means that it now links more people together than ever.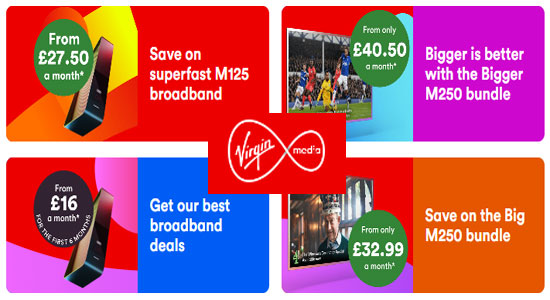 Virgin Media is recognised for providing some of the fastest broadband speeds in the UK. It has an ongoing project in place to provide access to superfast broadband to more than 17 million homes and businesses across the UK by 2019.
Shop For Communication
If you want access to the best in communication and entertainment then Virgin Media aims to provide both to its customers. If you check out the Virgin Media website you can find great prices available for:
Broadband- Ultrafast broadband, Wi-Fi
TV- Ways to watch, TV on the go
Mobile– Choose your tariff, mobiles
Home Phone- Talk plans, calling features
You can secure all of your telephone and entertainment package needs in one place. By visiting the above mentioned categories you can find the latest offers and exclusive collection of the products.
Connecting the UK
Virgin Media has a broadband and telephone network that covers the entire UK. If you sign up with Virgin Media then you can access to that network, including fast broadband access.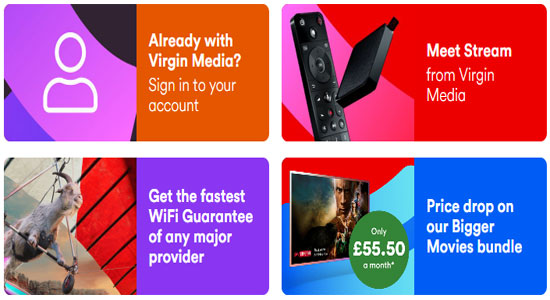 Stay Connected
If you enjoy watching TV then you want a great cable package to keep you entertained. Virgin Media offers various different packages to suit all tastes and budgets. You can choose a package that meets your viewing requirements and that you can afford.
Cable TV To Keep You Entertained
Cable TV is a must if you want to get the most from your viewing experience. Virgin Media has years of expertise in providing cable TV to a wide customer base throughout the UK.
Get the Package You Want
There are many different packages available when you sign up for cable TV. You can choose a package to suit your needs. Of course, the cost of cable TV packages is very varied so you should visit the Virgin Media website to check out what is available within your budget. Experience the world of entertainment watching & enjoying the best shows, gripping dramas, blockbuster movies & more in HD. It is very important to get the best packages that suit your needs & budget too.
Latest Deals
If you want to see more about all of the latest innovations and product releases from Virgin Media you should take a look at the website homepage. You can see all of the latest news and check out the available deals and packages. You can discover the great offers mentioned at the each categories in the website. Some of the latest and limited time offers are:
Latest 9 month broadband deals for students
Get 12 month tastecard membership with new IMO S and tariff
Player bundle @ £12 a month
Join Virgin Media for Deals And Discounts
If you want to get the best deals and discounts at Virgin Media then you just need to join up. Once you have made a purchase all you need to do is keep in touch and you can get access to many great reductions. For example, if you have a cable TV package you may find that you can add to your package for free for a specific period of time. There are usually some great deals to be had once you are a customer.
Save Using Voucher Codes
If you have a discount code you can easily save money when you shop at Virgin Media. All you have to do is input the voucher code where indicated when you are going through the checkout process, It's that easy to save money when you make purchases from Virgin Media.
Don't forget to check out promotions & offers provided by Sky, leading broadband provider.
If you want to know more about the Virgin Media experience you should check out the company's content on their YouTube channel. This video shows how Virgin Media became the Masters of Entertainment.
Broadband At A Convenient Time
If you order broadband or a cable TV package from Virgin Media you can make arrangements for it to be set up at a time that is convenient for you. This makes it easier for you to arrange to be available when the person calls to complete the set up.
Get the Support You Need
If you have any questions you may be able to get the answer from the website. If this is not the case then you can easily make contact with the customer service team. All you have to do is visit the website and find the correct topic that you need help with.
Social Media Links
If you do not want to miss out on any of the latest deals or news from Virgin Media you should make sure that you follow the company on their social media accounts. Of course, you can also spread any of the news and information that you like across your social media networks.
Contact Virgin Media
Virgin Media
PO Box 333
Matrix Court
Swansea
SA7 9ZJ

Customer Care: 0800 064 3836
Contact form available on website.