About Venere
Venere is a convenient and easy to use hotel booking and trip advisor website. On Venere you can always find great deals on hotels, B & B's, apartments and resorts worldwide. It features more than 200,000 hotels, B & B's and vacation rentals in nearly 30,000 destinations all over the world including popular tourist cities and the quaint little towns.  So whether you are headed to Paris for a romantic getaway for two, taking a family vacation to Disney world Florida or headed on an exciting trip to somewhere exotic with your friends, you are sure to find the perfect and affordable accommodation for you and your family or friends.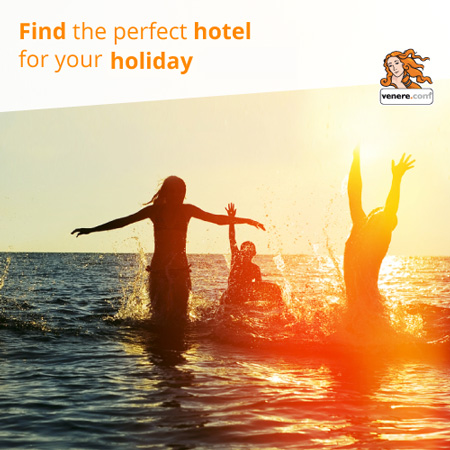 Book with Venere
Booking your hotel with Venere is so easy. Just follow these simple steps listed below and you will find yourself in a comfortable bed when you get to your destination.
Type in your destination in the search box.
Enter your check in and checkout day.
Enter the number of people that will be with you (adults and kids) and click the "Search" button.
And that's it, you are done! Once you click search you will be shown all the different cities where there are hotels, B & B's and resorts available. Choose the city of your destination and geta lot of different results for your search. You will be shown hotels or B & B's that are available at your destination for the duration of your stay. You will also be shown the price, the 1 to 5 star rating and also the number of rooms that are available at your selected hotel. This way you can choose the hotel that fits your needs and your budget. You can choose to sort hotels by:
Best selling
Star rating
Guest rating
Price

Easy Search
There is also a very convenient hotel search option on the main page for the most popular tourist destinations around the world such as Paris, Rome, Milan, Venice, Florence, Berlin, London and Amsterdam. So if you are planning a visit to any of these popular destinations, you are just one click away from finding your perfect hotel.
Partner Companies
Venere is also partnered with Expedia.com and Hotels.com which are also two of the most biggest booking and trip advisor websites, so when you use Venere, you can be absolutely sure that you are getting the best possible deal that you can get!
Special Offers
Up to 40% of winter hotel deals.
Special offers on select tourist destinations.
Up to 50% voucher codes.
Mobile App
Book your tickets in a simple and easy manner anytime and anywhere by downloading Venere mobile app for iOS and Android. Venere provides up to 50% discount on mobile specific deals.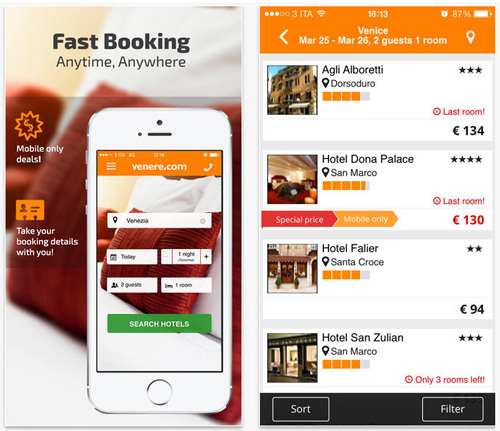 Special Summer Booking Offers
After visiting Venere's website, you'd be forgiven if you began to see the world-wide web in a whole new light. I dare you to discover a more interactive and user-friendly booking agency thatmakes it their business where you sleep tonight. Venere.com is the leader in online hotel reservations.
You have access to over 435,000 accommodation choices from around the world. You don't' have to wait until your next leave to take advantage of special offers and drop-down specials. Venere offer sweet packages all year round.
You need to make a choice where in the world you want to sleep tonight. But Venere never sleeps. Their business is 24/7. And summer nights are long; so they are rolling out 72-hour flash sales. Voucher coupon offers are abominable. You will save up to 50% on hotels from around the globe.
Facing so many choices is never easy. But Venere helps you make decisions on the spur of the moment and a quick click on the mouse button. Before you visit your dream city, visit their blog. You will have access to guides, tips and ideas about what to do, where to stay and what to see.
The world's most popular destinations are no longer just forthe rich and famous. Rub shoulders with them if you want. New York, Vegas, Los Angeles and Chicago in the USA. Old London, exotic Istanbul, historic Rome, beautiful Barcelona, and romantic Venice and Paris across Europe. Then there's also the Far East and Africa to explore.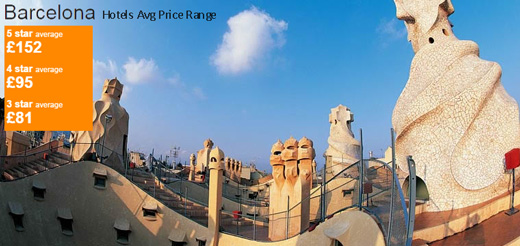 Summers are always great for most folks. Don't restrict yourself to seasonal hordes. Take in breathtaking views and historic encounters on more tranquil occasions. Venere's packages are offered all year round.
While the packages are quite reasonable when you think about it, not everyone will be staying in one of the world's luxury hotels tonight. Bed and Breakfast accommodation and even accessible apartments are on offer for the more cost-conscious traveller. Tailor made deals, regular online sales promotions and ever ready discounts are here to stay.
How To Redeem Your Voucher Code
To get savings on your holiday, follow these simple steps below.
Choose your hotel and click the "Book" button.
Choose the type of room you want such as a room with two beds or one bed and click "Book" once more.
Enter your personal details and your guests' details as well.
Enter your payment and billing information.
If you have any special requests for your room, you can enter those as well.
Towards the right side you will see a little box where you can enter your voucher code. Enter your voucher (coupon) code and save money on your holiday!
Click "Book it" and you are done!
Following these simple steps you can book your dream hotel and save tons of money on your next vacation.
If for some reason you cannot book online or you prefer not to book online and would rather talk with a travel agent to book your hotel you can do that too, just call 0044 203 027 7155 to book your hotel over the telephone. There are travel agents available around the clock for your convenience so you can call at any time to book your hotel. The telephone booking service is also available in 11 different languages.
For knowing more about your favourite retailers, social media is always the more preferred option. Check what Venere has to offer. Subscribe now and stay up to date with the upcoming travel packages and enjoy savings.
Be the First to Know
Want to know all about special offers and deals on your favourite destinations, sign up to get the Venere newsletter and be the first to know about any special offersor discounts on your favourite holiday destinations.
You can also follow Venere on Facebook, Google+, Twitter, LinkedIn and Pinterest to get updates on special offers/deals or to get inspired to go somewhere new for your next holiday because they also post pictures of beautiful and exotic places which you may have never thought to go before.
Contact Information
Via dellaCamilluccia, 693
00135 Roma
If you have any questions or concerns in general you can email: customer.service@Venere
Fax: 0636192555