Thistle Hotels Discount Codes January 2020
Use our Thistle Hotels vouchers for a wide range of products and purchase them at incredibly low prices. These Thistle Hotels discount codes expire soon, so act today and save big.



---
A perfect accomplishment for special occasion and romantic getaways, is to book your stay at Thistle Kensington Gardens. This package includes discount of 20% on food and drinks served in restaurant.



---
Get fueled up with some good food by having 3 courses of Prix Fixe food package at Thistle Hotels for just £19.50.



---
Check out the summer sale by Thistle Hotels and experience the best of the city right on your doorstep starting from £99 only!



---
At Thistle Eustin hotel book for fantastic family fun package starting from £159. Reserve now and kids can eat for free at Brasserie 43 restaurant.



---
Thistle Hotels offers fast free upgraded BT Wi-Fi for an easy and seamless experience that keeps you connected for a longer time. Check out now!



---
Become a member of Thistle Hotels and get free breakfast with guaranteed best rate. Subscribe now and be the first person to know about the latest offers.



---
Go for Park & Fly package by Thistle Hotels valid up to 21 days. Choose your accommodation date and have a smooth journey.



---
Just fix that special day date you want to remember in your life and Thistle Hotels provide complete bespoke service for your wedding.
About Thistle Hotels
Thistle Hotels is one of the most notable names in hotels across the UK. It has a network of 31 hotels nationwide, with most of them in incredible city centre locations. In fact, it has ten hotels in central London alone! So if you are looking for easy, reasonably-priced and comfortable living quarters for your next vacation or trip around the UK, you know where to head to!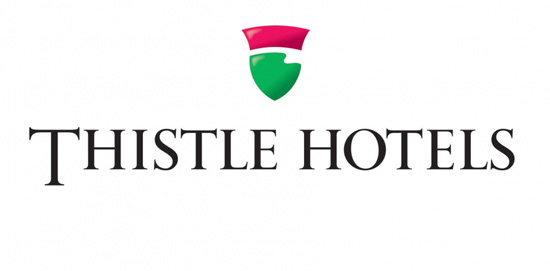 Thistle Hotels's hotels also has a wide selection of restaurants to dine from, along with a number of amazing leisure and health facilities. In other words, there is something for every guest at Thistle Hotels. In fact, guest experience is a major focus at this hotel chain. Each hotel aims to provide a relaxing and comfortable ambience so that you can work and rest in your own pace.
While the amenities available at each Thistle Hotels hotel may vary specifically, you can find some common features in all of them, such as fast, unlimited and free BT Wi-Fi in all areas of the hotel, perfect hotel locations for leisure as well as business, and straightforward, efficient and warm personal assistance.
Thistle Hotels constantly reviews its standards and makes improvements so that it offers its guests just what they need at a reasonable price point and with peace of mind. In other words, you get the perfect balance between quality of service and affordability with Thistle Hotels.
The hotel chain is, in fact, set to grow even faster over the coming years. Its hotel chain is not only spread across the UK, but also extends beyond, with two hotels in Malaysia, and it will be growing further from there.
The Thistle Hotels hotel chain is part of GLH Hotels Management UK, which in itself is a part of the investment holding company, Guocoleisure, with the Guoco Group being its majority owner. The GLH Hotels Management company owns, manages and leases 36 hotels in the UK, all of which are full-service hotels for leisure and business travel lovers.
Services Offered
Thistle Hotels' hotel chain offers a complete range of associated services, including:
Room and board
Food and beverage
Meeting and events
Weddings and engagements
Leisure club activities
Top Categories at Thistle Hotels
Here is a look at the top categories at Thistle Hotels:
Find a hotel
Offers
Restaurants and bars
Meetings and events
Weddings
Leisure clubs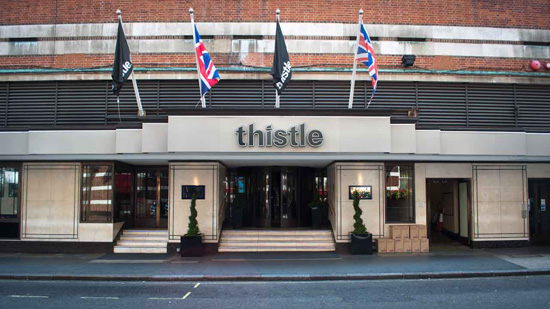 Top Deals at Thistle Hotels
You cannot miss out on these amazing deals at Thistle Hotels:
Find a hotel
Offers
Restaurants and bars
Meetings and events
Weddings
Leisure clubs
Find out some exciting deals at Thistle Hotels:
Enjoy bed and breakfast for two, with chilled bottle of champagne, share Belguim chocolates. Price starts at £99 per room.
20% off all your food and drink plus late check out on Sunday. Booking strating from just £59
Enjoy a relaxing afternoon tea this spring from £52 for two people
25% off drinks at the bar. Book now.
How to Get the Best Deals at Thistle Hotels
Thistle Hotels offers some of the most competitive rates on its services, but if you want to get even better deals, here is how you do it:
Select the kind of service you want to book, whether it is a room or an event or something else
Use the hotel search option on the right hand side to search for available hotels
Browse through the list of hotels available and select one
Click on 'Book Now' if you like a hotel and the service being offered
Proceed to checkout and enter the voucher code when the option comes up
Apply the code and verify if it has lowered the booking price for the service
Once verified and confirmed, proceed to make the payment and complete the booking
Booking and Cancellation Policies at Thistle Hotels
During the booking and check-in times, Thistle Hotels will collect your credit card details and other relevant details. Bookings are not confirmed unless the details of the payment or deposit is shared with you. During the check-in, you will be required to confirm your identity and provide your booking reference. If you are coming from outside Ireland or the UK, you may be asked to provide details such as your passport number and place of issue. Check-ins can be done at any time from 2pm on the day of scheduled arrival. If you have booked a room by credit or debit card or made a prepaid booking, the room will be secured and held until the end of that day, unless you have directly made an agreement with the hotel. Non-secured reservations, however, will only be held until 4pm of that day.
The cancellation policy at Thistle Hotels may vary as per the rate of the booking; you can find more details in the individual rate descriptions during the time of booking. For Flexible Rate bookings, you may cancel your booking without any charge up to 2pm of your day of arrival. After this time, cancellation and other relevant non-arrival charges will be applicable and charged to your provided credit/debit card. Up to one night's accommodation may be charged if the above requirements for cancellation are not met. For Advanced Saver rates, a full prepayment for the full stay will need to be paid at the time of booking. This sort of booking is non-changeable and non-refundable, and the payment is charged to the customer's card right at the time of the booking. For similar offeres check Hotels.com
Thistle Hotels Policies
Policies on viewing, amending and canceling bookings:
You can view, amend or cancel bookings on the Thistle Hotels website through the view, amend or cancel box right on the home page. There is no amendment fee incurred if you do change your booking, but there may be a difference in the booking charges. The price difference will be either refunded to or debited from your account, depending on the case.
Contact Thistle Hotels
Bath Road
Longford
Uxbridge
UB7 0EQ

Telephone : 1 866 763 4553
Contact form available on website