About The Protein Works
The Protein Works is a fantastic online retailer of sports nutrition. It is an original and innovative brand which carries a fantastic line of everything related to sports nutrition such as protein shakes, foods, powders and much more! So if you are someone who is looking to get in better shape or just want to maintain your current physique then visit The Protein Works and get everything you need in one convenient location.

What The Protein Works Sells?
The Protein Works has a huge selection of products related to sports nutrition. Furthermore, all their health products are developed with the three things on mind – pure, proven and personal. Some of the products they sell include:
Protein shakes – such as whey protein powder, protein smoothies, Paleo protein, non-dairy protein, diet whey protein, natural protein, milk protein and egg protein.
Protein formulas – such as whey and green, all in one protein, diet protein smoothies, recovery protein, diet protein, night protein, weight gainer, morning protein, diet meal replacement and all day protein.
Protein snacks – such protein popcorn, cookies and chips. Beef jerky, protein bars and nuts.
Protein food – such as zero syrups, protein pancakes, coconut oil, protein granola, porridge and desserts. Nut butters and hot chocolate!
Powders – such as pre workout, super food shakes, minerals and vitamins, hydration, fibres and fatty acids powders. Extracts, carbohydrates, creatine powders and amino acids.
Pills and liquids – for sports performance, pre work out, joint care, fish oils and fat burners.
Paleo products – such as paleo proteins, natural nuts, paleo foods, greens, fibre and fatty acids.
Product packs – for mass and power, lean muscle, fat loss and extreme packs.
Diet products – such as diet whey smoothies, protein shakes, food, powders, pills and samples.
Accessories – such as training aids, shakers and bottles, scoops, storage, gift vouchers, clothing and accessories pack.
Top 3 Deals
The Big Sale - Up to 75% off on almost everything!
20% off hot chocolate & grazers
Refer a friend and receive £10 off your next purchase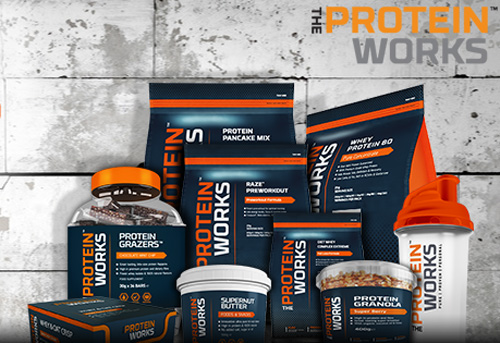 How to Save Using Vouchers
Savings are easy on The Protein Works if you have a voucher. Just follow these simple steps below.
Create an account on The Protein Works and log in.
Shop for your nutritious sports products and add them to your basket.
Once you have bought everything, click on the basket icon at the top right corner.
You will be led to a page with everything you have purchased.
Beneath your order and towards the right you will find a box where you can add your voucher code. You can also use your loyalty points to get discounts on your purchase.
Once you add the voucher code, your discount will be applied to your order.
Confirm your delivery address and billing details.
Confirm and finalize your order.
The great thing about The Protein Works is that you don't have to go looking for discount voucher codes online. You can find the latest voucher codes on their website! Select the vouchers that are available and active and use them to get great savings on many products! For related products as well as discounts, browse through Myprotein.
For knowing more about your favourite retailers, social media is always the more preferred option. Check what The Protein Works has to offer. Watch this exclusive video where you receive Free Protein and referral cards when orders placed above £10.
Price Promise
The Protein Works assures its customers of being provided with the finest quality sports nutrition products at the most reasonable price available. Bearing that in mind, The Protein Works website has produced a Price Promise program to allow its customers to enjoy the cream of sports nutrition at the lowest prices guaranteed. With the Price Promise guarantee, customers at The Protein Works can be confident that each sports nutrition product on the website will be offered at a price lower than what other stores have to offer.
The Protein Works takes great pride in its unique ability to innovate, formulate and manufacture in-house state of the art nutrition products that allows it to keep the prices of its products at a minimum and offer unparallel value to its customers. In the case that its customers come across the exact same product from a different manufacturer which is being sold at a lower price, then it promises to match the price. The Protein Works places utmost importance on client satisfaction and client retention. Thus, they have this price match option in place so that no customers are left disappointed with unfair and unjustified high prices.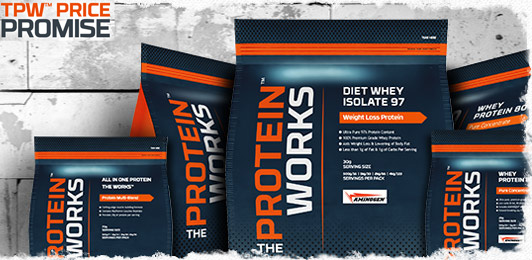 Terms and Conditions
There are certain terms and conditions which must be followed in order for customers to avail a price match.
The price match product must be of the same quality, must contain the same blend of ingredients and should have a homogenous overall product profile.
The price match product must use 100% natural ingredients and flavours similar to the products sold at The Protein Works.
The price match product must be in stock.
Price matches will not be made on products that are subject to promotional price changes.
Price Match Request Procedures
Log in to TPW account and sent The Protein Works a mail.
Select "Price Match" option from the dropdown menu and include the follow information
Product name that is to be matched along with site URL.
TPW product to be matched.
Specific size and flavour.
The price that needs to be matched.
Delivery Information
The Protein Works has free delivery all across mainland UK on all orders over £75! You can choose the delivery option you prefer because TheProteinWorks.com has several delivery options including:
UK Mail – Economy 3 to 5 day and express next day delivery (subject to fees).
DPD – premium next day delivery.
Royal Mail – 1st and 2nd Class!
They also have delivery available within Europe to the following countries: Austria, Belgium Denmark, Eire, France, Germany, Netherlands, Czech Republic, Italy, Luxembourg, Slovakia, Spain, Finland, Hungary, Poland, Portugal, Sweden, Slovenia, Bulgaria, Croatia, Lithuania, Romania, Greece and Switzerland.
If you live outside of Europe or your country is not listed, you can contact The Protein Works via phone on +44 845 467 2411 or email them and they will do their best to provide delivery to your country for the best pricing!
Social Media Links
You can now keep up to date with all the new products, deals and discounts that are happening at The Protein Works. Simply subscribe to their news letter and get exclusive discount codes and be the first to know about any sales or new products online!
Contact Information
The Protein Works
Unit 2
Aragon Court
Manor Park
Runcom
Cheshire
WA7 1SP

Customer Service: + 44 1928 571 677
E-Mail: help@theproteinworks.com