Teleflorist Discount Codes March 2020
Use our Teleflorist vouchers for a wide range of products and purchase them at incredibly low prices. These Teleflorist discount codes expire soon, so act today and save big.



---
Teleflorist offers 7 day freshness guarantee with their every flower you want to purchase.



---
Shop for attractive flower bouquets and enjoy same day delivery when you place your order before 3pm.



---
Send beautiful flowers as the perfect birthday gift, available from £11.99 at Teleflorist.



---
Pricing from just £11.99, purchase beautiful, fresh ad hand-prepared thank you flowers available at Teleflorist.



---
Now you can send beautiful sympathy flowers from just £12.99 using Teleflorist.



---
Purchase romantic flowers for your loved ones available at Teleflorist for as low as £12.99!



---
Purchase fresh cut new baby flowers from Teleflorist available starting at just £19.99!



---
Shop at Teleflorist for fresh and beautiful flowers available under just £30.



---
Brighten up someones day using summer flowers available at Teleflorist under just £64.95!
About Teleflorist
Teleflorist…we take flowers personally, is an online retailer of flowers. They have flowers for every occasion, from birthdays and weddings to all the major holidays. You can choose flowers by price, occasions, type or colours. Teleflorist has partnered with several amazing companies to provide you with the best service. They are partners with eFlorist which has been established since 1947 and is one of UK's leading florist networks with more than 1700 florists around UK.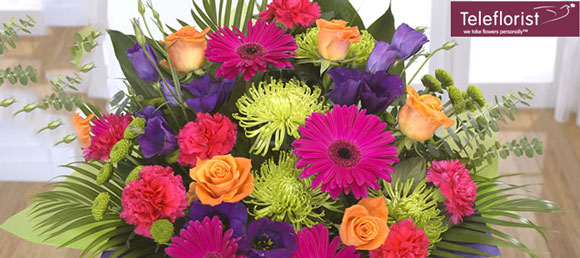 Teleflorist has also partnered with Danucci Chocolates which are the makers of the finest gourmet chocolates in Ireland. Lastly they have partnered with a telecommunication giant known around the world – Virgin Mobile. Specifically they have paired with Virgin Experience days, which are a great gift idea. With virgin experience days you can treat your loved ones to a one of a kind experience on their special day. So, if you want to give flowers to your loved ones, look no further than Teleflorist to get the best quality and experience.
What Teleflorist Sells!
Sending flowers is now made effortless with Teleflorist. Just choose the flowers you want to send to your loved ones along with any other accessories like chocolates, teddy bears or vases.
Teleflorist provides a range of categories to choose from, you can choose to send flowers by:
Price – flowers for under £30, between £30 - £40 and over £40.
Occasion – flowers for Valentine's Day, birthday, spring flowers, thank you flowers, get well flowers, congratulations flowers, sympathy flowers and more!
Colours – orange, pink, purple, red, white, yellow and colorful.
Type of Flowers – aquapacks, arrangements, baskets, bouquets, rose bouquets and fair-trade flowers.
Along with the flowers, you can also send chocolates, teddy bears, vases and cards to your loved ones.
Once you have chosen the general category of flowers you also have the option to view all the flowers based on the following:
Product name (ascending or descending)
Price (ascending or descending)
Top Irresistible Deals
Simply Tulips bouquet for £18.95
Parasol bouquet @ £26.50
Hearts and Flowers bouquet for as low as £29.95
Same day delivery on orders when booked before 3pm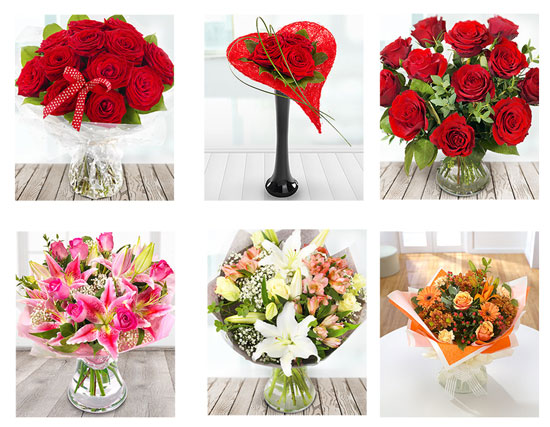 How to Redeem Voucher
Getting a discount on your order at Teleflorist is very easy. Once you have chosen the flowers you like, just follow these steps.
Register and log into your Teleflorist account and start shopping for beautiful flowers and bouquets for your loved ones.
Select a size – standard or luxury. Luxury size costs a bit extra.
Choose any optional extras you like such as chocolates, scented candles, teddy bears or vases. Choose your delivery date on this page as well. Teleflorist offers delivery Monday to Saturday.
Once you are done selecting the size, delivery date and the extras click the "Add to Basket" button.
Underneath your order summary you will find a little box for your voucher code. Simply type in your voucher code and click "Update my Basket" button. Your discount will be applied immediately to your order.
Next click "go to Checkout" and fill in the recipient's details. You can also include a message card at this point. Once you have filled out the required information and the message card click "Proceed to billing" button.
Enter your billing details and click "Proceed to payment" button. Choose your payment method and pay for your order.
Confirm and finalize your order.
That's all you have to do to make someone's day more special with flowers. You can give luxury food hampers or flower bouquets to your loved one using latest Appleyard Flowers voucher codes available same day delivery for London customers!
Delivery
Teleflorist delivers across the UK. The flowers are not delivered by mail, but are hand delivered to your loved ones by florists! You also have the option to choose the delivery date. If you place your order before 3 p.m. you will be qualified for same day delivery. Same day delivery costs anywhere between £1.95 - £7.95 depending on the size and price of the bouquet, but if you need your flowers delivered on another date then delivery costs anywhere from £1.95 - £5.95. Whatever the case maybe, you can be assured that your flowers will be hand delivered and with a smile to your loved ones! Check for Serenata Flowers for similar vouchers and money saving deals.
If your loved ones do not live in the UK, that no longer means you can't make them feel special because Teleflorist is able to deliver flowers to an international address. To place an order internationally simply call +44 1794 400164 and speak to one of their helpful and knowledgeable customer service representatives today to learn more about how you can place an international order.
Contact Teleflorist
EuroFlorist Europe B.V
1430 BC
Aalsmeer
E-Mail: customer.service@teleflorist.co.uk