Tassimo Discount Codes September 2019
Use our Tassimo vouchers for a wide range of products and purchase them at incredibly low prices. These Tassimo discount codes expire soon, so act today and save big.
VoucherBin > Stores >

Tassimo

:

9

Active Vouchers



---
Use this voucher code to save 10% on your shopping at Tassimo. Rush, This offer may expire soon.
Click to copy & open site



---
Shop for drinks, accessories and much more with low cost UK Mainland delivery at just £5. Go for this offer before it runs out.



---
Purchase Suchard hot chocolate for only £4 at Tassimo. Don't miss out this great deal.



---
Follow through this link to get chocolate drinks from just £4 at Tassimo. Order now!



---
Purchase accessories for making & storing drinks from £4. Redeem these special Tassimo vouchers for big savings.



---
Purchase Costa Latte for as low as £5.29. Grab huge savings at Tassimo.



---
Enjoy delicious Costa Vanilla Latte for £5.29. Hurry, Offer valid till stock lasts!



---
Buy coffee machines from starting price as £99. Search for incredible offers at Tassimo.



---
Sign up for emails to receive information about special offers and promotions going on at Tassimo. Check out now!
About Tassimo
Tassimo is a manufacturer of single-cup coffee machines and accessories. Their product range was first introduced in France in 2004 and it has since spread across the world. Their coffee system provides users with one-cup servings of hot drinks such as espresso, tea, hot chocolate and a number of coffee drinks like latte or cappuccino.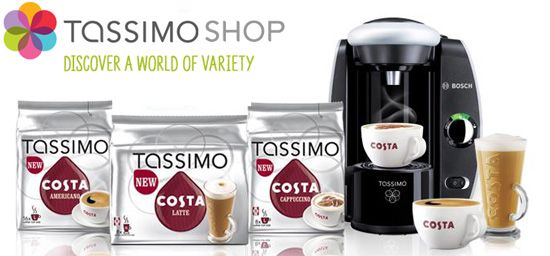 Tassimo system uses the popular pod module system. You place an individual drinks pod inside the machine and you get coffee shop style drinks. It makes getting ready in the morning feel like a lovely experience. They are also developing a system which allows you to reuse your modules, making the coffee experience a bit more environmentally friendly.
Their online platform offers you the option to buy the coffee machines and the different accessories and get them delivered straight to your home.
Featured Brands
Tassimo coffee machines are all made by Bosch. Their drinks range includes products by Costa Coffee, Twinings, Carte Noir and Kenco. You can even enjoy hot chocolate by your favourite chocolate brands like Cadbury and Milka.
International Reach
Tassimo operates in 22 different countries, with websites operating with country specific platforms in each. It has stores in these countries and delivery of products is only available through the country specific website. Tassimo's product line is similar in each country, which is one of its strong selling points.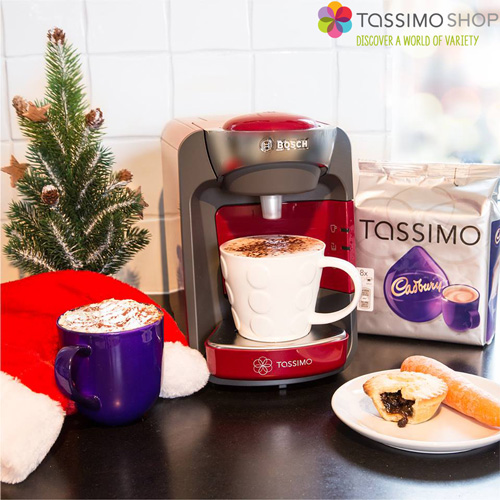 Top Categories
Machine Range – A selection of their coffee machines. The section also includes the ability to find a suitable machine for your needs.
Drinks Range – Includes a selection of the different food and drink pods you are able to buy. The sub-categories are: coffee, tea, cappuccino & latte, chocolate, and specialities.
Accessories – You can buy accessories from the website. These include specialty coffee mugs and storage solutions for the pods.
News – Information on any new product ranges and offers.
Manuals & Guides
If you are unsure as to how to operate all the Tassimo products then fear not, Tassimo has all the manuals and guides in store for you. Whether it's their coffee maker or any other machinery, Tassimo manuals will help make your life easier. Just go to their webpage and find out the product that you have purchased. They will have the pdf version of the manuals. The best part is, they will help you provide with guidelines so that you don't make a mess out of the situation.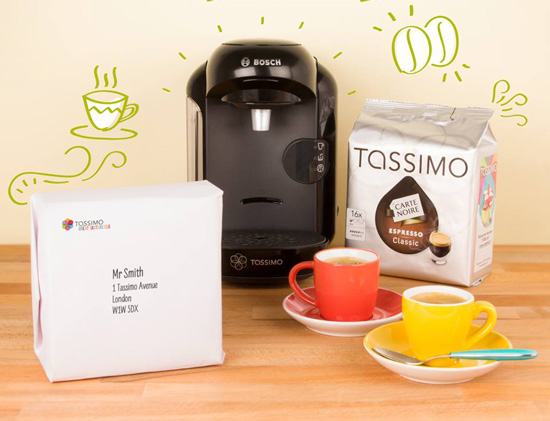 Sustainability
Tassimo isn't all about selling you the best deals, they care about saving the planet too. Every single drink they make, they make sure not to waste any excess amount of energy and minimize the impacts on water. That's not all, Tassimo looks after their packaging too. All their items are packed with recyclable materials. This mean they have little or no waste when it comes to packaging thanks to their partnership with TerraCycle. Tassimo also looks to empower women in the coffee making industry. They provide encouragement and support for these women who are looking to get work done. By providing them with valuable advices and skills, Tassimo is urging the women to step up.
Top Deals
The website runs a number of offers. At the moment, these include:
Chocolate Drinks from £4
UK Mainland Delivery for £5
Twinings Chai Latte for as low as £4.79
Coffee machine for £99
20% off on your next purchase
If you buy a coffee machine and register it online, you can enjoy plenty of other discounts and benefits. Be sure to check the website for the latest deals. You can always check out for discounts from other retailers at food and drink categories on our site to save more.
Redeem the Discount Code
Redeeming the discount code is very simple. You just need to select the products you want to use and click the shopping basket. Check the checkout button and sign in ether as a guest user with your e-mail or create a new account.
You'll be then taken to the payment page, where you need to add the details of the voucher and select 'apply vouchercode'. Each promotional code is only usable once per purchase.
You can subscribe to Tassimo's YouTube channel to see ads from different countries and see developments in their technology.
Vouchers and Gift Cards
There are fantastic vouchers available for use on the Tassimo websites. You can also choose to surprise a friend or a family member with the Tassimo products.
Membership Benefits
Tassimo offers plenty of benefits for members. You can join the membership when you register your Tassimo coffee machine online. The membership benefits include the opportunity to test new product ranges before anyone else. You are also able to find special offers and discounts on products as a member. There are also recipes and other tips available for viewing once you join the Tassimo membership. Coffee-Direct.co.uk provides similar products with great savings on your purchase.
Delivery Policy
The online orders use a tracking service which allows you to see the estimated delivery dates and control the shipping. If this information is not present for some reason, the typical delivery times is within 30 days. The company doesn't deliver on Sundays or public holidays.
Returning a Delivery and Refunds
You can also return any unused and unopened products within seven working days of receiving your delivery, starting on the day after delivery. You need to call the customer support which will guide you in how to return the product. If you follow the procedure, you'll receive a full refund for the items delivered within 30 days. You will not receive a refund for products that have been used or opened.
Customer Support
The Tassimo website offers a great contact form and free landline number for customer support. Customer support is available Monday to Friday between 8am and 8pm, as well as on Saturday between 8am and 7pm.
Social Media Presence
Tassimo is active on social media. You can visit them at:
Contact Details
Cadbury House
Uxbridge Business Park
Sanderson Road
Uxbridge
Middlesex
UB8 1DH

Customer Care: 01895 615 000
Contact form available on website.