About Superdrug
Superdrug, UK's second largest beauty and health retailer, currently operating over 800 stores in England, Scotland, Wales, Northern Ireland and the Republic of Ireland, offers a comprehensive listing of hot deals that appeal to any beauty bargain hunter. The website stands out through the hosting of exclusive products that are not showcased anywhere else.

Range of Products
Superdrug provides range of products for:
Make up
Skin
Fragrance
Hair
Toiletries
Mens
Baby
Electricals
Health
Sister Companies
Part of the AS Watson since 2002, Superdrug's sister companies are some of Asia's favourite brands and retail chains, like Watsons Your Personal Store, PARK n SHOP supermarkets, Great Food Hall, Taste food galleria.
Top Categories
Superdrugpromotes on the homepage mostly the Make up, Fragrance, Skin and Christmas categories, by listing appealing pictures with the best deals in this categories. Special features like the Beauty card and the Treat your Selfie Gallery are also showcased on the homepage
Featured Brands
Superdrug features many famous cosmetic brands such as: Max Factor, Rimmel London, L'Oreal, Bourjois, Adidas, Burberry, Calvin Klein, Garnier, DKNY, Colgate etc. Some of the best products in terms of price quality rapport are the own brand's items, which are exclusively found on the retailer's site at very good prices.
Shop by Options
In all categories, shoppers can choose to shop by category, brand or promotions. There is also a Quick Find option, allowing customers to have easy access to free gifts and newest items.
Customised Features
A very unique feature is the Superdrug Online Doctor, a site-within-the-site that enables customers to order medication directly to their home. In order to interact with an online doctor, the customer must select the suitable service (Superdrug offers medications for various affections, from cystitis, cholesterol and chlamydia, to hair loss and acne) and complete an online form about the symptoms he's experiencing and then register/ sign in and pay.
The customer's order will be reviewed by a doctor and, if he is suitable for treatment, Superdrug will issue a private electronic prescription. The customer can collect his medication in the same day at a Superdrug store, or he can choose to receive the medication by post, free of charge.
Another great feature on Superdrug is the Treat Your Selfie service, a funny way for trendy shoppers to have their photos (with them wearing products available on Superdrug) featured on the website's gallery.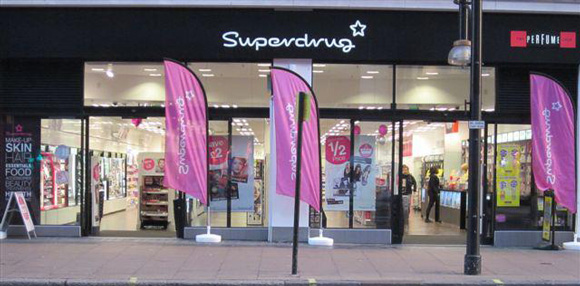 Deals For Extra Savings
There is a special Sale section, where shoppers can find all products currently on sale, and an Offer section, with great deals to save money, such as:
Save up to ½ price on selected Web Exclusive Gifts.
3 for 2 on selected Real Techniques and Maybelline products.
2 for £6 on selected Neutrogena Visibly Clear.
Super Gift of the Week - Oral B Trizone 5000 Black Limited Edition, only £70.
Save 65% with Braun Series 340 Wet And Dry Shaver.
Better than ½ price nails deals.
1D Lightup Mirror at ½ price.
In the Christmas Shop category, customers can browse the Christmas Gift Guide and the Top Picks for presents or to choose from a wide range of web exclusive Christmas gifts.
How To Save Using Vouchers
Superdrug's promotional codes and vouchers are easy to use, even for a first-time shopper:
The shopper clicks on the wanted product, selects quantity, then clicks the "Add to basket" button and continues to shop, or he can go directly to "My Basket" to finalise his order.
Shop for more health products or else proceed to chekcout.
In "My Basket" there is a list with all the shopper's selected items and a box to enter the voucher code.
To complete the checkout process, the shopper must click the "Proceed to delivery" button, then login/ register to finalize the deal or he can choose to complete checkout as a guest.
Superdrug promotional codes and vouchers must be entered at the time of placing the order. They cannot be added on after the shopper has placed the order. Many "How to" videos, exclusive competitions, latest trends and hot deals are available on the Superdrug YouTube channel. You can take advantage of the great advertises about the products offered. Check out the below given dry shampoo tips and hints.
Health & Beauty Card
The Superdrug website has a page that provides detailed information about their Health & Beauty card payment feature. Customers can get hold of a Healthy & Beauty card in any Superdrug outlet of their locality and begin earning points on their card right away. The Health & Beauty Card has to be presented to the counter, and upon doing so, the customers will receive 1 point for every £1 they have spent. In addition to the 1 point per £1 rule, customers can avail extra bonus points through a variety of in store exclusive offers.
Earning Points

If points are to be earned online, then the Health & Beauty card must be registered on the website. If there is a pre-existing superdrug.com account, then the customer need not register the Health & Beauty card online. All they have to do is simply locate the prompt to add their Health & Beauty card number to their respective accounts. Once the Health & Beauty card number has been added to the account or has been registered online, customers can start earning points on their card for every purchase that they make at superdrug.com.

Completing Registration

Once 100 points have been accumulated, the customers will receive £1 to spend in store. To avail the discount offer, they have to present their Health & Beauty card to the till and in form the cashier of the number of 100 points that they are willing to spend to receive a discount on their current purchase. This allows the customers to use the points as part payment. A huge amount of points do not have to be earned before they can start making savings on their purchases.

Spending Points and Making Savings

In addition to that, the holders of Health & Beauty card will receive pick up birthday treats and free standard deliver on all their online orders. The Health & Beauty card is designed to maximize the savings of the regulars at Superdrug.

Membership Benefits

The most important benefit for Superdrug members is the Beautycard they can pick up in Superdrug stores. This card allows them to earn 1 point for every £1 spend, online or in stores, and to claim £1 off their shopping once they've earned 100 points. Along with the Beautycard, members will receive bonus point promotions every time they shop, exclusive VIP treats & offers and the possibility to pay with a mix of points and cash, in-stores and online. Check out Sci-MX Nutrition and Weight World for money saving offers.

Delivery Policy

From Free Standard Delivery to Express Delivery and Free Order and Collect, there is an option to suit every customer. Beautycard holders have free standard delivery, regardless of the amount spent. The retailer delivers throughout UK and BFPO (UK Only), via Royal Mail or Parcel Force. Subsequently returns have to be done using one of these two options. Cancellations are possible at any stage before the products are dispatched, and up to 14 days after receipt.

Social Media Presence
Contact Details
118 Beddington Lane
Croydon
Surrey CR0 4TB

Customer Service : 03456 710 709
E-Mail : customer.relations@superdrug.com