About SportsDirect.com
SportsDirect.com is UK's leading sports retailer! Not only is that SportsDirect.com also a leading sports retailer worldwide. They have more than 420 stores across the UK, so you can always find a store near you, no matter where you are in England. They have everything you need for your sport including clothing, accessories, equipment and much more! So whether you are a beginner or a professional, you will find the right products that will help you train and improve your performance in any sport you like!

What SportsDirect.com Sells?
SportsDirect.com sells everything related to sports and fitness. They have a huge selection of apparel, footwear and equipment from some of the most popular brands worldwide. Some of the products they sell include:
Men's, ladies and kids clothing – such as base layer, chinos, cricket clothing, fleeces, golf shirts, hoodies, jackets, coats, jeans, pyjamas, t-shirts, running clothing , socks, shorts, sweat suits, swimwear, tracksuits, underwear and much more!
Men's ladies and kids footwear – including boots, canvas shoes, basketball shoes, running shoes, safety boots, sandals, flip-flops, skate shoes, trainers, walking shoes, cleats and many more sport specific shoes!
Men's ladies and kids accessories – such as belts, caps, hats, gloves, slippers, sunglasses, watches, jewellery and hair accessories!
Football shirts – for all football leagues including Premier League, Scottish League, Football League, La Liga, League 1, Series A, Bundesliga, Eredivisie and International teams! They also have a great selection of retro shirts!
Accessories for men, women and children – such as backpacks, car accessories, boot bags, gifts, toys, gym bags, gym sacks, duffle bags, headphones, luggage, suitcases, medical equipment, signed photos and memorabilia, SportsDirect.com accessories, sports nutrition, stationary, sweets, toiletries, towels, travel accessories, trophies, umbrellas, wallets, purses, water bottles and much more!
Sports equipment and gear – for all sorts of sports including aerobics, athletics, badminton, baseball, basketball, boxing, cricket, cycling, dance, darts, equestrian, fishing, fitness and exercise equipment, football, golf, hockey, ice hockey, MMA, martial arts, motocross, netball, racquetball, rugby, skate, skiing, snooker and pool, squash, swimming, table tennis, tennis, water sports, yoga and many more!Gift items for men, women and kids – such as stocking fillers, gift sets, gifts for home, gadgets, electronics, decorations, gift wraps and more!
Gift items for men, women and kids – such as stocking fillers, gift sets, gifts for home, gadgets, electronics, decorations, gift wraps and more!
Brands at SportsDirect.com
SportsDirect.com carries some of the biggest and world famous brands both in stores and online! The most popular brands they carry include:
Addidas
Airwalk
Bebe
Calvin Klein
DKNY
Ecko
FIFA
Garmin
Lacoste
Lonsdale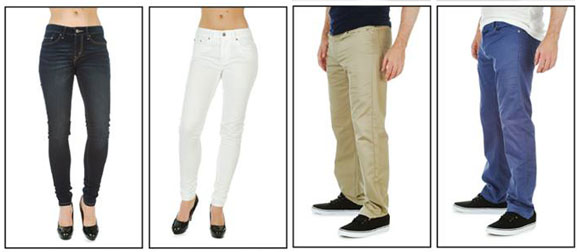 Size Guide
SportsDirect.com is one of the leading sports retailers in UK as well as in the whole wide world. They have more than 420 stores all over UK and their website, SportsDirect.com is one of the most visited website for online purchase. They have everything you need for your sport wear. If you are worried about whether or not you will fit in their given size, then no need to worry. SportsDirect.com has an individual "size guide" section on their website. There you will find a big chart of different sizes to answer all your questions regarding the size of the products. They have separate charts from men, women and kids. The charts show what each individual measurement is like. For instance, Men's M will have the chest measurements in the range of 38 inch to 40 inch. Similarly, Women's S will have a waist of 25 inches. So if you fit these measurements then you should buy or order the size whether it is M or S for you. This is indeed a great way to know that you are getting the right size for yourself.
It's not only the clothing where you will be provided a size guide. SportsDirect.com has a size chart for its foot wear as well. Given the fact that SportsDirect.com sells a lot of sports shoes from different brands, the size chart they have in their website shows sizes based on different brands. For instance, the size chart will show the general size for UK and USA like 5, 6, and 8.5,10 and so on. Alongside these sizes, you will find the size provided by NIKE, Adidas and PUMA for their own products. A UK size 6 will need an Adidas size 39 but for Nike it will be 40. These are the little changes you will find in the size guide.
Top 5 Irresistible Offers
Warehouse clearance section!
Discount vouchers for up to 90% off!
This week's offer – 50% off
Up to 90% off clothing
Up to 80% off footwear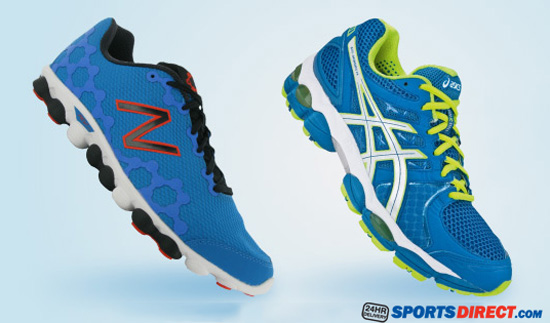 How to Redeem the Voucher
If you happen to have a voucher for SportsDirect.com it is easy to get great discounts on their products. Just follow these few simple steps below and save!
Register and sign in to your SportsDirect.com account and start shopping!
Choose the items you like and click "Add to Bag" button.
Go to your bag by clicking the shopping bag icon at the top right corner of the webpage.
Choose whether you want your items delivered to your house or whether you want to pick them up in store.
If you choose delivery then confirm your delivery address and choose your delivery method from standard, express or Saturday delivery.
Next you will be led to a page where you can choose your payment method. If you have a voucher code click the "Use a Discount Code" option and enter your code and click "Apply". Your discount will be applied immediately.
For the remaining amount of your order you can choose to pay via PayPal or by using a credit or debit card.
Confirm and finalize your order.
SportsDirect.com connects to its customers worldwide by advertising their products and services on its YouTube channel. Watch this video that provides a glance of how it is to work at SportsDirect, check now!
Delivery
SportsDirect.com offers free standard delivery in UK on all orders over £100. For orders under £100 there is a standard delivery charge of only £3.99! You can also get express delivery the next day for £5.99 and Saturday delivery for only £6.99! You can also order to BFPO addresses for a small delivery charge of just £5.99!
You can also order a delivery to a SportsDirect.com store nearest you and pick up your order in store. Delivery to a store will cost £5.99. You can also get delivery internationally (subject to charges). Put a glance at ProBikeKit and Tony Pryce Sports that offers similar wide selection of sports clothing and accessories.
Social Media Links
Contact Information
Unit A
Brook Park East
Shirebrook
Mansfield
NG20 8RY

Customer Service: 03442459230
E-Mail: cs@sportsdirect.com