---
Purchase the satellite navigation from Sonic Direct and pay 60% less on your order!



---
Get up to 50% off selected Rangemaster appliances only when you purchase from Sonic Direct.



---
Enjoy your savings to the fullest and grab up to 30% off latest trend Dyson vacuums by Sonic Direct.



---
Buy Rangemaster range cookers from Sonic Direct and receive 50% discount on Rangemaster hoods.



---
Are you Cookaholic? Sonic Direct is offering jaw dropping savings on NFF appliances with extra special savings!



---
Follow through this link and save £300 on purchase selected gas range cookers only at Sonic Direct.



---
Time to pull the trigger and save £40 on the purchase of selected toasters from Sonic Direct. Hurry up!



---
Treat yourself more than you ever imagined and grab up to £32 off hair dryers from Sonic Direct.



---
Sonic Direct is offering up to £300 cashback on selected Panasonic TVs. Hurry up, take the advantage of this offer!
About Sonic Direct
Getting electronics can be a little tricky online, but Sonic Direct makes it a lot easier. It is the online outlet for one of the UK's biggest electronic retailer, Sonic Megastore. Spread across 30,000 sq.ft of space, Sonic Megastore in Bradford is the largest independent electric retail outlet in the UK, offering the latest consumer technology and catalogue of domestic electric appliances.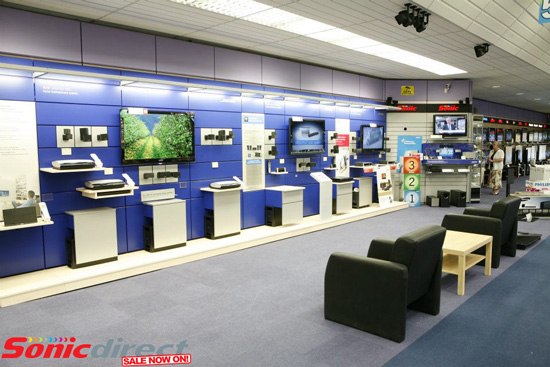 The Sonic Direct website brings the same Megastore shopping experience to the internet, only much bigger. It offers incredible prices backed by one of the best customer services, and massive discounts to boot.
Sonic Direct offers more than just the products; it also gives you the information and advice needed to make the best choice, a bigger product range and better after-sales service than most other competitors. All this is given at an unbeatable price! Sonic Direct is backed up by several memberships and accreditations, ensuring that you get the safest, most secure and a hassle-free shopping experience.
Sonic Direct only deals with suppliers that offer the same level of commitment as it does to its customers. Its suppliers deliver well-priced innovation and understanding, along with complete after-sales support and regular updates about its latest products and upgrades. For more exclusive offers and deals checkout Currys.
What Sonic Direct Offers?
Sonic Direct offers a wide range of electronics, including:
Large home appliances: washing machines, dryers, dishwashers, integrated washing machines, dryers and dishwashers, laundry accessories
Cold storage: fridges, freezers, fridge freezers, chest freezers, integrated freezers, fridges and fridge freezers
Small kitchen appliances: coffee makers, fryers, food processors, grills, breadmakers, juicers, blenders
Heating and cooling appliances: heaters, electric blankets, fans, dehumidifiers, gas fires, electric fires, fire accessories
Health and beauty appliances: hair dryers, shavers, straighteners and stylers
Cleaning equipment: vacuum cleaners, floor cleaners, steam cleaners, and more
Entertainment devices: televisions, remote controls, TV boxes, soundbars, gaming equipment, tablets, and laptops
Sinks and taps
Irrestible Deals
You cannot miss these amazing deals right now at Sonic Direct:
Get up to £300 on select Samsung smart televisions
Save up to £100 on exchanging your old appliances
Save huge amounts on daily discounts and offers at Sonic Direct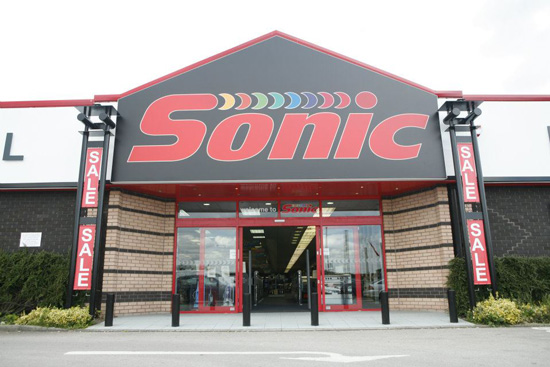 Usage of Voucher Code
Here is a look at how you can avail discount at Sonic Direct :
Visit Sonic Direct home page.
Select the products that you want and click on 'Add to basket'.
Once you are done shopping, click on 'View Basket' on the top right corner and then proceed to checkout.
If you are buying three or more items, you may be applicable for bundle deals as well.
Once you have added product to the basket enter the voucher code.
Click Apply.
Confirm your delivery address and billing information.
Confirm and finalize your order.
Check out this exclusive video of Sonic Direct, which provides shopping experience online, unbeatable prices and outstanding customer service with savings of up to 40% off and deliver throughout the UK.
Top Categories
Laundry and dishwashers
Fridges and freezers
Cooking
Small appliances
Cleaners and floor care
Television and home entertainment
Computers and accessories
Cameras
Audio and Hi-Fi
Satellite phones and navigation
Sinks and taps
Hot offers
Delivery and Returns
In-stock items at Sonic Direct are delivered through the next-day service guaranteed to destinations within Yorkshire. Across the UK, you may choose:
Standard delivery: Delivered up to your door.
Delivery, unpacking and waste removal: delivered to the room of your choice, the item is unpacked and all waste and packaging is recycled.
Delivery, unpack, remove waste and install: the same as the earlier option, with the addition of installation service as per the installation guide.
Delivery times and dates are notified to the customer a day before. You may also discuss with the Sonic Direct customer service team on a suitable delivery date 2-7 working days after the order is placed.
You can cancel your order up to 14 working days starting from the day after collection / delivery / credit / refund.
Social Media
Contact Details
Sonic Megastore Ltd
Ingleby Road
Bradford
West Yorkshire
BD8 9AN

Customer Service: 01274 575000
E-Mail: info@sonicdirect.co.uk