Sixt Discount Codes June 2019
Use our Sixt vouchers for a wide range of products and purchase them at incredibly low prices. These Sixt discount codes expire soon, so act today and save big.
VoucherBin > Stores >

Sixt

:

8

Active Vouchers


---
Book and prepay online 25 days or more in advance with Sixt and get up to 25% off.


---
Rent a car with Sixt for great deals! Get up to 10% off all Sedans in USA. Book your Sedan now!


---
Enjoy in the sum with BMW 2 series convertible car that includes loss damage waiver, third party insurance and much more from £65.


---
Hire a Seat Leon for a low weekly price. Get 25% discount on super staycation deal at Sixt.


---
Summer, sun and Sixt! This July, save up to 10% on smaller car groups at Sixt.


---
This July, save up to 15% on your holiday car in Italy with the booking through Sixt. Happy traveling!


---
Sixt comes with an amazing offer for car rentals. Book a car for 7 days in UK and pay only for 6 days. Rush!


---
Check out late summer special deals. Book your car rental at Sixt for one day and get other two days free!
About Sixt
Sixt is one of the top names in car and vehicle hiring services. It has rental services spread across the world, with a history tracing back all the way to 1912. Over the century, Sixt had gained valuable experience and knowledge and this has helped it mature into a company that puts it customers first.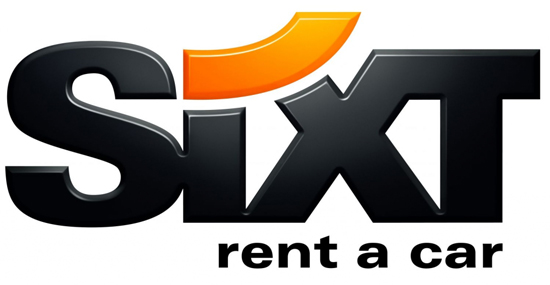 Sixt Car Hire offers incredible customer services and one of the best rental vehicle fleets you can find. In fact, you would find that Sixt has always been at the forefront of the rental industry. Each Sixt location has a wide range of fleet vehicles that meet different requirements for your travel need. Its fleets have everything from small, economy cars to convertibles and family salons, 4X4s and, of course, luxury cars. Sixt even has vans for hire to give you that additional space you need, along with limousine hiring services for you to travel in style.
Sixt Car Hire has more than 150 locations in the UK alone, so it is pretty easy for you to get good rental rates. Here is a look at some of the major cities and regions where you can definitely find a Sixt car rental spot when you need one:
Edinburgh
Glasgow
Belfast
Manchester
Liverpool
Aberdeen
Bristol
What Sixt Offers
Sixt offers a number of services, including the following:
Car and van hiring.
Minibus hiring.
Home delivery and collection services in select locations.
Renting A Car @ Sixt
Here's the thing, while UK-based car rental Hire Company Sixt has over 150 locations to choose from in the UK alone, your independent holiday travels in your rented car is not confined to the British Isles, as beautiful as the country is at this time of year.

It's summer time across Europe. If you are based in the UK, you could cross the channel and head off into all the picturesque regions affiliated to the European Union. Sixt has over 150,000 vehicles to choose from, so there's no shortage of holiday stock here.
To avoid being disappointed, you need to book early to take advantage of thefree delivery of your vouchers and free delivery of your chosen stock. Discounts of up to £37 off original prices are available right now. Vouchers are discounted by up to 25%, and savings of up to nearly 70 quid are available. And when you're finally behind the wheel, don't forget to drive safely.
Don't waste time sitting in front of the telly waiting for the next footie season to start. Pick your destination. You could help line Greek pockets by heading off to Athens via Europe and explore the origins of a complex civilization while you're in the driving seat.
You need to take advantage of these discount packages now. Driving through country roads during the June summer month cannot be missed. Dry roads and no rain; these are ideal conditions for safe and pleasurable drives. The roads will be busy, so do take care though. Don't let these discounts scare you back to your couch. There are no knock-offs here. Here are just two examples of what Sixt are offering. Drive away in a BMW 1-series for just £42 a day with 900 free miles a day! Or a Mercedes-Benz E-Class (with navigation) for £149 per weekend.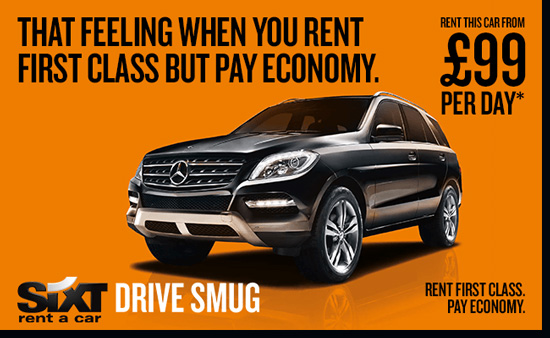 Sixt is a car rental company based in the UK, specializing in providing holidaymakers with tailor-madeand affordable packages. It is also listed as the fifth largest global rental company. While you will not be spoilt for choice, you might want to indulge yourself a little. Sixt also has over 50,000 premium rental cars available to hire. Sixt is a trusted brand. They've been around since long before your grandparents were born. They are a mature company that takes pride in putting their customers first.
The Best Deals at Sixt
Interested in the best deals that Sixt has to offer? Check out these irresistible offers:
BMW 1-series £42 per day, with 900 free miles a day.
Fiat 500 1.2 for just £18 per day, with 1,500 free miles a day.
Ford Transit 280 Panel for just £29 per day, with 50 free miles a day.
Mercedes-Benz E Class with Sat-Nav for just £149 per weekend, with 750 free km.
Mercedes-Benz E-class Convertible for only £77 a day.
Sixt offers some incredible deals on cars in the UK as well as international locations. You can find deals on vans as well, helping you save lots of money when you need to move heavy loads or move to another home. Take a look at Sixt's YouTube channel and enjoy its latest promotions.
How to Get the Best Deals at Sixt
Take a look at how you can get the best deals at Sixt:
Click on 'Best Deals' on the menu on top of the website.
Select the kind of deal you are looking for: Cars, Vans or International.
Take a look at the details of the deals given in the page.
If you like a deal, click on 'Book Now'.
Selection the location and date for pickup and return and then click on 'Choose this offer'.
Confirm your vehicle selection and click on 'Select vehicle'.
Take a look at the services being offered and add the recommended services, if needed.
Once you are done verifying the details, click on 'Accept rate and extras'.
Add your contact and personal details and make the payment.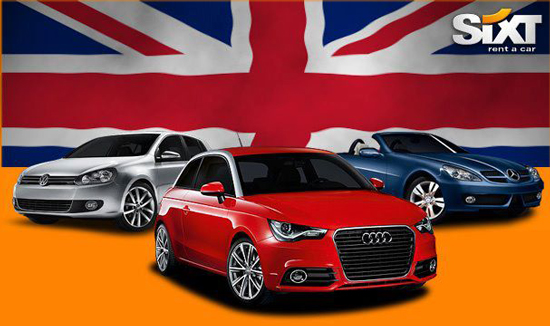 Top Categories at Sixt
Here are some of the top categories at Sixt:
Car hire
Van hire
Best deals
Vehicles
Corporate customers
Trade
Car Brands Available at Sixt
Sixt offers some of the best models by leading automakers, including:
Skoda
Fiat
Volkswagen
Audi
Ford
Mercedes-Benz
Mobile App
Looking to book cars and vehicles on the go and still get the simplicity of the Sixt system? Well, Sixt offers a dedicate mobile app just for that. The app supports iPhone, iPad, Blackberry, Android, Windows Phone, Bada and Mobile Web devices, and offers GPS-based search too.
MySixt
If you want to make the most out of Sixt, take a look at MySixt, the place for its registered members. Register yourself for MySixt and you can:
Take advantage of miles/bonus programmes.
Register lost property.
Get a copy of your invoice and details of your rental vehicle.
Cancel or change your reservation online.
Use Sixt's Express Pick-up service.
Sixt Across Borders
Sixt has a huge presence in the UK as well as other locations abroad. In fact, it has over 4,000 stations in more than 100 countries around the world. TravelBird and National Car Rental also provides similar offer with huge discount. Here are some of the places where you can book cars or vans on Sixt:
Spain
Dublin
Miami
Dubrovnik
Bordeaux
Sixt on Social Media
You can find Sixt on social media at:
Contact Sixt
Durrant House
47 Holywell Street
Chesterfield
Derbyshire
S41 7SJ

Telephone: 0844 499 3399
E-Mail: help-uk@sixt.com