---
The Fourth Element Extreme Ice Diving T-Shirt is a classic fit jersey tee made from combed cotton. Costing just £17.47, now you can bag 30% savings on its order.



---
Simply Scuba is delighted to offer free delivery on all orders over £50. Hurry up, place your order now!



---
Simply Scuba comes with 25% discount on The Light and Motion Sidekick Flood which is a powerful and compact video light that has been made to be paired with small action video cameras like the GoPro.



---
Pay 23% less on ordering this classic Typhoon Seamaster III Drysuit from Simply Scuba.



---
The Finn Light 2000 Long is an umbilical dive torch that is super powerful with the added benefit of extra battery life for up to 5hrs burn time at full power. Purchase it from Simply Scuba @ 16% dropped out price.



---
The SeaLife SeaDragon 2500 Photo Video Light is a powerful underwater video light made from sturdy materials and a quick and easy flex-connect accessory system. Simply Scuba brings you at 10% price fall.



---
The Scubapro G2 Dive Computer is a clever colour screen computer from Scubapro with a customisable screen and the ability to dive apnea to closed circuit rebreathers. Buy it for just £665.



---
Want to finance your order? Simply Scuba has made it easy by offering you finance with 0% interest over the purchase of £400.



---
The Oceanic Atmos BCD is a weight integrated, hybrid air-cell jacket with durable construction and improved comfort. Simply Scuba offers you @ cut out price of £299 saving 14% on the same.
About Simply Scuba
Simply Scuba offers a plethora of products for the scuba lovers. Since you cannot compromise with the quality of the scuba equipments, you may personally visit the store's warehouse in Faversham and have a look at the items physically before buying them online. Ranging from Scuba diving equipment to snorkelling equipments, the site covers pretty much from popular brands.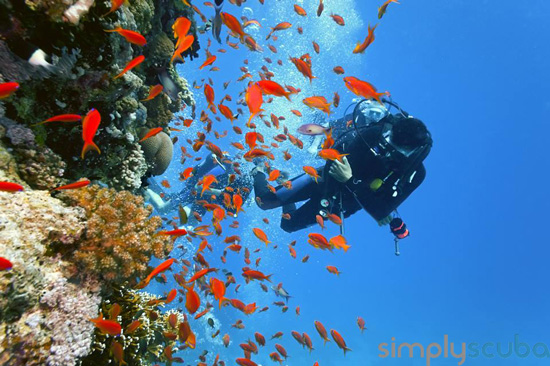 Established in 1995, Simply Scuba not only gives you a chance to order some of the finest equipment for scuba diving or snorkelling but also offers you load of useful advice so that you can make a sound choice.
Categories to Watch Out for
Simply Scuba is an authorised dealer and you can stay assured in terms of quality even if you cannot visit the warehouse personally. The equipments are designed with cutting edge technology and the customers are promised full manufacturer warranty. Here are a top few categories at Simply Scuba:
Scuba Diving Equipments
Regulators
BCDS
Dive Computers
Scuba Packages
Masks
Fins
Wet Suits
Underwater Lights
Snorkelling Equipments
Snorkelling Fins
Snorkelling Masks
Snorkelling Snorkels
Snorkelling Wetsuits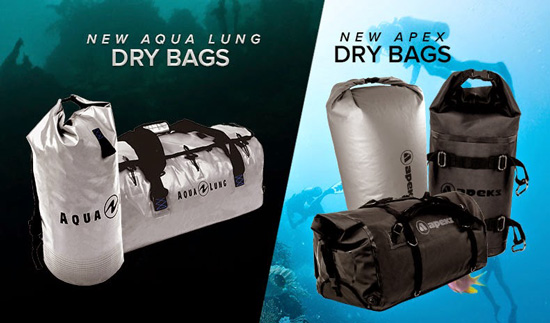 Popular Brands: ScubaPro, Oceanic, Tusa, Hollis, Suunto, Aqua Lung, Mares and Apeks. There are many other brands available like Aeris, Analox, Atomic, BSAC, Citizen, Deep Sea Supply, Dive Rite, Dive Alert, Eezycut, Faber, Gopro, Hollis, Intova, Kubi, Lavacore, Lumica, Miflex, Padi, Sealife, Seedive, Sub Gear, Submerge, Typhoon, Waterproof, Zeagle etc.
Top Deals for Extra Savings
Simply Scuba has a vast range of offers and deals as its offerings. The site is generally flooded with offers so you end up getting great deals here. Here are a few offers that can benefit the sports enthusiasts:
Savings up to 50%
Free octopus with any ScubaPro A700, S600 or G260 and First Stage
Free Climasphere under suit with Everyday 4 Dry suit
Free UK delivery and returns on orders above £25
Finance
The Finance option is probably one of the most customer friendly schemes that you will come across at Simply Scuba. Despite all the offers, if you find the equipment a tad costlier, you can opt for this option. However, this option is only available for orders that cross £400. Here's what you get:
Some more traditional finance options
9 months 0% over £700
12 months 0% over £1000
6 months 0% over £400
Check out On Sale option
Fresh offers are introduced from time to time and you can generally see them flashing when you open the website. Besides, the On Sale tab gives you a list of stock clearance items and products at discounted prices. So, if you are looking for a good bargain, do not forget to visit this section. Also, signing up to the newsletter also gives you a chance to know about the latest deals, discount and expert scuba advice!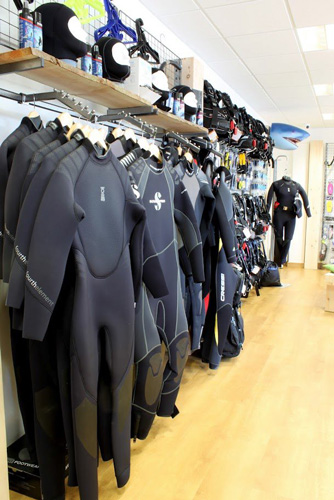 Still need great deals for sports & outdoors gear? Deep Blue Fightwear and Deep Blue Dive are stores that stocks outdoor items to help you explore your environment in style and comfort.
How to Save Using Vouchers
If you are not content with the offers and deals on the websites alone, you can opt for discount vouchers. Availing them is a very simple process and can help you make additional savings! Here's how you save using vouchers:
Check the product specifications and choose the suitable quantity.
Add the item to the basket or you can even save it for later.
You can continue shopping for more products or you can directly go to your bag to proceed with the billing.
On the shopping basket page, you have to enter the code in the box next to Promotional Code or Voucher.
On clicking the Add Promotion button, you can see the discounted price.
You can even add multiple gift vouchers for more savings. Finally you can checkout and place your order!
At Simply Scuba, you are promised the best equipment and you need not worry about the quality at all! Besides, if you are completely new to scuba diving or snorkelling, you can have a look at the blog. You can check the amazing posts and discussions that you might not be familiar with. Certain "How to" blogs also feature videos so that the process is simpler and easier for you to understand. Check this interesting video to see how a dry suit is made!
Mobile App
Simply Scuba is a leading online dive store that sells everything you need for scuba diving and delivers it straight to your door. It is available for download on Google Play Store and Apple iTunes. With Simply Scuba on the go you can browse through hundreds of scuba diving products, place your order which will be sent from our warehouse for delivery straight to you.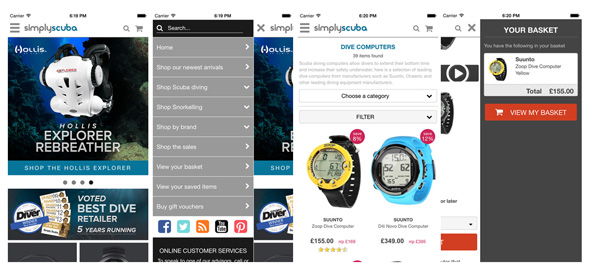 Delivery Policy
Simply Scuba offers a couple of delivery options so that the products can be delivered to you at the earliest and as per your choice. Following are the delivery options available here:
Standard Delivery: Delivery takes 2-3 days from the date of dispatch. Free for orders over £25 while a minimal fee of £2.99 is charged for orders under £25.
Express Delivery: This takes 1-2 days from the date of dispatch. A minimal fee of £4.99 is charged.
Next Working Day: The name is self-explanatory. However to avail this option, you must place your orders before 3pm from Monday to Friday. A minimal fee of £6.99 is charged.
Gift Cards
At Simply Scuba, you can also purchase gift vouchers and send them to your loved ones. Gift vouchers can be delivered via email address or post. Gift vouchers are redeemed in the same manner as you would redeem a normal voucher code.
Social Media Links
Contact Information
Simply Scuba ltd
5 Jubilee Way
Eurocentre
Faversham
ME13 8GD
United Kingdom

Customer care: 0844 567 7070
E-Mail: customercare@simplyscuba.com