Shoetique Discount Codes June 2019
Shoetique offers a wide range of products at incredibly low prices. These Shoetique promo codes expire soon, so don't forget to bookmark this page now.
About Shoetique
With over 30 years of experience, Shoetique pride themselves on providing high quality footwear that are comfortable and durable as well as great looking. Starting with humble beginnings with a store in Hale, Cheshire, Shoetique have now built a strong online presence which has seen them nominated for Best Independent Footwear Retailer of the Year in May 2014. Great customer service is their foundation, proved with being the number one footwear retailer in the UK on Trustpilot with 4.9/5!

Shoetique not only offer their great product range to the UK, but internationally to many countries, including the Republic of Ireland, Europe and worldwide - further details can be found onsite. Finally, Shoetique have done so well with their product range that they now have two sister companies Slippertique and Welyytique!
Top Categories and Brands
Shopping with Shoetique couldn't be simpler! On site browse their top shoes categories for Womens, Mens, Kids, Brands and Sale. With favourite brands such as Joules, Barbour, Birkenstock, Clarks, Sperry, Hunter and Timberland, you'll find something for everyone! You can also shop by price as you browse, as well as many other filter options under each category.
Top Deals for Extra Savings
If you're looking to bag a bargain, Shoetique has you covered! We've pulled together the best range of offers currently available onsite so that you can shop and save today!
15% off this weekend online with the code FESTIVE
Steal a deal with the Shoetique 'Treat of the Day'
Free Next Day Delivery when ordering before 8pm

Don't forget to check back for their seasonal sales and clearances!
How to Save Using Vouchers
If you're looking to start saving with Shoetique today, but are not sure how to do it, just follow our simple steps below to get you started.
Head over to the Shoetique website to browse the range of categories available or even search for the items you want using the search bar on the top lefthand corner.
As you're shopping, add the items to your basket.
When you think you've gotten everything you need, view your basket to make sure that it is all there before you continue.
Then, when you think you're ready, head to the checkout.
At the checkout, enter your discount code and click 'apply', or, if you're redeeming an offer, you may find that it has been automatically applied for you.
Before you continue, make sure that you enter your payment information and delivery details carefully and check that they are correct.
Then, finally submit your order!
If you're a lover of YouTube, you'll have to subscribe to the Shoetique YouTube channel! Spot their top tips in different shoe sections and brands as well as looking out for their latest product news and offers! Just like this video, covering their favourites from the Rieker Boots range!
Gift Vouchers
If you're not too sure what you're looking for or would like to treat a loved one to something of their choice, then you'll want to get yourself a Shoetique Gift Voucher! Choose from a range of designs and set you're own value, whilst you purchase your gift voucher you can make it completely your own - even with a little message!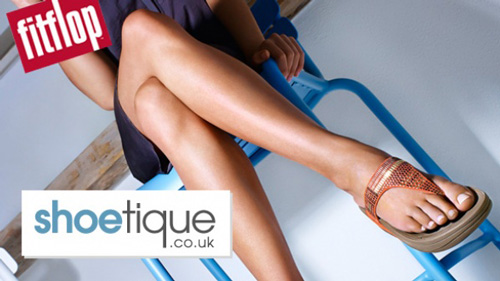 Price Match and Loyalty Scheme
Shoetique offer a really great price match promise to ensure that you can save and still shop with them! If you spot any item at a lower price on a competing site, Shoetique will offer the item to you at 10% lower than their competing sites! For full terms and conditions of the price match promise, make sure you head over to the Shoetique website.
There's also the loyalty scheme where you can earn £10 vouchers back on your shopping every time you spend £200 on the Shoetique website! For further details on how this will work, visit the 'Loyalty Scheme' section of the Shoetique site. Even Charles Clinkard and Shoe Tailor provide a vast collection of footwear with loads of deals and discounts.
Customer Support
If you have a question, need a little help or want a bit more information before you buy online with Shoetique, you'll find a great list of links through to helpful sections on site. Or, if you'd like to speak to someone directly, you can find telephone and email contact information for Shoetique at the bottom of this page.
Collect Plus
Online shopping is easy at Shoetique as the store offers easy collect your order option through Collect Plus. For those who don't know, Collect Plus is the largest store based parcel service where your order is delivered to the nearest local store. This reduces the delivery time and you can collect your parcel from the nearest store (collection point) as per your convenience. Shoetique offers free Collect Plus service for all orders above £75. If your order value is below £75, you have the option to select Collect 72 which is also a free service. If you want your order to be delivered quickly you can upgrade shipping to Collect Plus 24 which costs £2.40.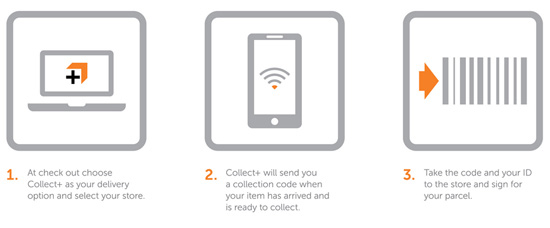 Getting your parcel through Collect Plus is quite easy. During the checkout process, you are presented with various Collect Plus delivery options, you just need to select the right mode of delivery and Shoetique and Collect Plus will manage the rest. Shoetique dispatches all order on the same day (orders placed before 4 pm). During the checkout process, you also get the option of selecting the nearest Collect Plus store. In general, the shipment arrives within 3 days at your chosen collection point after the order is processed.
With more than 5500 Collect Plus store in UK and Ireland, there will be definitely a Collect Plus collection point near your place. Collecting your orders from Collect Plus is easy, the stores are open from early to late. The Collect Plus collection points are open all 7 days a week, so you can pick up your parcel at you own convenience. All you need to do is show your ID proof and mention your collection code to collect you parcel from Collect Plus collection point. If you are busy and do not have the time to collect your parcel, you can also authorize other person to collect your parcel on your behalf. You can also track your shipment sent through Collect Plus, you also receive regular SMS updates about the shipment progress.
Delivery & Returns
Shoetique offers free delivery on all UK orders plus free Next Day delivery on all orders over £40! All orders will be delivered the same day if ordered by 8pm Monday to Friday and can even be delivered on Saturdays. For more details on delivery times, plus the selection of International delivery options available, visit the Shoetique website.
But, if for any reason you'd like to return your order, simply do so within 30 days of receiving your items - just as long as they're still in the original condition! Full terms and conditions can be found online.
Social Media Links
If you love to follow your favourite brands on social to keep up to date on all their latest news, products and offers, then you'll want to find Shoetique's social accounts below
Contact Information
Customer Service: 0800 849 7000
Contact form available on website.