VoucherBin > Stores >

Shoe Zone

:

9

Active Vouchers



---
Sign up by Shoe Zone and be the first one to hear about the offers along with 15% off your first purchase.



---
Buy any product at Shoe Zone and grab free UK standard delivery on selected orders.



---
Treat yourself to more than you ever imagined by shopping with Shoe Zone and save huge on the purchase of shoes lace offered for less than £1 only.



---
Select from huge variety of products and grab two pair of shoes only at £25.



---
Enjoy your savings to the fullest and grab latest men's formal shoes from £12.99!



---
Time to pull the trigger and enjoy the rush for huge savings on two pair kid's shoes at £8. Limited in stock, shop now from Shoe Zone!



---
Grab lace canvas shoes from Shoe Zone offered for £7.99. This shoe is perfect for an everyday casual look!



---
Indulge yourself with the guilt free cost-effective range of gorgeous bags and accessories from Shoe Zone available in the sale!



---
There's only one thing better than cheap shoes, and that's cheap shoes that have been discounted further in the Shoe Zone sale. Purchase now and enjoy savings!
About Shoe Zone
Shoe Zone, a footwear retailer in the United Kingdom as well as Ireland known for its variety and quality of shoes that are sold are really low prices. It has more than 500 stores within the UK and Republic of Ireland offering a massive selection of shoes at the most competitive and affordable prices. It has provided employment to more than 4,000 people across the UK to make sure what you shop for or order for reaches you! Being its headquarter located on Humberstone Road, Shoe Zone is always a preferred to shop for.

Shoes Zone offers a wide selection of shoes for the whole family at fantastic low prices and what makes it sell shoes for such low prices is its great volume purchase from hand picked suppliers. Its well trained staff, friendly and efficient customer service also adds to its achievement to a greater extent. Shoe Zone ensures that all the high quality standards are met so as to provide the best in the market to all its customers, making them happy and fulfilled. Shop online at the Shoe Zone store and take advantage of free delivery right at your doorstep on all the products.
Top 4 Deals by Shoe Zone
Check out the huge collection of not only shoes but also bags at Shoe Zone and grab huge savings with your purchase. A fantastic range of affordable shoes for men and boys is sure to impress you, offering all sorts of top brands and trending designs. For women and young girls, Shoe Zone is truly a one stop shop wherein they can shop for every type of footwear right from slippers to wellies and flats to high heels. A superb range of women's shoulder bags and clutch bags that come in a wide selection of colours and styles is sure to attract every girl. Given below are a few top deals that help you save more on your every buy at Shoe Zone –
2 pairs for £25 (men and women included)
Women's boots starting from £7.99
Free delivery site wide
Amazing Autumn arrivals
Usage of Voucher Code
Firstly, look for the specific product that you wish to buy from different categories like men, women, boys, girls and bags.
After you finalize on some particular pair of shoes, take a moment to review it properly, select for your perfect size and quantity.
Add it to bag, if you want to shop more click on continue shopping or click on view bag & checkout.
Once you are done with your shopping, check your bag at the top right and then checkout.
Check the number of items in your bag and then go to secure checkout.
If you are an existing customer, login and continue or else click on New to Shoe Zone to continue.
Fill in your personal details and billing address to proceed to the payment page.
Further, select the delivery options, enter your mobile number along with the voucher code (if you have any), apply it and then select the preferred payment methods.
Continue and enter your details as per the selected payment method and then finally checkout to complete your order.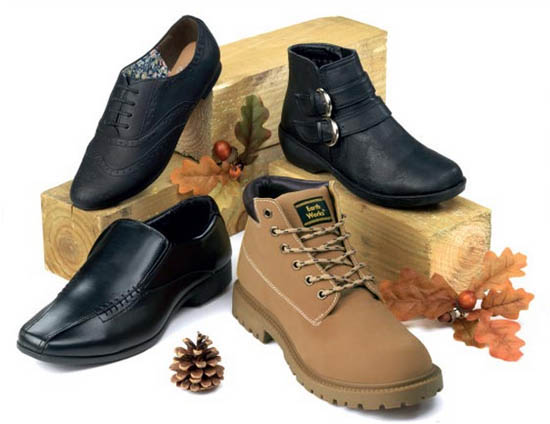 Tips to Save at Shoe Zone
Being the most renowned footwear retailer, Shoe Zone offers a variety of shoes like boots, sandals, slippers, trainers, willies and a lot more. It sells rather a lot more, approximately 20 million pairs every year! This is what helps it in lowering the prices, at an average the price for a pair is actually less than £10. You can also check Moda in Pelle for plenty of such savings.
While shopping at Shoe Zone, make sure you don't forget to check the Offers section that provides various sections offering various discounts and savings on every product. Listed below are a few sections that can help you save big at Shoe Zone –
Last Chance to Buy
Bloggers Choice
Price Cut
BBC Children in Need
Delivery and Returns
Shoe Zone offers a very friendly and flexible delivery and returns policy to its customers on their purchased products. Let us get acquainted with some of the main features of Shoe Zone's delivery and return policies.
Shoe Zone uses Hermes as their official courier partner for standardized free delivery of the shoes purchased by you within 2-4 working days. Email notification, mobile texting notification and online tracking facility are available to the users.
For free delivery, orders placed after 5 pm on Fridays, are delivered on Tuesday of the next week.
For express deliveries, orders must be placed 5 pm Monday to Friday. Orders placed after 5 pm on Friday will only be processed for delivery the next week.
Next day, nominated and weekend delivery services are also available and special care is taken by the couriers to deliver your parcel safely. Tracking services available.

Return Policy
Shoe Zone offers a flexible return policy as follows:
Customers can return shoes within 12 months of purchase in any of the store locations of the shoe zone.
Return by post facility is also available. It should be sent to the Shoe Zone's online return store. No exchange requests are entertained though thepost, it can only be done in store locations.
Also, Shoe Zone offers return via collect policy. It is to be noted that, only parcels weighing 10kgs can be accepted along with an additional charge.
Faulty items should be returned along with its receipt.
Shoe Zone offers a variety of shoes in different sizes for men, women and children.The shoes are available in both UK and European sizes, and it is recommended to order shoes one size bigger than your usual size if you are ordering UK shoe size to avoid confusion between conversion of UK and European shoe sizes.
Shoes for women and men are available in small, medium, large and X-large ranging from 3 to 10 for women and 7 to 12 for men. Kids shoe sizes are usually based on ages and after 11 years of age, the adult men and women shoe sizes are followed.
Social Media Presence
Contact Information
Shoe Zone Retail Limited
Humberstone Road
Leicester
LE1 2LH
United Kingdom

Customer Care Number: 0116 222 3113
E-Mail: customerservices@shoezone.com