Secret Escapes Discount Codes May 2021
Use our Secret Escapes vouchers for a wide range of products and purchase them at incredibly low prices. These Secret Escapes discount codes expire soon, so act today and save big.



---
Join Secret Escapes for free and pay up to 70% less on luxury hotels and holidays. Check out now to save!



---
Stay at one the most exclusive and unique hotels in the British Isles starting from £500 per night. It features spa facilities, a Laurent-Perrier Champagne bar and nine luxuriously converted rooms. Check out now!



---
save 51% on Hoar Cross hall spa hotel, which epitomizes the word retreat, combining modern luxury with true heritage in its beautiful country setting. Limited time offer by Secret Escapes!



---
Spend up to 42% for staying at this elegant five-star country house hotel, Pennyhill Park. It has an excellent nine-hole golf course, winding through stunning heath land and past ancient fir trees. Hurry up!



---
Get benefits up to 41% for Luxury Croatia holiday at Grand Hotel Opatijska Cvijeta. It offers a wide range of treatment!



---
Choose from one of the hand-picked UK luxury breaks and get away for the bank holiday weekend with maximum savings by Secret Escapes!



---
Plan your short breaks by Secret Escapes and enjoy your trip with the price under £300 only. Enjoy for less!



---
Pristine beaches, rolling waves, Luxury Sea view hotels with copious amounts of sunshine, all make together will make a super-relaxing beach holiday. Book with Secret Escapes and grab 70% savings on your trip!
About Secret Escapes
Are you planning your next big escape? For an affordable, accessible yet luxurious vacation, take a look at Secret Escapes. This online vacation and holiday planning company negotiates exclusive rates for hand-picked luxury holidays and hotels in the UK and international destinations.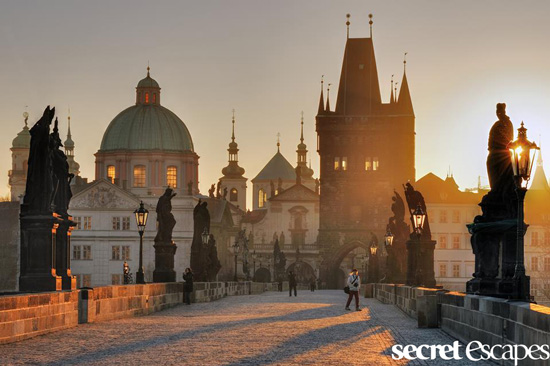 Secret Escapes offers you access to these incredible deals as soon as you sign up and that too for free! With a membership here, you get access to unbelievable and exclusive rates for holidays and hotels that cannot be found anywhere else. Each hotel and holiday you find at this website is carefully chosen not just for their affordable prices, but also for the quality of service. The escapes you find on this site come highly recommended, with five-star and four-star hotels and resorts only.
Secret Escapes gets you these amazing discounts by only work with hotels that provide them. Apart from discounted prices, it also gets members additional perks that makes staying in the hotels and their holidays more special. These include special massages, complimentary champagne, room upgrades and much more. So if you want an exciting, stress free and enjoyable holiday booking experience, look no further than Secret Escapes. The flash sale prices that you get here are better than any other online site during sales, and Secret Escapes guarantees this.
Bespoke Holidays
Secret Escapes handpicks each offer with its members in mind, but with over one million members and counting, it can be tough to find offers that specifically cater to your needs. This is where its bespoke holidays offer comes in.
Secret Escapes offers a personalised holiday service, with its travel agents looking for flash sales that meet your requirement on its website. It also partners with Designer Travel to help you find the best deals on hotels and holidays that are currently not available on sale on its website. Designer Travel has its own team of travel experts, with access to thousands of apartments, villas, hotels and even flights at several major and hidden destinations.
Amazing Deals & Offers
You cannot miss these exclusive deals available at Secret Escape:
Save up to 42% on Hotel Gotham at City Centre, Manchester
Save up to 33% on a Five-star Corfu private peninsula holiday
Save up to 38% on Hoar Cross Hall Spa Hotel at Burton upon Trent, Staffordshire
Get up to 35% off on Romantic Lake Garda holiday
Want to save more on travel deals, you can checkout Lastminute.com and Travelodge.

How to Redeem Voucher
Secret Escapes offers some incredible discounts, but you can get even more discounts with voucher codes, and here is how you use them:
Select the kind of hotel or holiday you want to book, whether it is an international destination holiday, spa services or a five-star hotel in a city centre.
Use the escape search option on the left hand side to search for available deals.
Browse through the list of hotels and holidays available and select one.
Click on a hotel or holiday if you like one, and you are redirected to dedicated page.
Here, you can read more about the hotel or holiday package.
If you like the package, select it and proceed to checkout.
Enter the voucher code when the option comes up.
Apply the code and verify if it has lowered the booking price for the service.
Once verified and confirmed, proceed to make the payment and complete the booking.
Secret Escapes has dedicated YouTube channel where it updates the video about the latest promotion. Take a peek on this exclusive television advert of the retailer.
Mobile App
You can also find Secret Escapes on Android and iPhones with its mobile app. Search for and book luxury hotels and holidays on the move and access exclusive flash sales through your mobile phone.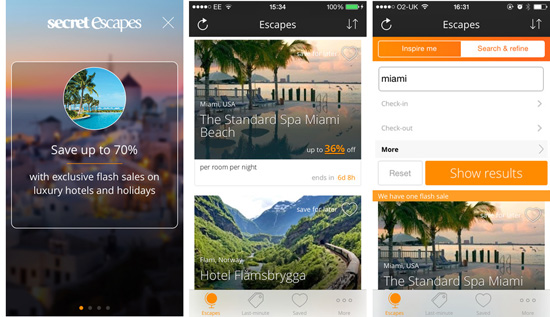 Gift Vouchers
Secret Escapes offers a gift voucher option that lets you gift a friend or loved one with a well-deserved escape from their regular lives. When you purchase a gift voucher from Secret Escapes for someone, you will get a confirmation email and a PDF file. This file can be given to the lucky recipient, who can redeem it to the holiday of their preference at Secret Escapes.
Social Media Link
Connect with Secret Escapes on social media at:
Contact Details
Customer Care: 0843 22 77 777
E-Mail: support@secretescapes.com