Ripley's Believe It Or Not Discount Codes June 2019
Use our Ripley's Believe It Or Not UK vouchers for a wide range of products and purchase them at incredibly low prices. These Ripley's Believe It Or Not UK discount codes expire soon, so act today and save big.



---
Visit Ripley's Believe It Or Not in groups & save up to 37% on booking tickets. Enjoy unbelievable savings!



---
At Ripley's Believe It Or Not, book your tickets in advance & save when you book online. Book now & save more!



---
Gift Cards are perfect for an alternative birthday or Christmas present, or for incentive schemes and staff rewards. Start gifting your loved ones today!



---
Promotional Ripley's Believe It Or Not voucher code: Grab the Christmas Trail offer from Ripley's Believe It Or Not with unbelievable attraction to enjoy festive fun & discover various facts. Book your tickets from 14th November to 6th January & get best prices starting from £14.96.



---
Enjoy meal packages after visiting Ripley's Believe It Or Not with a set of 2 course lunch or dinner at Planet Hollywood starting from £30 only. Hurry, grab for huge discounts!



---
Enjoy a 90 minute trip aboard one of See London By Night's open top tour buses for a starting price of only £24.99.



---
Enjoy a scenic journey through the heart of London aboard one of City Cruises riverboats from just £24.99.



---
After your visit to Ripley's take a journey through 2000 years of London's gruesome history at the UK's scariest year round attraction from £20.18!



---
Refuel after your visit to Ripley's with a fantastic set two-course lunch or dinner from £30.99 at the brand new Bubba Gump Shrimp Co, the restaurant inspired by the 1994 movie Forrest Gump.



---
Skip the admission and beat the queue at Ripley's Believe It Or Not by selecting a Fast Track ticket for just £3 per person extra!
About Ripley's Believe It Or Not
Your London sight-seeing itinerary will remain largely incomplete without a trip to the incredible Ripley's Believe it or Not Museum! Entertaining, exciting, educational and mind-blowing at the same time, Ripley's has plenty of attractions in store for one and all! Being the largest amongst all Ripley's Museums across the globe, Ripley's London is exceptionally known for 500+ education artefacts, myriad interactive exhibits, erstwhile belongings of Marilyn Monroe and more! While the exhibits at Ripley's, London cater to all age groups including young children, please note that it's mandatory for children under the age of 14 to be accompanied by an adult.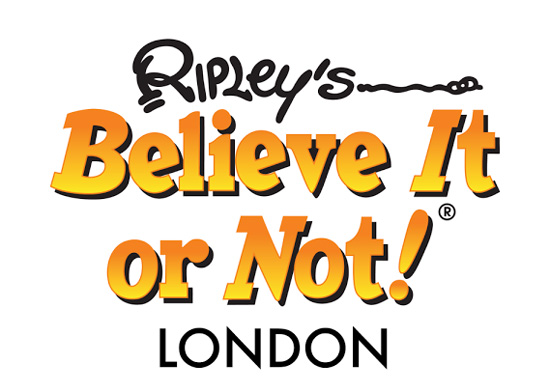 The museum is replete with a well-equipped cafe for beverages and light snacks, gift shop with Ripley's themed toys, clothes, books etc, and while most exhibits and highlights are self explanatory, guided tours can also be provided on request. It's suggested that you keep at least 2 hours at hand, in order completing your tour of the entire museum, soaking in all the fun, frolic and fascination it has in store for you!
Bizarre Attractions
Amazing Art - Gallery of Greats, Famous Faces, Highlights- Harry Potter Hungarian Horntail Dragon, Keyboard Art—Abraham Lincoln, Toast Art, Candy portrait- Michael Jackson
Curious Cultures - World Wonders, Tribal Treasures, Unusual Practices and Traditions, Body Modifications, Exotic Treasures, Highlights- Egyptian Mummified Hand, Invincibility Belt from the Philippines, Burmese Tattoo Kit and Outfit, Self-deformed Peruvian skull, Balinese Dance Costumes
Remarkable People - Highlights include Ching Foo of Shensi born with a blue face, Earl Hughes who weighs 485 kg, Liu Ch'ung born with double pupils in both eyes, Tycho Brahe who has solid-gold artificial nose!
Incredible Nature - Highlights include Slim, the 5-legged cow, fun-bearing trout, albino alligator, Prehistoric Megaladon shark jaw, painting sketched by Cholla the horse and more!
History Rediscovered - Highlights include a lock of Napoleon's hair, gloves worn by King Charles 1, Edward the Eighth's abdication speech, Medieval Marvels like the Brank shame mask, chastity belt and the bed of nails, to name a few!
Interactive Fun - Mirror Maze, Impossible LaseRace, Black Hole, Graffiti Wall
Something for Everyone - Families, Groups, Schools, Young Couples
If you're planning a trip to Ripley's Believe It Or Not, you needn't look anywhere else but its official website, which has a fantastic 'Plan your Visit' Section that takes you through all the steps in detail. These include the best ways to get there, the opening times, accessibility and free carers, facilities on site and all possible FAQs.

Fantastic Deals
Grab hold of a 20% discount on ticket fare right away. Limited Offer, hurry up!
Get 2 for 1 Adult Entry to Ripley's London, with a massive saving of 58%!
Flat 25% off on advance ticket bookings for adults, children and families!
Sign up to the Ripley's Newsletter
You're bound to be thrilled with all the insightful news, exciting updates, promotional offers and free gifts that you'll receive when you sign up to the Ripley's newsletter!
Redeem Your Savings Code
Select the kind of package or category of ticket you wish to purchase and click on 'buy now'.
You'll be directed to a calendar where you need to select the particular date that you wish to purchase the ticket for.
Select the appropriate quantity of tickets required in front of adult, children or family. Check the total fare and click on 'order tickets'.
Finally, you're redirected to your shopping basket, where you can enter your promotional code, click on 'apply coupon' and lastly click on 'continue' for payment.
The Ripley's Believe It Or Not YouTube Channel is brimming with interesting videos, be it with regard to party tricks, Christmas Messages or Parent Bloggers Day Out. Do check it out right away!
Mobile App
A free-to-download app for iPhone and Android Smartphone users, the Ripley's new mobile app brings you the latest, extraordinary pictures, videos, cartoons, titbits and more!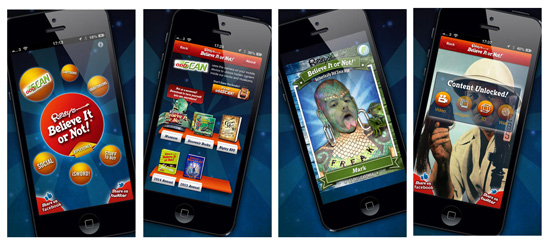 Gift a Wondrous Trip to Ripley's!
The perfect, nominally-priced present for any occasion, the Ripley's Believe it or Not London Gift Card is an entry ticket that can be availed within 12 months of having received it, and also includes entry to two main attractions, the Mirror Maze and the Laser Race. You can place your order for a gift card online, or even via telephone by calling up 0207 494 6818. The current prices of a Gift Card for an Adult (16+) is £26.95 and for a Child (4-15) is £19.95. You can also opt for a Family Gift Card, which accommodated 2 adults and 2 children, or 1 adult and 3 children, at just £79.95! Treat yourself and your family with great offers on art & entertainment with great offers from Attractiontix and Flamingo Land by visiting our site.
Social Media Links
Contact Details
Ripley's Believe It Or Not
The London Pavilion
1 Piccadilly Circus
London
W1J 0DA

Customer Care: +44 (0) 20 3238 0022
Contact form available on website.