---
Travel from Birmingham New Street to Edinburgh starting from £16 and save up to 86%.



---
Book your ride in advance to get the maximum benefits of up to 83% only at redspottedhanky.



---
Visit redspottedhanky, explore various entertainment options and stand a chance to save 50% on an average.



---
Enjoy Loyalty Points when booking with Redspottedhanky. Start earning via Facebook, Twitter and shopping portals today!



---
You can redeem the points collected for future travel. Remember, every 100 point is worth £1 in rail vouchers so, hurry up start collecting points.



---
Attention! No Credit/Debit card fees! Check out the latest deals and offers on travelling, music and art only at redspottedhanky. redspottedhanky-promotional-codes-



---
Go check out the latest tickets available for a great selection of musicals and plays. Book your show today!
About Redspottedhanky
Redspottedhanky offer train and coach tickets at a better price. They also offer hotels, car hire, flights and theatre booking too. They are confident you will always find the best deal on their site, so much so they offer a price promise. This price promise saves you up to 80% compared to standard walk-up fares you would purchase on the day.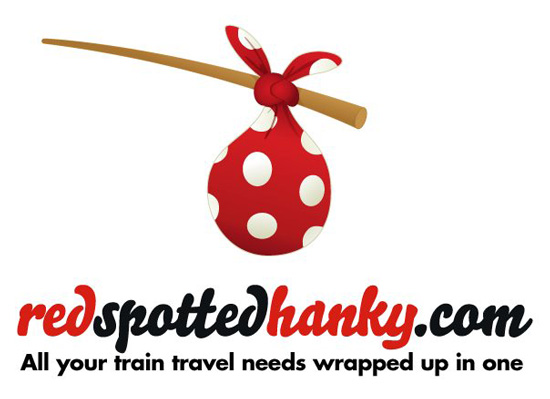 Redspottedhanky Loyalty
Redspottedhanky wants to reward its customers for being loyal to them. As soon as you purchase your first tickets, be it train, coach, car hire etc they automatically create a loyalty account for you so that you start to earn points and rewards straight away. You are rewarded with one loyalty point for every £1 you spend on rail tickets and 2 loyalty points for every £1 you spend on hotels or car hire. The for using their shopping portal you can earn up to 20 loyalty points for every £1 you spend. One point is worth 1p for redemption. Even, TheTrainLine offers similar offer with huge savings.
Tickets at Redspottedhanky
Train Tickets
Eurostar
Coaches
Hotels
Best Deals at Redspottedhanky
No Delivery Fees on booking tickets
No Credit Card Fees
No Booking Fees
Earn Loyalty Points
You can save more money in Moss Bros Outlet section on their website. Here they put all the items in clearance.
Save Using Money Off Vouchers
You can save more money when you use money off vouchers or a special deal.
Find the money off vouchers or deal you want to use at Redspottedhanky.
Click the Show Voucher Code and Visit Site.
You are taken direct to the Redspottedhanky website.
The money off vouchers or deal is also activated for you.
Find what you are looking for, train tickets, coach tickets, car hire or flights.
Add the details and search and pick the tickets you want.
Add to your basket.
Continue through to payment and you are given the option to add your money off vouchers code.
Add the code and finalise the order with your payment.
Redspottedhanky has its own YouTube channel. It its latest video they show you how to exchange your vouchers at Redspottedhanky.
Train Operators
Redspottedhanky works with train operators to get the best deals and tickets. Like Virgin Trains, First TransPennine Express, Gatwick Express, First ScotRail, Chiltern Railways, Arriva Trains Wales, Stanstead Express, South West Trains, Southern Cross Country Trains, East Coast trains, First Great Western Trains and East Midlands Trains.
Eurostar
Redspottedhanky has teamed up with Eurostar to help you discover some of the best cities in Europe. You can even use the connecting services to travel through the Swiss Alps or escape for a romantic weekend in Paris.
Train Tickets – With Redspottedhanky price promise you can save up to 80% on train tickets compared to tickets you buy at the platform. For example, Birmingham New Street to London Euston if you book in advance through Redspottedhanky you save 92% with tickets starting at £6. Or Manchester Piccadilly to London you can save 92% compared to tickets bought in the day. Tickets start at £12.50 plus there is no credit or debit card fees. Glasgow to London Euston start at £21 which saves you 88%.

Coaches – Redspottedhanky works with National Express to get you the best deals on coach tickets running approximately 100 routes to over 1,000 destinations across the UK and Europe. National Express coaches are fitted with air conditioning, leather seats, plug sockets and lots of luggage space. Most of the major airports in the UK have National Express services running direct from towns and cities. So whether it's traveling to an airport, visiting friends or just exploring somewhere new, National Express can offer you a suitable journey.
Hotels – Redspottedhanky has teamed up with Expedia to bring you the best hotels at the best deals. When you make your booking, Redspottedhanky passes your details through Expedia and direct to the hotel you selected.
Car Hire – you earn double loyalty points when you book your car hire through Redspottedhanky. It's quick and easy and you know you're getting a great deal with Redspottedhanky.
Theatre Tickets - Redspottedhanky now offer theatre Tickets in partnership with Shows in London. They have tickets available for a great selection of musicals in the West End like The Lion King, Billy Elliot, Wicked and Les Miserables.
Social Media
Contact Information
Customer Service: 0800 377 7748
Contact form available on website.