VoucherBin > Stores >

QuickQuid

:

7

Active Vouchers



---
Skim through QuickQuid for fastest loan services at a low-interest rate. Limited time offer!



---
Get the flexible and transparent personal loans from QuickQuid. It offers loans for cars, home or business at low interest rate.



---
Up to £1000 loan amount for new customers and up to £1500 for existing customers is offered by QuickQuid.



---
Repay the loans you got from QuickQuid by paying using multiple repayment options. With up to 3 repayment periods you can pay back the loan.



---
If you are unable to repay your upcoming loan payments, a late fee of up to £15 will be added on your repayment amount by QuickQuid.



---
QuickQuid doesn't charge any hidden fees for the loans you have applied.



---
Grab this latest Facebook promotional offer from QuickQuid, where discount of 5% is offered for short term loans.
Click to copy & open site
About QuickQuid
QuickQuid is an organization that provides affordable loans online. The organization is part of Enova International. The company has built a strong reputation as an online lender for 10 years. The decade long experience in the industry means that it has developed a strong understanding of this market.

QuickQuid has its headquarters in the United Kingdom. It provides loans to the residents in the country. However, its loans are tailored for the short term needs of an individual. For the service to benefit an individual, they must have a short term need for the emergency funding. It should not be used for long term purposes.
The website provides a quick and easy way to access fast loans. Once you have reached the landing page at https://www.quickquid.co.uk/ it is easy to provide the relevant information. The loan application form has three categories. These are; your details, work details and loan selection. You have to complete them in a sequential manner. The service requires you to input your email. In addition, it requires your mobile phone number. Then you should provide residential information.
Eligibility Requirements
The client should have a valid bank account.
They must be employed and be assured of receiving a regular paycheck.
The service is only available to residents in the United Kingdom.
They must be at least 18 years old.
Once the loans have been approved, the money is sent to the client within ten minutes after the loan has been approved.
Short Term Loans
Firstly, clients can access credit of up to 1000 Euros while existing customers can borrow up to 1500 Euros. The loans can be repaid within 1, 2 or 3 payment periods. The interest accrues at a rate of 0.80% per day.
Once you have taken a loan, you cannot take another loan for at least 27-day minimum loan restriction. The repayment dates are determined by the day that you took the loan.
Assumptions
The payments are based on the assumption that the customer has a regular monthly income. The pay periods are 30 days. In addition, the customer is expected to make regular payments on time. The people who take loans should ensure that they have a regular income. Late payments can attract a penalty of 15 Euros. The interest continues to accrue on the outstanding principle following the end of the payment period.
However, QuickQuid provides an opportunity for clients to make alternative arrangements if they are unable to pay their loans in time.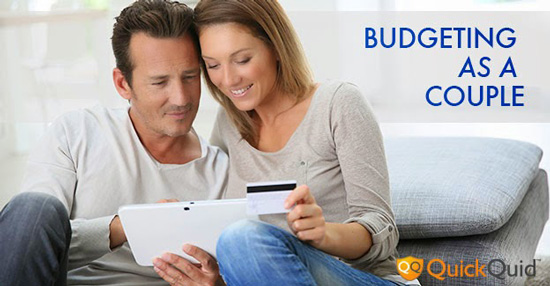 Irresistible Offer
Save 5% on interest of an approved loan
Short term loan up to £1500
How to Apply For the Loan
Enter Email address and password.
Provide your personal information.
Give your address information.
Tick the promotional details that you would like to receive.
You can enter a promo code if its applicable.
Then you should provide your work details.
The last step involves the selection of a loan.
QuickQuid has its own YouTube channel where it updates the videos. Put a glance on this video where QuickQuid always invents new ways to be as helpful as possible.
Important Things to Know
QuickQuid runs regular credit searches. Every new client has to be vetted. An application for a short-term loan can be turned down if the credit report reveals that they have been many searches. The presence of many searches reveals that the client is in great financial need. It may also be an indication of fraud.
Another thing that people should learn is a Continuous Payment Authority. A CPA gives a lender the authority to make withdrawals from the bank account of their client. The customer and the lender have to agree on the series of payments that can be withdrawn. It is important for you to understand the kind of commitment that you are getting into before receiving a personal loan from QuickQuid. Once you have approved a CPA, the organization will be able to debit from your account. Vanquis Bank also provides similar offers with great savings.
The customer can cancel a CPA by making an arrangement with the bank or the organization. If the cancelation is made through an arrangement with the bank, then an effort should be made to ensure that QuickQuid is notified.
Payday loans should mostly be used for emergencies and unexpected expenses. Auto repair bills and overdue loans are examples of expenses that it can be used for. Payday loans should solelybe used for short-term financial needs. They should not be used as sources of long-term borrowing. In addition, they should not be used for solving financial difficulties.
How to Choose a Lender
Ensure that you take a loan from lenders as opposed to middlemen.
Ensure that they have been authorized by the Financial Conduct Authority.
Legitimate lenders provide physical addresses.
Only use organizations that have a privacy policy.
Make sure that the lender uses strong security systems such as VeriSign and MacAfee.
Only use lenders that are active participants such as the Consumer Finance Association (CFA) and the Credit Industry Fraud Avoidance System (CIFAS).
A majority of residents in the United Kingdom belong to the Middle class. They have to find alternative means of finding credit as they try to make ends meet. QuickQuid is an important tool for these people. However, it has to be used appropriately in order to benefit the consumer. In fact, the service should only be used to satisfy a short-term financial need. If it is not used appropriately, the client may risk falling into more financial difficulty. Some efforts need to be applied so as to make the service a source of good debt as opposed to bad debt.
Stay Updated on Social Media
Contact QuickQuid
483 Green Lanes
London
N13 4BS
Customer Care: 0808 234 4558
E-Mail: support@quickquid.co.uk