Purple Parking Discount Codes June 2020
Use our Purple Parking vouchers for a wide range of products and purchase them at incredibly low prices. These Purple Parking discount codes expire soon, so act today and save big.



---
Skim through Purple Parking and pay 60% less on car parking. Book from anywhere and grab before it ends!



---
Pay 20% less for your travel insurance cover. Visit Purple Parking and get amazing offers!



---
Receive an exclusive discount of 12% on bag transportation charges at Purple Parking. Limited time offer!
Click to copy & open site



---
Get to save 10% on Destination Transfer fares at Purple Parking. Book today to gain huge savings!



---
Save your time and book Airport Lounges starting from just £13.50 per person at Purple Parking. Check out now!



---
Relax in style, no matter your airline or class of travel, Purple Parking provides luxury Airport Lounge services starting from £13.50.



---
With the celebrity style Meet & Greet parking treatment by Purple Parking you will find comfort by stepping straight from your car into the terminal. Opt for this cost effective offer and enjoy the ultimate parking experience!



---
When travelling on a business trip every minute counts. Purple Parking brings you efficient and convenience Business parking services at cheaper rates!
About Purple Parking
Purple Parking is a company that specialises in providing their clients a place to store their cars alongside an Airport. Why use Purple Parking? Simply because the prices they offer are significantly lower than those of the airport parking options. Furthermore, they offer convenience and an efficient experience.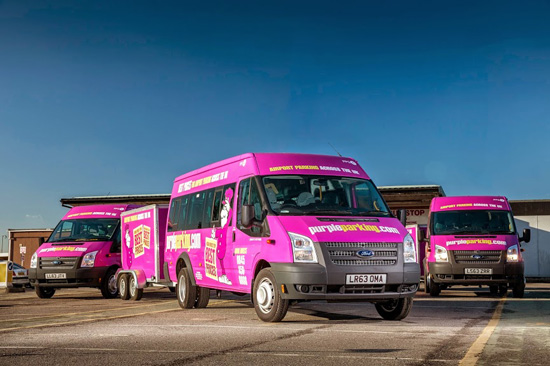 The first location of Purple Parking was in Heathrow, and due to the success of that site Purple Parking is now available at airports all across the UK. From 2002, the year which it started its operations Purple Parking has updated and improved its booking system. Every year it aims improve on the last in terms of providing customer satisfaction.
Types of Parking Offers
Meet & Greet: With this option a chauffeur will meet you in an agreed upon location near the terminal of the airport. Your car will be collected, and the chauffeur will drive it to the parking facility, which will be nearby. Once you return from your journey the chauffeur will then deliver your car to the same location from where it was collected. This setup is convenient, cost-effective and will save a lot of time.
Park And Ride Premium: When using this service you'll need to drive your car to the parking facility. Then Purple Parking will help you load any luggage onto a minibus, and you'll be transported to your terminal. Once you have arrived from your journey, the chauffeur will deliver your car at the terminal where you arrive. This service is cheaper because the chauffeur only has to deliver your car one way. It's also time effective and convenient.
Park And Ride: With this service you'll need to deliver your vehicle to Purple Parking's secure parking facility. At which point the staff will help unload your luggage, and then load it up into one of their minibuses. You will then be conveniently transported to your terminal. Once you return from your journey, you'll need to get in touch with Purple Parking. A minibus will be arranged to pick you up from the terminal, and transport you back to their parking facility where your vehicle will be waiting. Your car will be safe, because the facilities at Purple Parking are monitored around the clock.
Q-Park City Centre Parking: Alternatively you could make use of a partner company, Q-Park, to park your car in a nearby city centre. Q-Park provides parking facilities that have spacious parking bays, are clean, provides high quality lighting and is secure. In London alone there are as many as 16 locations to choose from.

Deals for Extra Savings
Are you interested in saving even more money with your parking when using Q-Park? Then book online to receive a 10% discount. All customers that pre-book parking service online will receive this discount.
Furthermore, you can book with Purple Parking knowing that you are getting the best deal around. That's because if you do happen to find a better deal locally, then Purple Parking will match that price point. They will even refund you the difference if you let them know of a cheaper service within 7 days of booking.
You can also become a member of Purple Parking, and that will allow you to receive further discounts. For example, on your first booking you'll receive 60% off if you choose to become a member. To become a member you'll need to fill out a form, which is a quick and easy process – the instructions are clearly displayed on their homepage. Certainly worth the time investment for the savings it will allow you to make
Live your passion by visiting places you always dreamt off with these travel vouchers from store like SkyParkSecure Airport Parking and Stansted Airport Car Park by visiting our site.
How to Get Cheapest Airport Parking Quotes
Visit http://www.purpleparking.com/ website to start your search.
Choose the airport location where you require the chauffeur to park the car.
Enter the departure date as well as timing of departure so that the chauffeur can be available.
Provide the return date if you're selecting park and ride parking service.
Enter the promo code in the text box if you have any.
Click on get my quote.
To find out more about the services that Purple Parking offers check out the YouTube video below. It explains what you can expect from one of the many sites that are offered by Purple Parking.
Low Cost Hotels Near Airport
Are you interested in traveling, but are looking for a cheap way to do so? Then consider the low cost offers available from Purple Parking. They started by offering a great parking service that not only provides close by affordable parking to the top airports in the UK, but also a shuttle bus service to your terminal and parking lot. They operate with the notation that customer needs must come first. With that thought in mind, take a look at some of their top offers: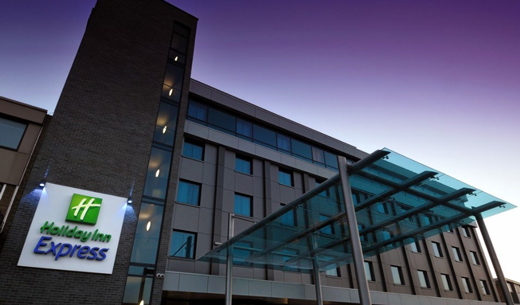 Heathrow Holiday Inn
When traveling through Heathrow, and you need a cheap place to stay, then consider the Holiday Inn at Heathrow. Purple Parking is offering  £86 per night with up to 1 week of parking. The hotel is one of the more simple options on the market, but it does offer speed and convenience – these are some of the more attractive features when travelling. You'll find that the hotel staff are friendly and helpful if you need to find out any information. Furthermore, the interior decor of the hotel is an impressive one, which means you'll enjoy your stay.
Ibis Birmingham Hotel
If you need to stay near Birmingham airport consider the Ibis Birmingham Hotel, which will charge you £72 per night, but you will also get up to 1 week of parking. The hotel is only 300m from Birmingham airport, and is priced very well for what it offers.
The breakfast menu is a buffet offering, and evening meals tend to come in themed options. Such options include Chinese, Italian, English and Indian. The authentic nature of the food will make for a very tasty meal.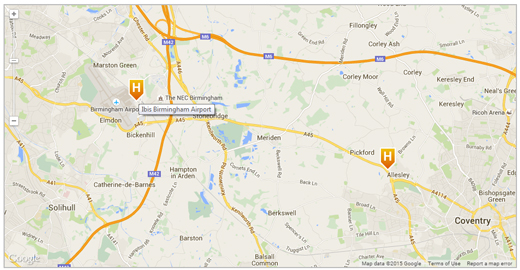 Europa London Gatwick
For a cheap, yet good quality hotel when traveling though Gatwick Airport check out Europa London. Purple Parking is offering 1 night stay for a price of £47. It is right next to the airport which means missing your flight due to being stuck in traffic is not going to be a problem. Also nearby there is the National Exhibition Centre that you can check out.
The staff at Europa Hotel are friendly, polite and willing to help if you have any questions. The buffet breakfast option is also a filing, one which means you will be energized for the day of travelling you'll have to do.
Social Media
Follow Purple Parking on Facebook to keep up to date on their available locations and newest offers.
For updates on the latest Purple Parking news stay tuned to their Twitter.
If you want to follow Purple Parking on Google+.
Contact Details
Customer care: 0845 601 8623
E-Mail: customer.relations@purpleparking.com