PUMA Discount Codes January 2021
Use our PUMA vouchers for a wide range of products and purchase them at incredibly low prices. These PUMA discount codes expire soon, so act today and save big.
VoucherBin > Stores >

PUMA

:

8

Active Vouchers



---
Shop from a wide range of accessories including wristbands, belts, grip bags, tablet covers and lots more with up to 55% off at PUMA. Go for this offer before it expires!



---
Shop for accessories, girls & boys shoes, clothing and much more from PUMA and receive free delivery when you spend £50 or more.



---
Shop for stripes, classics, trainers and many other types of sports shoes from PUMA and pay only 50% of the amount. Don't miss out this offer!



---
Go for online shopping at PUMA and shop for jersies, shorts, logo t-shirts and more at half price. Limited time offer!



---
Go for girls sports shoes including dance trainers, straps trainers and more with savings up to £15 at PUMA. Shop now and save big!



---
Shop for Ranger's Jersey by PUMA at 40% reduction price. This t-shirt is made of highly functional materials which draws away the sweat and keep you dry and comfortable on/off the pitch!



---
PUMA brings you Basket Heart Patent Women's Trainer shoe which is made up of padded collar and tongue for increased comfort. Shop for £65 only!



---
End of season sale!! Customize your fit with the infinite lacing styles by PUMA and grab up to 50% savings on your order.
About Puma
Puma is one of the biggest and most popular sports brands in the world, with a rich history and legacy behind it and a number of modern, high-performance apparel, footwear and accessories ahead. It is one of those brands that needs no introduction, and a quick look at its history tells you why.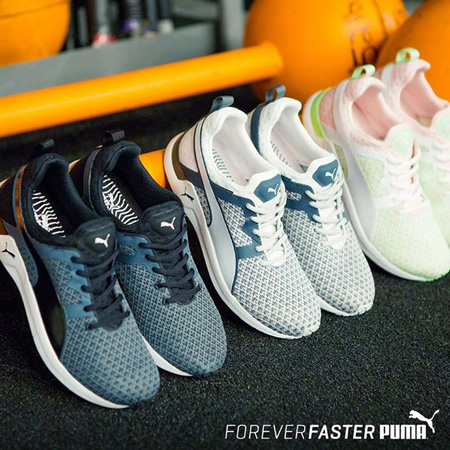 Puma is one half of one of the bitterest rivalries in sports apparel and footwear history: the one between Adidas and Puma, formed by brothers Adolf and Rudolf Dassler, respectively. The two formed GebrüderDasslerSchuhfabrik in 1924 and saw significant success until the brothers decided to split in 1948. The split caused a rivalry so bitter that it even divided the town of Herzogenaurach, where the brands were headquartered.
The rivalry would continue until Rudolf Dassler's family sold their share in Puma, but the brand has continued to offer high-performance footwear, apparel and accessories for over 65 years. Its shoes and apparel have been adorned by some of the greatest athletes in the world too, including football legend Pele and Olympian runner Usain Bolt. Apart from football and running, Puma also offers training, fitness, golf and motorsports products and engages in collaboration with established as well as up-and-coming design brands across the world, bring fast and innovative designs to back up its performance credentials.
Today, the Puma brand is sold in over 120 countries and employs over 10,000 people across the world, and you can find a comprehensive range of its products available online right on its UK website.
Sister Companies
Puma is currently owned by Kering and has several brands under it, including:
Cobra Golf
Tretorn
Dobotex
Brandon
What Puma Offers
Puma offers a wide range of products for men, women and children, including:
Teamsport: Sports performance footwear, apparel and accessories, particularly for football
Running and Training: Footwear, apparel and accessories for high-performance running and training
Golf footwear, apparel and accessories
Lifestyle and Motorsport: Motorsport protective gear and lifestyle apparel and footwear
Fundamentals: The base layer of Puma's portfolio with on-trend colours and great prices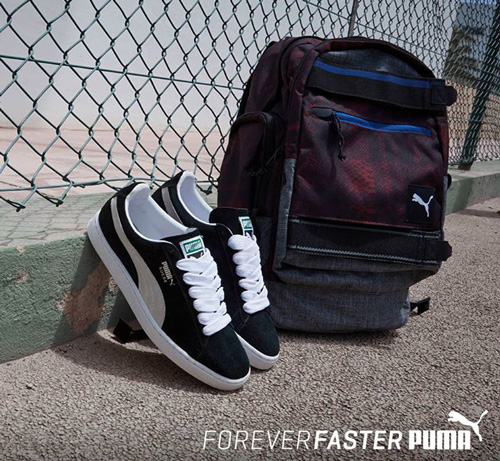 Top Categories at Puma
Shop at Puma by the following categories:
Men
Women
Kids
Sports
Collections
Top Deals at Puma
Check out these sizzling hot offers available right now at Puma:
End of season sale: Up to 50 percent off
Free shipping on orders over £60
Redon Move trainers worth £50, now for £35
Check out even more daily sales and discounts going on at Puma UK under its 'Sales' category. For more of such products as well as discounts, you can also check what Nike UK and Shoes by Mail has to offer.
Put a glance at amazing and inspirational promotional videos on Puma, including interviews with its roster of athletes, at Puma's official YouTube channel.
<
How to Get The Best Deals?
You can get even more discounts at Puma if you have voucher codes with you. Here is how you can make use of it:
Browse the categories of products on the top of the page or go to the Sales category and then select men's, women's or children's segments.
Based on the segment that you choose, you would be redirected to the appropriate product listing page.
You can refine the product listings with the filters given on the left-hand side of the page, including size, prize and so on.
If you like a product being shown, click on it to go to the product page or click on 'Quickview' to see a quick look at the product.
Click on 'Add to cart' after selecting the size and, if required, colour on the product or Quickview page.
Continue shopping and click on the Cart link on the top right corner of the website once you are done.
Review the order and, once confirmed, select the products that you like.
When the option comes up, add the voucher code and apply it to the order.
Verify to see if the order price has been further discounted.
Once verified, complete the order and make the payment.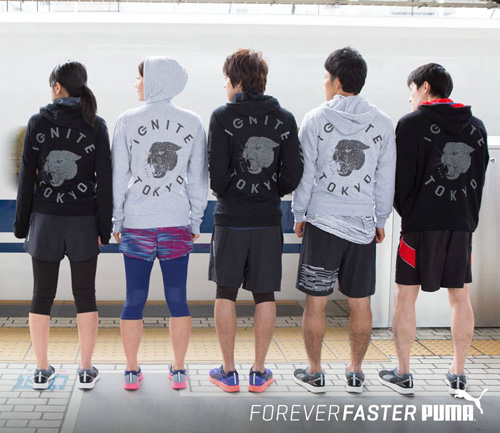 Returns Policy
Puma has a comprehensive return policy. You can return items for free using the supplied return stickers included in the package. If your package does not have a returns label or was damaged when you received it, you may contact Puma customer service by phone or email.
Returns are only possible on orders in the original state and with no signs of wear. These conditions also applied to Puma's discounted items. There may be specific conditions applies for customised styles. Puma generally does not accept returns of personalised products, except if the product turns out to be faulty.
Puma does not provide product exchanges due to technical reasons. Swimwear, underwear and socks are not returnable either. Once you return an item and get a refund, you may place a new order online at Puma. When you return an item, Puma strongly recommends using UPS to do so, although you are not required to comply. For free returns, you can use the return sticker and directly contact UPS to arrange a time for picking up the package.
Reimbursements are generally made within three to five days of Puma receiving the returned product and conducting a quality check on the package. The value of the merchandise returned with be credited back to your debit/credit card account. If you paid via PayPal, the returned amount will be credited to your PayPal account.
The returned items should not show signs of any wear. If you are trying on shoes, you must try it on a dirt-free surface or a carpet. Compensation may be demanded if the merchandise shows signs of wear.
Social Media Details
Connect with Puma on social media at:
Contact Puma
PUMA Online Shop
Postfach 21 04 44
50530 Köln
Germany
Telephone: (+44) 02 - 033 265 481
Email: service@eu.puma.com