Protect Your Bubble Discount Codes June 2020
Use our Protect Your Bubble vouchers for a wide range of products and purchase them at incredibly low prices. These Protect Your Bubble discount codes expire soon, so act today and save big.


---
Protect Your Bubble provides 15% savings on your insurance when you apply for 3 or more jewellery items.


---
Student can get 15% savings on Protect Your Bubble's gadget and jewellery insurance.


---
Get insurance of 2 or more business gadgets and receive 10% savings on your total cost.


---
Save your iPhone from cracked screens, liquid damage, theft & more using Protect Your Bubble's insurance available for less.


---
If your pet lost and you have Protect Your Bubble insurance then you will get up to £250 after 45 days.


---
Protect Your Bubble offers gadget insurance for all your electronic and home gadgets, available from £7.99!


---
Get mobile phone insurance from Protect Your Bubble for £7.99 which includes cracked screens, mechanical breakdowns, water & liquid damage.


---
Get insurance for all household gadgets using Protect Your Bubble available from just £12.99 per month.
About Protect Your Bubble
How protected are you during travel? While the incidents of recent past cannot be forgotten, air travel insurance still hasn't picked up the way it should have. The reasons for this are many – for one, air travel insurance can be expensive at times and you may not want to spend all that amount for insurance, at one go. However, what if there was an easier way out, a way where you can spend less and get more coverage during travel? Protect Your Bubble helps you do exactly

Staying insured with the things around you can be best kind of peace of mind available for a human being. As humans, we are surrounded by number of material things around us, from the favorite bicycle of yours to the loving pet that makes the whole bubble around. A smartphone or even a laptop too makes a personal space around a person and wouldn't it be great if all these around you are insured so that you are assured? To see such a dream into reality Protect Your Bubble helps in assuring all of these.
Protect Your Bubble is a Fortune 500 company which has been insuring people's bubbles since the year 2008 in whole of U.K, U.S.A and even in Ireland. The company provides insurance for gadgets both for home and office and even your tiny but important thing like a smartphone. It also makes sure that your bicycle, pet and even car hire stays insured, so that you feel secured about the things you love around. If any accident occurs to any person or property due to the involvement of your dog, then you are assured. Sounds good, right? It is for all other kinds of pets around, illness, accident, loss or even boarding costs when you are ill. They have the ultimate insurance solution for hire car accidents and other abnormalities. The company makes it important to take care of the space that though is material but makes the maximum part of your life and living.
Top Categories to Watch Out For
Searching for your desired category on the website is the easiest of the task. All you have to do is click the homepage and choose from the topmost boxes that will help you get any kinds of information you want. You will get information about the company, blogs, and the insurance that are available in the website. For easy access to the insurance products, the left-hand side contains the names of the sections that can be insured. Just click the section that you desire and you can get all the necessary information needed.
The help and support section in the uppermost part has all the necessities. It contains the make a claim part, by clicking the same you will be provided with the steps by which you can make a claim regarding the product you have insured. The help and support section also contains the part of making a complaint and renewing the policy. You can connect to the same and get all the necessary details for the same.

Sizzling Deals
Get gadget insurance for £5.99/month
Get car hire excess insurance from £2.31 a day
Up To 15% off- Bicycle Insurance
Galaxy S6 cover from £5.99/month
Save money on online services on financial services from Mister Auto and Questor Insurance.
Guide to Opting For Insurance
Choose the category of the product and click on the same. For e.g. if you are opting for gadget insurance, click to the section of the gadget insurance.
Once you are on the page of the same, they will provide you with the option of choosing the number of gadgets for which you want to get a quote.
Once you choose the number, they will ask you the model and number of the same.
Once you enter all of these, they will generate a quote instantly and then ask you for the choice of payment process.
Choose the payment option and select the secure personal information and proceed to the payment section.
Put down the details required and make sure you read all the terms and condition before going for insurance from any category.
Once you provide the details, it will forward you to the payment section.
Complete the payment and get yourself secured.
Protect Your Bubble has a dedicated YouTube channel where it regularly uploads its video about the latest product. Check out this updated version Protect Your Bubble 10 second mobile phone insurance TV Advert.
Transaction Information
It accepts payment from PayPal, Visa, Maestro, MasterCard, American Express and Debit direct. The payment transaction is visa verified and MasterCard secure code. The Company thoroughly urges its customers to read about the terms and conditions of the company and the insurance carefully before opting for the same. Once opted for the insurance the conditions and the terms cannot be changed.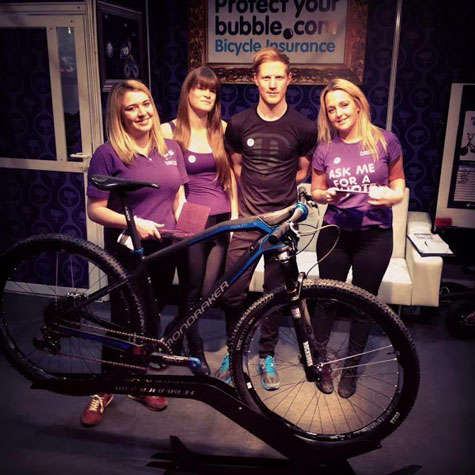 Insurances Provided
Gadget insurance
Family gadget insurance
Business gadget insurance
Pet insurance
Bicycle insurance
Cars hire excess insurance
Travel insurance
Social Media Platform
Contact Information
Assurant House
6-12 Victoria Street
Windsor
Berkshire
SL4 1EN

Customer care: 0800 111 6768
Contact form available on website.