About Prestige Flowers
Prestige Flowers is voted the number one online florist! With hundreds of flowers and arrangements to choose from you can find flowers for almost any occasion and with prices starting as low as £14.99 for a bouquet, you are sure to find the bouquet you want within your budget. They have flowers for all occasions such as birthdays, anniversaries and holidays. So head on over to Prestige Flowers for all your floral needs!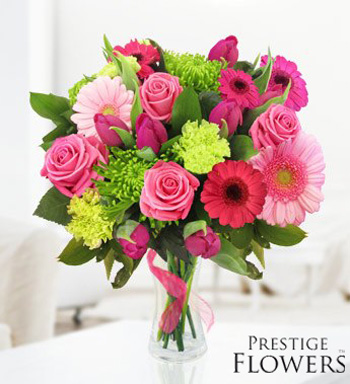 What Prestige Flowers Sells
Prestige Flowers has got flowers and gifts for all sorts of occasions such as-
Christmas flowers
Birthday flowers
Sympathy and Get Well flowers
New Baby flowers
Congratulations flowers
Anniversary flowers
Thank you flowers
Valentine 's Day flowers
Mother's day flowers
They have also got a great selection of silk flowers and plants starting from as low as £19.99, so you never have to worry about your flowers wilting.
They also sell corsages and boutonnieres for weddings, proms and other special occasions and they have got a great gift hamper selection including:
Wine Gifts.
Cheese Hampers– that include various cheeses, wines, chutneys, biscuits and cheese knives.
Sweets Hampers– that include chocolates, candies and wines.
Luxury Hampers– that include wines, biscuits, tea, truffles, cakes, marmalades, preserves, crisps and more!
Christmas Hampers– that include everything Christmas like coffee, tea, cheeses, pies, dressings, whiskey, chocolates, marmalades, jams, chutneys, pudding, cakes and crackers.
Food Hampers of various kinds such as Christmas food or salmon and much more!
Pet Hampers for your cats and dogs!
Corporate Hampers– that include wines, cheeses, chocolates and sweets.
Picnic Hampers with wines, teas, truffles, cookies, pates, cakes and utensils!
Fruit Hampers– that include exotic fruit like sour cherries and pineapples and also wines, crisps, cakes and pickled vegetables.
Chocolate Hampers that include all sorts of chocolates.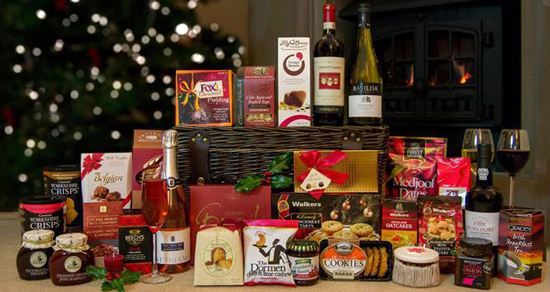 They have also got flower arrangements and more for the highly sombre occasions such as funerals. For such occasions you can get baskets, wreaths, sprays, crosses and tributes. You can also check for Arena Flowers as well as Eden4flowers.co.uk!
Top Deals
Up to 10% off voucher codes.
Free milk chocolates with every bouquet of flowers (and free vases with some bouquets).
Everyday low prices!
How To Redeem Your Voucher
To redeem your voucher code and get great discounts on the already low priced bouquets on Prestige Flowers, just follow these simple steps below.
Sign in to your account and start shopping for your flowers or gift hampers.
Once you have chosen your bouquet of flowers, select a size from standard, medium or large (subject to fees).
Add a little something extra like a vase, flower feed, teddy bear, Belgian chocolates or balloons.
Enter your personalized message and choose your delivery date and click the "Order Now" button.
Enter the address you want the flowers to be delivered and click the "Secure Checkout" button or the "Checkout with Paypal" button.
At the very last page before you complete your order, you can add your voucher code and your discount will be applied immediately!
Click "Complete your Order" button and confirm and finalize your order.
Social Media Links
Want to keep up to date with all the latest sales and discounts? If so you can follow Prestige Flowers on Twitter or like their Facebook page or follow their blog given below and get tips of how to keep your flowers fresh for longer and facts about all the different flowers in the world, along with many other interesting posts.
Delivery Policy
Since Prestige Flowers in based in the UK that means you can have flowers delivered to anywhere within the UK for just £5.80. Order by 7 pm for next day delivery. Deliveries are made Monday – Saturday from 8 am to 6 pm. You can also choose next day delivery, same day delivery or Saturday delivery (subject to fees).
You can also have flowers delivered to universities and hospitals, but be aware that the recipient may not always get the flowers because they are left with the receptionist or because the patient has been moved to another ward.
If for some reason the flowers are not delivered on your chosen date or to the correct recipient, Prestige Flowers offers a 100% refund.
You can also send flowers for special occasions to your loved ones living outside the UK. Prestige Flowers also delivers to the following countries:
Australia
Belgium
Canada
Denmark
France
Germany
Holland
Italy
Japan
Luxembourg
Philippines
Singapore
Spain
United States of America
With delivery available nearly worldwide you will never miss the chance to send the thoughtful gift of flowers to your loved ones for their special occasions.
To deliver flowers to any of the countries listed above, just choose the country from a scroll down menu towards the top left of the page. Once you have selected the country, you will then be led to their web page.
To find out how much delivery will cost internationally contact at the addresses given below and enquire.
Contact Information
Prestige Gifting Ltd
Suite C0030
The Long Lodge
265 - 269 Kingston Road
Wimbledon
London
SW19 3NW.
Customer Service: 0344 310 5555
Email: enquiries@prestigeflowers.co.uk