Papa Johns Discount Codes December 2017
Use our Papa Johns vouchers for a wide range of products and purchase them at incredibly low prices. These Papa Johns discount codes expire soon, so act today and save big.
About Papa Johns
Papa Johns is an American pizza chain that prides itself in providing customers with a handmade pizza experience, giving them a piece of Italy with each slice. The company started in 1972, when John Schnatter started baking his first pizzas in his father's tavern in Indiana, USA.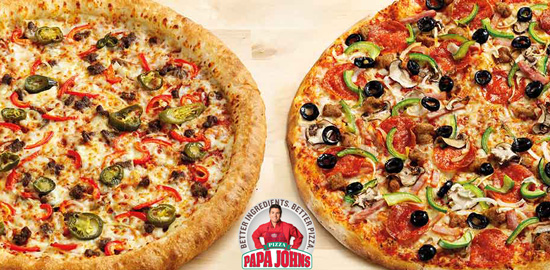 The company has since then spread across the US, as well as expanded around the world. The chain is solely a delivery business, which provides customers with the tasty pizzas and side orders directly to home.
The company focuses on using fresh, quality ingredients to provide a homemade taste of Italy to customers. The company also tries to ensure its products are delivered with good customer service to ensure the meal leaves a smile on people's face. As well as delivering products, it is also possible to order the food online and then pick it up from the closest store.
Products on Sale
Papa Johns is naturally most known for its quality pizzas, but it also has other food-related items on sale to provide customers with a satisfying meal experience.
Pizzas
Includes different readymade options or the possibility to build your own pizza with the available ingredients
Sides
Classic sides – includes items such as potato wedges and bacon cheese sticks
Oven-baked chicken – includes items such as hot buffalo wings
Variety combos
Dips
Drinks
Includes soft drinks such as Pepsi and Coca Cola, as well as bottled water
Desserts
Ice cream
Hot desserts – includes items such as hot chocolate lava cake and cinnapie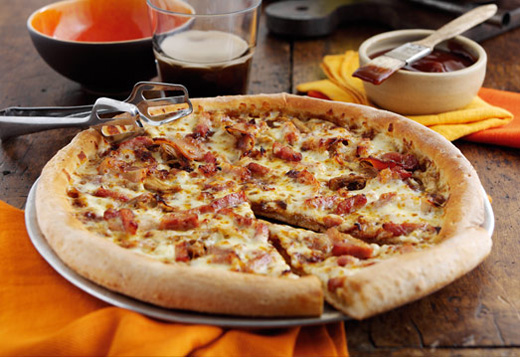 International Reach
Papa Johns doesn't naturally deliver to other countries, but it has country specific operations in over 30 countries, such as the US, UK, Ireland, China, Russia and Chile, among others.
Top Categories To Watch Out
The company actively promotes its pizza line, but you should also check out the deals section for the best offers of the moment.
Featured Products
The featured products on the Papa Johns website include:
Original Mediterranean Vegetable Pizza
Spicy Pulled Pork Pizza
Giant White Chocolate Chip Cookie
Shopping on the Papa Johns website is very simple. You can browse the categories easily and find the products you want. You can also see the prices at a glance and if you have any nutritional requirements, you can view the company's allergy information to ensure you know all the ingredients in each product.
You can choose your pizza from the available options with pre-selected toppings, but you can also customise your pizzas. This includes anything from the type of pizza dough you want to the sauce used in your pizza. Also, you can visit our site's food & drink category to avail huge money savings voucher from top sellers.
Top Deals for Extra Savings
Papa Johns constantly runs offers that give you the opportunity to enjoy a tasty meal without paying yourself sick. The top deals at the moment include:
Summer share £19.99 – any large pizza, jalapeno bites, potato wedges and garlic pizza sticks
25% off if you spend £25
Any sized pizza for £11.99 when you collect your order
Get second pizza for free if you don't like the taste of first one
33% discount on all pizzas valid only for new customers
The website regularly runs new offers, especially during special holidays and events. Check out the 'Offers' category for more information. You can also browse at Gousto and Hungry House for huge offers on similar range of products.
Save Using Vouchers
If you have a voucher code for the Papa Johns website, using it on the website is very simple. Have your voucher code at hand and click on the Offers section. Write down the voucher code to the Promo Code section and click Apply Code. You voucher is now added to your order and you can continue adding products to your order or head down to the checkout page.
Alternatively, you can select the items you want to buy. Click the checkout button when you are ready and add the voucher code on the checkout page. Click apply code and your offer should now be included to your order.
The Papa Johns has an international YouTube page that lets you see some amazing videos. The videos have plenty of information on the new products, as well as about the history of the company. The below video is an introduction to their new Garlic Knots.
Reward Program
If you love pizza, then you might want to join the Papa Johns reward program. The Papa Rewards scheme allows you to obtain reward points every time you spent money on the website or with the mobile app.
The scheme is free to join and you'll receive one reward point for every £4 you spend. After you have earned 25 points, you'll be able to receive a free large pizza. As a member of the Papa Reward program, you'll also be able to receive exclusive deals and offers.
Mobile App
Papa Johns also has a mobile app available for both iOS and Android users. You can use the app to order products with your Smartphone, just like you could on the computer. You can access a range of great features not available anywhere else.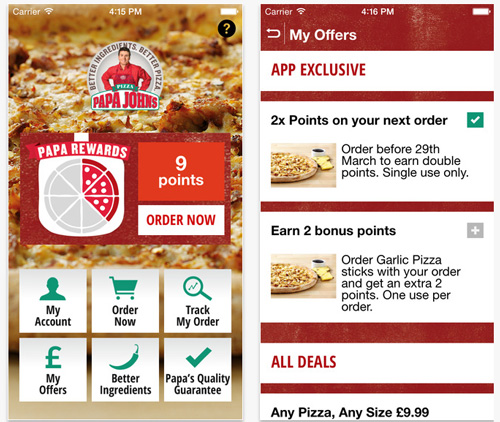 Delivery Policy
You can receive customer support for your order from the store you are ordering from. You can find the contact details from the website. You can also find allergic information from the website, as well as receive information on the quality control the company provides you.
If you place the order for delivery, the product should be delivered within an hour from order. The company provides you with a Papa Johns Quality Guarantee, which excludes sides, drinks or dessert. The guarantee allows you to receive full refund if you have any issues with the quality of the product or the delivery time.
Social Media Presence
Papa Johns is very active on social media. You can find out about special offers and competitions by following them on the following platforms:
Contact Papa Johns
Papa Johns
The Forum
Hanworth Lane
Chertsey
Surrey KT16 9JX
Call: 0800 731 9935
Email: customerservice@shopperdiscountsandrewards.co.uk