---
Grab 50% off Gainsborough 4 seater sofa with beige scatters available at Oak Furniture Land.



---
Shop at Oak Furniture Land and get free shipping in UK for almost everything. So start shopping!



---
Shop for Orrick Rustic Solid Oak 4 drawer storage coffee table from Oak Furniture Land available for 13% less price.



---
Purchase Manor House Vintage Solid Oak large dresser from Oak Furniture Land to save £599.59 on RRP.



---
Order Dorset Natural dining set from Oak Furniture Land with £534 savings, which includes 4ft 7" extending table and 6 wave leather chairs.



---
Whether you are looking for a traditional avant-garde or minimalist clock, Oak Furniture Land range is guaranteed to truly liven up your wall. Grab it and save huge!



---
Oak Furniture Land are offering free accessories including mirrors, clocks and lamps worth up to £300, with orders over £1500.



---
Shop for designer dressing tables from Oak Furniture Land starting from £39 only. Limited in stock, do not miss this offer!



---
Oak Furniture Land is offering savings of £500 on the purchase of 100% solid oak dining tables. Grab it now!



---
Buy now and spread the cost of your new furniture with great funding options! Oak Furniture Land offers interest free credit for up to 4 years.
About Oak Furniture Land
If you want solid hardwood furniture to make your home more elegant, visit Oak Furniture Land and be amazed. It is the largest solid hardwood furniture retailer in the UK, with showrooms across the UK and its headquarters in Wiltshire.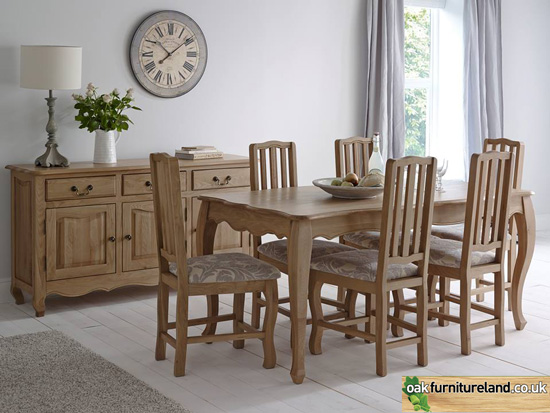 Oak Furniture Land has over 800 dedicated employees, handling every business area from design to after sales customer care. Most importantly, it runs a 500,000 sqft distribution centre, where all stock is processed and finally delivered to its customers. Oak Furniture Land offers completely free delivery, handled by its own in-house delivery team. With over 20 years of experience, it has clearly established itself as a specialist in the field of UK hardwood furniture, and processes around 400,000 orders every year.
Now, Oak Furniture Land is not just a simple wholesaler; it directly sells large volumes of mango and oak furniture at amazingly low prices to regular consumers as well as commercial hospitality customers. This simple business model has been the root for significant growth every year. In fact, Oak Furniture Land has even been named in The Sunday Times Fast Track 100 list of fastest-growing companies in the UK in the last five years continuously.
Oak Furniture Land aims to control as much of its business processes in-house as possible, which is why it even handles all delivery services except for parcel couriers and pallet deliveries, which make up around five percent of its deliveries. It also transfers furniture from manufacture to the customer with the fewest possible steps. For this reason, its distribution centre functions more like a turnaround depot for receiving and dispatching products, rather than a storage centre.
What Oak Furniture Land Offers?
Oak Furniture Land offers over 25 ranges of hardwood furniture to suit every corner of your home, such as:
Original rustic (solid oak)
Bevel (natural solid oak)
French farmhouse (rustic solid oak)
Tokyo (natural solid oak)
Country cottage
Orrick (rustic solid oak)
Quercus (rustic solid oak)
Mantis light (natural solid mango)
Bella (brushed oak and painted)
Tali (solid rosewood)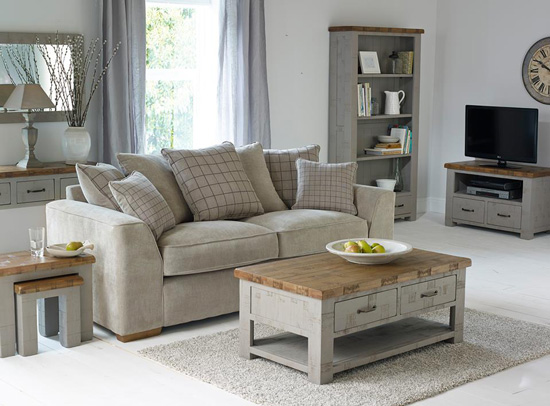 Top Categories at Oak Furniture Land
Check out these categories you can shop by at Oak Furniture Land:
Promotions
Shop by room: Bedroom, dining room, living room and office furniture
Latest products
Shop by product: beds, bedside tables, bookcases, chests of drawers, console tables, sideboards and more
Shop by range: over 25 to choose from
Mattresses: single, double, king-size and super king-size mattresses
Ranges/categories
Amazing Offers
You have to check out these amazing deals available right now at Oak Furniture Land:
Create your own room for as low as £49
Spring sale, with select products available at up to 50% off
Save £200 on Mantis Light large sideboard
Free mirror worth up to £300 when you spend over £1,500
Easter sale, with select products available at up to 50% off
You can also check out the regular promotions and offers available at Oak Furniture Land under its 'Promotions' category. If you want to take a look at a varied range of home decor from other leading retailers like Leader Stores, M&Co, Oak World, etc., you can check our site.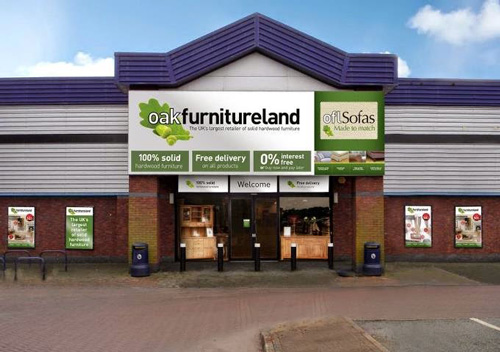 Usage Of Voucher Codes
Looking to get the best deals at Oak Furniture Land with voucher codes? Here is how you do it:
Browse the various categories on the top section of the website and click on the furniture category you want.
You will be redirected to list of furniture items.
Filter the product listing using the parameters on the left hand side.
If you like a product, click on it and then click on 'Add to basket'.
Continue shopping and click on the 'Checkout' link on the top right corner of the website once you are done.
Review your order and proceed to checkout.
When the option comes up, add the voucher code and apply it to the order.
Verify the order price to see if the voucher has been applied and the price reduced.
Once verified, continue with the checkout process and make the payment.
Oak Furniture Land has a dedicated YouTube channel where it regularly updates its videos regularly. The video describes Oak Furniture Land Big Spring Sale 2015 where you can furnish an entire room with solid hardwood furniture for only £49 a month!
Care & Characteristics
Many people who invest in hardwood furniture such as that from Oak Furniture Land do this not just because of the stunning appearance of this type of furniture but also its longevity. When it is properly cared for, hardwood furniture can last for years or even decades and will continue looking beautiful. However, in order to enjoy these benefits you do need to make sure you look after the furniture properly as well as use the right products when it comes to care and cleaning.
While all of the furniture from Oak Furniture Land is properly treated in order to reduce moisture and increase its ability acclimate, you can further assist by making sure you treat it with specially formulated wax polish. By doing this every three months or so you can nourish the wood, keep it protection, and ensure it always looks stunning. You need to make sure you do not use standard household cleaning products that are not specially designed for use with hardwood otherwise you can affect the finish of the furniture. You should also avoid placing furniture in direct sunlight or right next to heating and air conditioning vents.

It is also important to ensure that you care properly for leather furniture, and you use a proper leather kit such as those available from Oak Furniture World. This will help to ensure that your leather furniture continues to look beautiful and that the upholstery is properly maintained. Using the wrong product on leather furniture can cause damage to the upholstery, which is why you need to ensure that a specialist product designed specifically for use on leather is used. As with hardwood furniture you should try and keep your leather furniture away from direct sunlight as well as from too much heat from fires and central heating.
If you purchase a new mattress from Oak Furniture Land, there are also a few tips that can help to ensure that it lasts longer. You should turn and rotate the mattress monthly and you should try to ensure you do not fold it because this could cause damage.
Delivery & Returns
Oak Furniture Land are committed to provide delivery service that is quick, efficient and hassle free. Oak Furniture Land 95% of orders are delivered using free two-man delivery service, who will not only deliver the product within three hour but will take the item to the room of your choice.
Returns at Oak Furniture Land
If you want to cancel your order less than two working days before it is delivered, or if the order has left the Oak Furniture Land distribution centre but cannot be delivered due to reasons beyond the retailer's control, you would be liable to £39 along with return charges. The return charges are £25 per item for 0-0.25CBM, or £50 per item for items over 0.26CBM.
Oak Furniture Land also charges a £100 per item return fee for all wardrobes, regardless of the cubic metres (CBM) of the item. In addition, all upholstery and sofas have a cancellation fee equal to 30 percent of their retail value, if the order is cancelled later than two days after it has been confirmed.
Reach Through Social Media
Connect with Oak Furniture Land on social media and get the latest news and offers on the spot!
Contact Information
Unit DC2
Viscount Way
South Marston Industrial Estate
Swindon
SN3 4TN

Customer Care: 0800 440 2254
E-Mail: customerservice@oakfurnitureland.co.uk