O2 Recycle Discount Codes April 2019
Use our O2 Recycle vouchers for a wide range of products and purchase them at incredibly low prices. These O2 Recycle discount codes expire soon, so act today and save big.
VoucherBin > Stores >

O2 Recycle

:

9

Active Vouchers


---
Get your item advertised for a higher price at O2 Recycle within 7 days after placing the order.


---
You can send your old devices to O2 Recycle without any charges.


---
Sell your 64GB iPhone in O2 Recycle and receive up to £140 cash.


---
Receive up to £128 cash for your old 16 GB iPhone 6 from O2 Recycle.


---
Purchase iPad from O2 Recycle and receive at least £100 for your old tablet.


---
Check O2 Recycle while selling your Galaxy S6 to get up to £100 price.


---
Sell your iPhone 5S using O2 Recycle to receive up to £53 for your mobile.


---
O2 Recycle is offering up to £50 cash for your old Galaxy S5.


---
O2 Recycle is providing up to £30 cash for your 8GB iPhone 5C.
About O2 Recycle
More and more of us these days have realised the importance of recycling in order to aid the environment, and this includes the recycling of electrical items and devices. There are now a variety of companies that offer recycling of devices such as mobile phones and tablets and depending on the model and condition of the device you can even make some money from recycling your device in addition to doing your bit for the environment. O2 Recycle is one of the recycling services available and is, of course, part of the mobile network giant O2.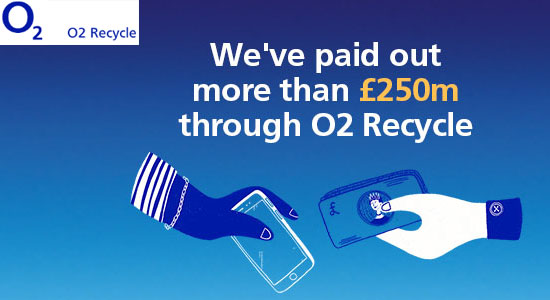 The O2 Recycle site is very easy to get around and use so you will have no problem pricing up your device and arranging for it to be recycled. When it comes to mobile devices such as tablets and phones, it is important that they are properly recycled rather than being binned and sent to landfills. This is why services such as the one provided by O2 Recycle are so important, particularly given the fact that many people now have mobile phones and tablets. Even if your mobile or tablet is broken or damaged you can still get some money for getting it recycled although you will get far more if your device is in working order. Either way, you will find that the service that is provided by O2 Recycle is very simple and convenient to use.
What Company Offers
O2 Recycle offers a fast, efficient and easy to use recycling service for those who want to recycle their smartphones or tablets. You can select from a pre-determined list of devices from the homepage or you can enter the make/model/IMEI number of your device in order to bring up your specific gadget. You can then quickly see how much you can get for your device based on its condition. The whole process is a very simply one whereby you simply need to determine whether you are happy with the price you are being offered for your device and then get it sent off to the company. When it comes to payment methods, the company offers a range of options to suit different needs. This includes payment to you via bank transfer, which is a same day process, a cheque payment, or even credit on your O2 Recycle bill if you are a customer with O2 Recycle. Shop for the best deal from famous retailers for your inexpensive gadgets by using the discount codes avaiable at cellular phone services section.
Top Deals
Sell your Apple iPhone 5C 32GB and get £64.
Get £425 cash on your used Samsung Galaxy S7 Edge G935F 64GB!
Sell now your Apple iPad 3 64GB WiFi 4G to earn £108 on it.
With great discount offers, now you can buy great selection of branded smartphones from Affordable Mobiles.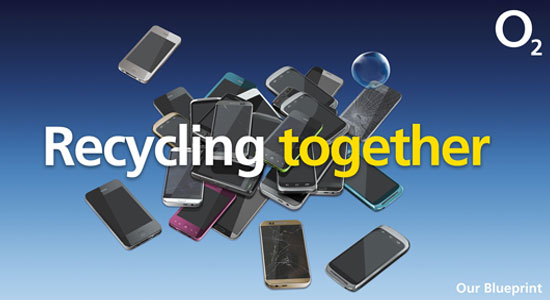 Sending In Your Phone/Tablet
If you want to use the service from O2 Recycle in order to get your phone or tablet recycled, you will find it very simple and convenient to use. All you need to do is:
Bring up the make and model of your device.
Select how you want to be paid for the device from the options provided.
Click on 'sell my mobile phone'.
Enter bank details if you are being paid by bank transfer.
Click on continue.
Package your device and send it in to the company.
Save Using Voucher Code
You will find that the prices offered on devices from O2 Recycle are already very competitive and the company even offers a price match guarantee in the event that you are offered a better deal elsewhere. Another thing you can do in order to get the best deal possible is use online voucher codes when you recycle your items at O2 Recycle. You can use these with ease, as all you have to do is:
Put in the make/mode/IMEI number of your device and select.
Complete details regarding the condition of the phone and select how you want to be paid.
Enter your address and personal details.
Enter the code in the box provided.
We are all aware of the importance of recycling but if you want to find out more about the service and the benefits of recycling your device you can head to the O2 Recycle video. This will enable you to find out more about how the service works as well as to learn more about how recycling your devices with this service can provide multiple benefits.
Customer Support
There are a number of ways in which you can access customers support services at O2 Recycle. There is a comprehensive FAQ section on the website, which means that you may find that your question is already answered without having to contact anybody at the company. However, if you do want to get in touch with the customer services team you can do so via email, by phone or by writing to them.
Social Media Presence
Contact Information
O2 Recycle
Unit 9B,
Pyramids Business Park,
Easter Inch, Bathgate,
West Lothian,
EH48 2EH
Call: 0345 505 0202
Email: info@o2recycle.co.uk