National Holidays Discount Codes October 2020
Use our National Holidays vouchers for a wide range of products and purchase them at incredibly low prices. These National Holidays discount codes expire soon, so act today and save big.


---
Go for Thursford Christmas Spectacular holidays and save £60 on your bookings at National Holidays. Check out now!


---
Have a look at this breath taking offer which lets you save £40 on Shrek! & Madame Tussauds holidays. Rush! This offer is valid for a limited time at National Holidays.


---
Check out this offer where you could get discounts valued £20 on booking Bosworth Hall Festive Celebration holiday at National Holidays. Click here for huge savings.


---
Book your holidays with National Holidays and save £10 on Braemar Spectacular Gala Party holiday.


---
Book and save £10 on Skegness Turkey & Tinsel holidays in this special offer. Hurry! This offer is valid for limited time at National Holidays.


---
Check out National Holidays, your #1 choice for sensational holidays & short breaks and find 1000s of getaways under £100.


---
Join the competition held by National Holidays and get a chance to win a holiday you entered in the form.


---
Make sure your holiday runs as smoothly as possible from start to finish. Go for National Holidays insurance available for all ages.


---
Send National Holidays short break or holiday tickets to your friends or family members with its gift voucher scheme.


---
Join National Holidays for a trip to Wembley Stadium and catch Ladbrokes Challenges Cup Final at just £129.
About National Holidays
All journeys have secret destinations of which the traveller is unaware. Are you a traveller at your heart? Or are you looking to take a break from everyday life on your own or with your friends or family? If you are planning your next big or small vacation, come to National Holidays to get the best deals!

National Holidays is your one-stop destination to plan your vacations and travels at the lowest possible costs. You can travel across the United Kingdom, through major destinations like Edinburgh and Glasgow and less-travelled destinations like Torquay, Bournemouth and Isle of Bute. If you plan on visiting Europe, National Holidays has you covered there as well. You can book your travel to destinations such as the Rhine valley in Germany to Costa Brava in Spain and Salzburg in Austria.
National Holidays offers incredible value for money on different kinds of holiday types, including touring and scenic holidays, special events, family adventures, city breaks, seaside or coastal holidays, festive holidays, sports holidays and more. So the next time a holiday idea pops in your mind, do not forget to visit National Holidays!
What National Holidays Provides?
National Holidays offers complete and comprehensive holiday planning services and solutions. Simply choose the destination and departure regions, dates and book your holiday, including:
Holidays to destinations in the UK, Ireland and Europe
Coastal/seaside holidays
City breaks
Inclusive package breaks
Sports breaks
Christmas, New Year and other festive holidays
Holidays to Alton Towers, Cadbury World, Legoland Windsor and other popular destinations
Family adventures
Special events and festivals
Top Deals @ National Holidays
If you are visiting National Holidays, you cannot miss these amazing offers available right now on the website:
London and Windsor four-day holiday worth £119, now for £102.34
Folkestone and France four-day holiday worth £99, now for £85.14
Scarborough Grand four-day holiday worth £99, now for £89
Llandudno Leisure breakaway worth £89, now for £79
Brighton Special breakaway worth £129, now for £99
You can check out daily deals, markdowns and special offers on the 'Special Offers' section, which you can find on the top right-hand side of the website.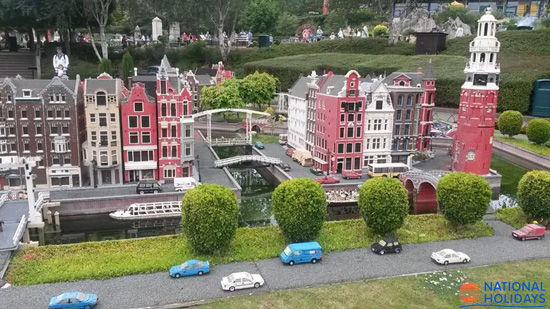 How to Get the Best Deals
National Holidays offers some of the cheapest holiday packages you can find online, and with daily special offers and deals on offer, the offer is simply impossible to resist. But you can make it even more irresistible and get the best deals at National Holidays with the following steps:
Use the Holiday Search option on the top of the website and enter your departure city, destination region and duration and time of the holiday.
You will be shown a list of holidays, with the duration and per-adult price.
You can click on 'More Info' to find out more about each holiday package.
If you like a holiday on the list, click on 'Book Now'.
Go through the booking process and make sure you enter all the variables right to get the booking that you want.
When given the option to enter a voucher code, enter the code that you have and apply it to your holiday order.
Review the order cost to see if the voucher has been activated.
Once you are satisfied, proceed with the payment process and enjoy your holiday!
Check out this exclusive video where National Holidays provides Coach Trips and European Coach Tours.
Top Categories at National Holidays
Shop at National Holidays by the following categories:
Destinations
Departure points
Holiday types
Groups
Your coach
Holiday insurance
Special offers
Tailor-Made Group Holidays
Are you planning a holiday with more than just your family or close friends? Well, National Holidays gives you the chance to create your own tailor-made group holidays rather than going for a pre-planning holiday package. Tailor-made holidays are available for groups of 30 more adults, and you can work with National Holidays to design a holiday or weekend break just like your group wants it. You can choose your own resort, hotel, meal arrangements and outings. No matter what you choose, you will definitely get the same incredible standard of service and hospitality.
If you are looking for finest Spa service throughout the UK you can simply visit Treatwell and grab the best ones to treat yourself or your friend with the gift voucher or eVoucher service available at unbelievable price. You can even pre book any service with huge savings at Treatwell.
Booking Policies
When you book a holiday online, by phone or through an agent with National Holidays, the booking contract will be effective as soon as the booking is made and you receive a copy of the brochure. If you do not receive a copy of the current brochure, you can notify National Holidays if you change your mind about the booking within five days of the confirmation or more than seven days before the holiday begins, whichever is sooner. However, this is only applicable for bookings made by phone or through an agent. In this case, National Holidays will refund the deposit and holiday insurance premiums paid.
National Holidays will take a £30 deposit for two-three-day holidays, £40 for four-five-day holidays, £60 for six-eight-day holidays and £70 for 9-15-day holidays at the time of booking. There may be a higher deposit amount for holidays with ticket/admission payments included. The full payment will have to be made for the holiday at least four weeks before the departure date. If the payment is not made, National Holidays reserves the right to keep the deposit and cancel the holiday. Check out STA Travel and Direct Ferries for similar vouchers.
National Holidays Beyond the UK
National Holidays does not just let you travel across the UK, but also beyond it to Ireland and several European destinations, including but not limited to:
France
Spain
Italy
Germany
Austria and Switzerland
Stay Updated on Social Media
Connect with National Holidays on social media via:
Join National Holidays Facebook page for latest deals.
National Holidays Twitter page has 3325 followers and 429 people are following.
Follow National Holidays on Google+ to to check out products and interact with other fans.
Contact Details
Customer Care: 0844 477 9990
E-Mail: customerservices@nationalholidays.com