About Moss Bros
Moss Bros is a leading formal menswear specialist selling men's suits, shirts, coats, formal/casual jackets, ties, shoes and accessories. Established in 1851, Moss Bros now has over 135 retail stores; Moss Bros has a strong heritage in fashion and expertises in formal menswear.
Moss Bros holds the license for some of the most famous fashion brands, exclusive ranges are now being developed by Moss Bros under the French Connection brand, luxurious brands like Calvin Klein, Ted Baler and Cerruti remain Moss Bros best sellers online and in store.
Suits – single breasted, 3 piece, designer black tie
Shirts – casual, double cuff, pure cotton wing collar
Jackets – classic, blazers, fashion
Trousers – cotton, extra suit, washable, wool rich
Coats – casual, leather, overcoats, raincoats
Casualwear – knitwear, jeans, chinos
Ties – self tie bow, pure silk, pre-tied bow, plain, check
Shoes – boots, brogues, casual, Derby, Oxford
Accessories – belts, gloves, scarves, suit carriers, top hats, waistcoats
Eveningwear – tuxedos and tails, dress shirts, bow ties and ties, shoes, accessories
Top Moss Bros Offers
15% off when you purchase 2 suits
Up to 80% off Outlet
20% off students
Mix and Match suits for £99
You can save more money in Moss bros Outlet section on their website. Here they put all the items in clearance.
Save Using Money Off Vouchers
You can easily save more money at Moss Bros by using money off vouchers and special deals.
Find the voucher or deal you want to use.
Click the Show Voucher and Visit Site Button.
You are taken direct to the Moss Bros website.
The money off voucher or deal is also activated.
Browse the Moss Bros website and choose the items you would like.
Add the items to your basket. When you add items to your bag you are given the choice to pay now or continue shopping.
When you have finished and select pay now you are taken to your basket and can add the money off voucher code.
Continue to the checkout to make your payment and finish the order.
Watch this exclusive video that gives a glimpse of the retailer brand history in London's Covent Garden.
Shopping at Moss Bros
To find an item you are looking for on the Moss Bros website, first choose the category. You are then presented with the results. You can browse them all or refine your search by choosing a style within the category, then then brand, size, colour and price. In each product page you can see easily what is in stock and more details about the product. You can also read the reviews and see ideas on how to complete the look.
Brands at Moss Bros
Moss Bros deals with big brands. Ben Sherman, DKNY, French Connection, Ted Baker, LanificioF.lliCerruti Dal 1881, Peter Werth, Savoy Taylors Guild, Trapper and John White to name a few.
Moss Bros Hire and Bespoke
Moss Bros also offer a hire service for weddings and black tie events. They also offer a bespoke service where the suits are made to measure just for you.
Features Of Suits
Every suit, be it a slim fit one, a regular fit one or a tailored suit has different set of defining features. If you wish to make your suit purchasing journey smoother on Moss Bros or elsewhere, then you must know about the features of each of these suit-types. Getting information on what each of these terms means will help you to buy suits easily from now onwards.
Slim Fit suits
Slim Fit suits are in vogue these days. These suits have slimmer lapels with narrow shoulders and are usually shorter in length. The waist, the chest and the sleeves of such suits are also narrower. The jacket usually tapers along the waist which lends an overall slim silhouette to you. Even the trousers of slim fit suits are narrower on the legs and the hem rests just above the top of the shoe.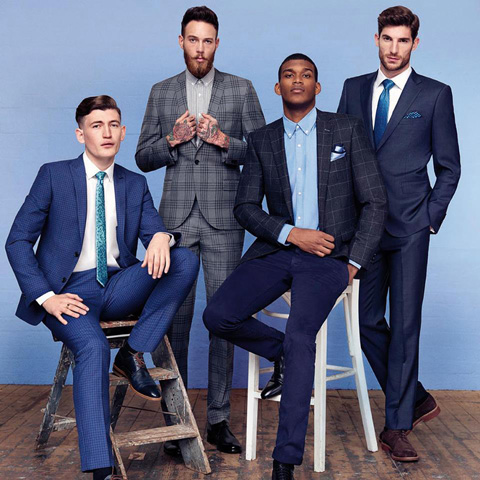 Regular Fit suits
The next suit type is the regular fit suits. Regular fit suits have standard lapels and wide shoulder as compared to the slim fit ones. The jacket in this case fits a slight bit looser on the waist and is also longer in length. The trousers that are worn with these suits are cut straight and are thus more flexible than slim fit ones. The hem of the trousers is supposed to sit lightly on the shoe. This is an everyday suit which can be worn on a variety of events and occasions.
Tailored Fit suits
Tailored fit suits sold at Moss Bros have standard lapels and the jacket of the suit nips in on the waist area. The jacket in this case is medium length and this is one thing that makes this suit different from the types mentioned above. While buying a tailored fit, you must keep in mind that the trousers of these are lightly tapered and the hem rests on the top of the shoe. The overall look and cut of the suit is stylish and flattering.
So which suit are you interested in buying for yourself. Moss Bros sells each of these types of suits for you so that you can fill your wardrobe for casual, semi-formal and formal events. A nicely fitting suit makes you look sharp, elegant, stylish and adds to your overall charm and appeal. It also adds to your confidence and will definitely turn heads in your direction.
Delivery and Returns
Moss Bros offer several delivery options. Standard UK mainland delivery is free so is their Click and Collect service. There is also Click and Collect Premium where if you order an item before 5pm it will be ready for collection the next afternoon. UK mainland's next working day is the same. They also offer Saturday delivery and stated day delivery.
Moss Bros Gift Cards
Gift Cards are ideal when don't know what gift to get someone. You can preload a gift card from a minimum of £10 and it can then be used in store or online.
Item Care
Moss Bros wants you to get the best from your purchases so have a resourceful item Care section on their website. They give hints and tips on how to look after your purchases and how to get the best wear out of them.
Social Media
Contact Moss Bros
Unit B
Circular 13
Gascoigne Road
Barking
Essex
IG11 7HP

Customer Service: 0333 3206677
Contact form available on website.