VoucherBin > Stores >

Mango

:

8

Active Vouchers



---
Shop for the Cotton tops from Mango with reduced price of 80%. Limited time offer!



---
Skim through the stylish and sensual clothing by Mango and grab free delivery when you spend £40 or more on your orders!
Click to copy & open site



---
Purchase the Pocket Textured Shirt from Mango which comes in a Flowy fabric, striped texture and shirt-style collar offered at 73% off!



---
Check out the sale by Mango and grab up to 70% off your order. Offer ends soon!



---
Cotton Fabric, thin straps and rounded neck this crochet top from Mango will help you elevate your style and give you a perfect chick look. Purchase now and pay 70% less on your order!



---
These stylish blouses from Mango can be a perfect outfit for everyday casual look. Purchase from Mango for £7 only!



---
Be it a party dress or night out dress, Mango has everything for all occasions. Grab it for just £9!



---
Mango is offering the most comfortable trousers starting from £9. Limited in stock!
About Mango
Mango is the online platform of the internationally famous multinational which designs, manufactures and markets women's and men's clothing and accessories. Holding the biggest design centre in Europe, the site showcases fashion garments and accessories created by 550 professionals.
The key feature of Mango is a highly-defined concept based on an alliance between a quality product, with an original design and a coherent and unified brand image. Another outstanding feature is the in-house logistic system with Dynamic Distribution Centres where all processes are automated: loading, storage, invoicing and dispatch. Based on speed, information and technology, the logisticsystem ensure that every store has the goods it needs at any moment, according to rotation speed and sales forecasts.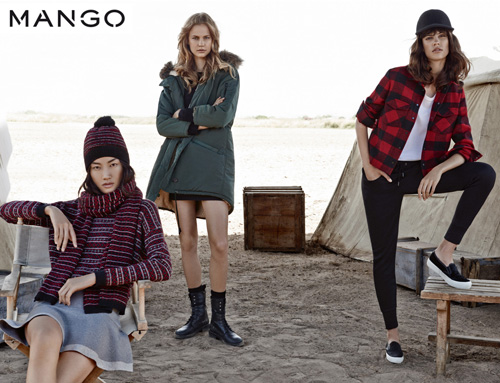 International Reach
Mango has about 107 interfaces, one for each of the countries worldwide where it has local stores, each platform using the language of the specific country.Dressing the modern, urban women in a manner adapted to each country is probably one of the keys to Mango commercial success and international prestige.
Range of Items
Mango lists a wide range of clothing items and accessories for:
Women
Men
Kids
Curved Sizes
Featured Products
Each category showcases a 'Featured' section, making it simple for shoppers to find interesting clothing items branded Mango. Some of the most popular featured garments are Party Dress Code, Retro Sixties, Premium Evenings or Cartoons and Super Heroes for Kids.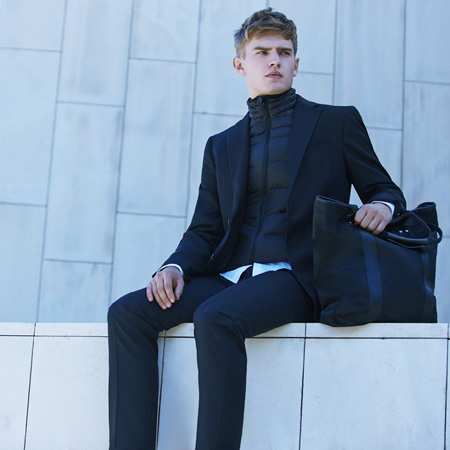 Shopping Guide
Costumer can find at Mango a user friendly interface with categorical listings allowing them to shop easily. They can shop by Category, Price and Size.  Also they can scroll through catalogues presenting the newest collections at Mango.
Delivery & Returns
Delivery dates and charges depend on the type of delivery.  Shoppers can choose between home delivery, collection from a wide selection of Mango stores,and delivery to a Collect + location of their choice.  However, during sale periods and promotions the delivery time may be longer than the normal.
Mango offers free store returns as well as free returns to post offices. Returns for IPad purchases are also available as well as exchanges. The return period is 30 days. Customers in the European Union have 14 calendar days, from the reception of their order, to exercise their right to cancel their purchase.
Fabulous Deals & Offers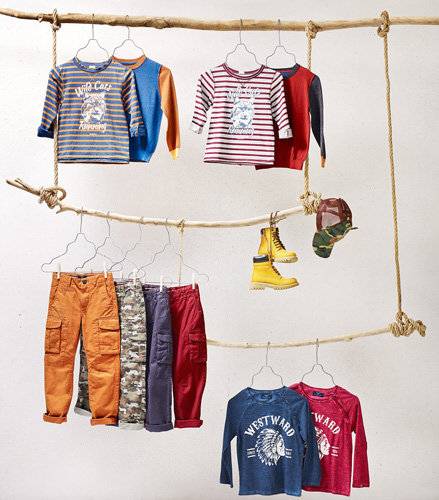 Mango 's  hottest  deals and offers can be found on the retailer's home page as well as in separate'Promotions' sections under each category.  The top deals of the moment are:
40% off selected items in each category.
Detachable Hood Coat for  £14.99 in Kids category.
New In- Dress for £29.99 in Women's category.
Seasonal deals are already a regular practice at Mango, giving shoppers different types of incentives.
At the moment the website offers returns until the 15 of January for holiday purchases.  Also, each category has a 'Holiday Gifts Guide' offering the best bargains and ideas for Christmas Shopping.  Even Banana Republic and Gossard offers similar savings as well as discounts on a range of men and women clothing and accessories.
Subscribe to Mango's YouTube Channel to see the latest advertisements and storewide deals. It is very active in connecting with the customers via the various social media platforms. The video below speaks about Zinedine Zidane that will be the face of the Spring/Summer 2015 season.
How To Save Using Discount Codes
Costumers at Mango can also benefit from a series of promotional codes which will save them some money. The process is actually quite simple. One by one keep adding the products to the Bag, with appropriate colour as well as sizing. Once done shopping for all the desired items, proceed towards checkout. When you arrive at the order summary, click on 'Apply promotional code or gift voucher', to avail the discounts and enjoy savings. Only one Gift voucher or promotional code may be used per purchase.
Size Guide
Fashion is something that connects people from all around the world, regardless of race, sex, and color. Mango is a company that offers leading fashions for men and women alike, and even offers sizes for curvier women. If you carry a little extra here or there, it can be a struggle to find amazing clothes that flatter you in the right ways. Unfortunately, a lot of designers don't take that into consideration when they make their clothes and more often than not, women with curves are forced to try on clothes in department stores that offer poorly made and unflatteringly designed garments. Mango is changing this for women; they understand that in the real world, not everyone is a size four.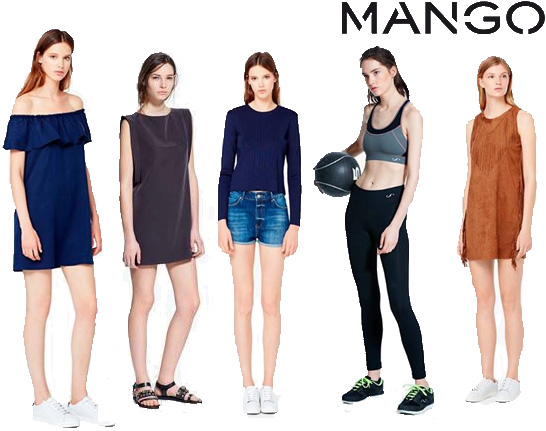 Not only do they have a number of plus sizes available, but they also offer more flattering styles than other companies. They take a woman's shape into account in order to ensure that they feel amazing about themselves when they wear clothes from Mango. It is important to know that you look great every day; feeling good gives you the confidence that makes people truly attractive. Great fitting clothes from designers who know how to accentuate the right parts of your body make all the difference. As you browse through their clothes, you will notice that these are quality garments made from high-quality materials. If you want the outfits you own to do as much as they can for you; Mango is a fantastic company to buy from. Their quality clothes, fabulous designs, and selection of sizes offer everything you want, and now you can get incredible deals on these clothes so that even the price matches your needs. It's hard to beat an opportunity like this, and not only that but they offer free returns, so if you are unhappy with anything you purchase, or you order the wrong size, you will save a fortune.
Mobile App
Shoppers can enter Mango.com to see the latest 'lookbooks' or the new collection directly from their mobile or tablet. All they have to do is download the Mango app on to iPhone or iPad and access Mango.com. For those who have an Android phone, an app from Google Play is also available for download.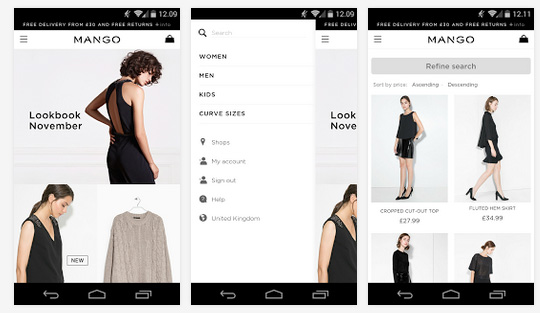 Social Media Presence
Mango has a series of social media channels where shoppers can find out latest details about garments as well as take part in occasional competitions.
Gift Vouchers & Cards
Customers can choose to surprise loved ones with a gift voucher. The amount of the vouchers varies. The retailer offers shoppers the possibility of sending the voucher via email to the recipient or buying a gift card in stores. Vouchers sent by email can be used online while those purchased in stores can be used in local shops.
All shoppers have to do is select the amount they want to give, introduce the details of the recipient and a personal message then click 'Checkout' and go to payment.
Membership Benefits
As registered members at Mango, shoppers can receive the Mango Newsletters, update or modify the Newsletters they receive by e-mail or add an item to the Wishlist. They also save time on your future purchases by not having to enter their details every time, query the status of orders at any time and check the history of purchases.
Contact Mango
MANGO Return Department
ClientBase Fulfilment Carriage House
Forde Road
Newton Abbot
TQ12 4EY
United Kingdom
Contact: 0800 026 0028
Contact form is available in website.