Made.com Discount Codes June 2019
Use our Made.com vouchers for a wide range of products and purchase them at incredibly low prices. These Made.com discount codes expire soon, so act today and save big.
VoucherBin > Stores >

Made.com

:

9

Active Vouchers



---
Receive huge savings up to 50% on art collection at Made.com. Go for this offer before it runs out.



---
Purchase any products from Made.com and enjoy free delivery on your order.



---
Sign up to the Newsletter and save £10 on your next order at Made.com. Hurry, this offer won't last long!



---
Purchase stylish dining furniture for your home starting from just £79 available at Made.com!



---
Buy sophisticated green, orange or burgundy velvet sofas for £499 from Made.com!



---
Make the most of the lighting sale at Made.com starting from £8 only. Shop now and get the perfect radiance to your place.



---
Revamp your sober bedding with the classy bedroom range at Made.com. Grab the sale starting from £109 today!



---
The ultimate solution to accentuate even space-restricted areas, the newly launched decor range is something to vouch for. The range starts from £15. Shop now!



---
Decorate your place with the best quality upholstery from Made.com and get the ideal look. Sale season is going on! Grab a discount of 40% today!
About Made.com
Made.com is an online supplier and retailer of designer furniture, home décor and accessories. With the awareness that expensive designer labels are simply not affordable for more customers, all of their products are sourced directly from the original maker. Without any warehouse fees, physical stores or middlemen, Made.com is able to give customers a savings of up to 70%. This enables customers to access beautifully designed pieces at discounted rates.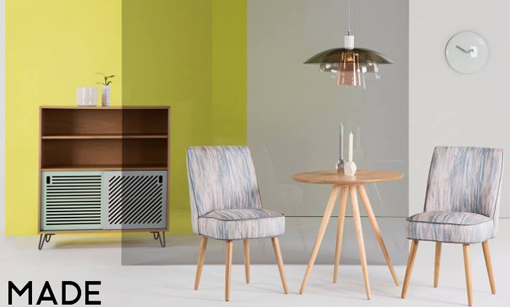 To keep costs low for their customers, Made.com groups its orders. Every seven days, they combine all of their orders for a particular piece and send them to production. By manufacturing only what's required, the cost of the item is reduced.
By grouping orders and sourcing the item directly from the maker, Made.com is able to offer a 70% cost reduction compared to leading retailers. This is based on equivalent functionality and design. All the furniture at Made.com is designed and created by a unique team of designers. After they give birth to the design, Made.com's craftsmen build the piece. These craftsmen are usually the individuals who create pieces for high-end shops.
Products Available
Made.com specialises in uniquely designed, built-to-order pieces of furniture, as well as home décor and furnishings. Some of the popular categories that you can look for are:
Sofas
Chairs
Tables
Beds
Storage
Outdoor
Accessories
Bed & Bath
Lighting
Kids
New
Deals For Savings
Check for the best deals on wide assortment of home products and accessories of Made.com:
Up to 60% off RRP on Sofas and Armchairs
Free £15 credit for you and a friend with Referral Orders over £50
£15 Off your first order by signing up for newsletter
Corner Sofas from £529
£75 off Table and Bench Bundle Orders
Saphina dressing table from £499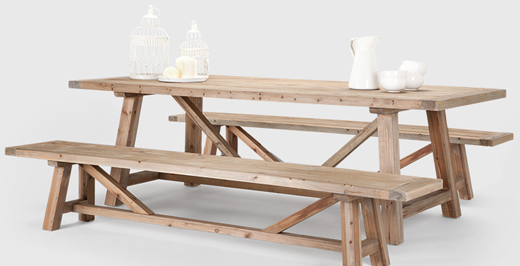 Voucher Code Redemption
Promotional discount or voucher codes may be used towards the purchase of a Made.com product. Customers may use only one code towards an order. This can done at the checkout. Here is the step-by-step guide to use the vouchers:
Visit the site and check out for the products you want to buy.
Select the product and click 'Buy Now'.
In the shopping basket, paste the discount or gift voucher and then proceed to checkout.
The discounted price will appear.
Proceed to payment by using the options available.
Review your order once done with the payment.
Learn more about Made.com by visiting their YouTube channel. Here you can watch the videos about the latest collection of furniture and furnishings. This video is about Made.com 5th celebration, where they give away a free designer tea towel with every purchase.
Featured Categories & Products
For each of the shopping categories mentioned below, customers may shop according to type, collection, availability, color, look and price. Some of Made.com's top categories include:
Flash Sale
Sofas
Chairs
Bed & Bath
Featured Products
All the products featured on Made.com are designed, created and manufactured in house. Some of their featured products are:
Quality Promise
Made.com is committed, to create and provide high-quality furniture at cost-effective prices. But in the process of providing furniture at affordable prices, but not at the expense of people or planet. The experts here ensure that only quality products are provided. If you order from Made.com, you can be sure of the following things:
The wood is sourced responsibly. The company never uses illegally-felled wood of endangered species of trees.
All the manufacturers have a healthy work environment for the staff to meet high safety standards.
There is minimum wastage as the company orders in bulk quantities. This also translates into cost benefit.
The company tries to keep the transportation emission as low as possible. Most of the furniture designed can be transported easily.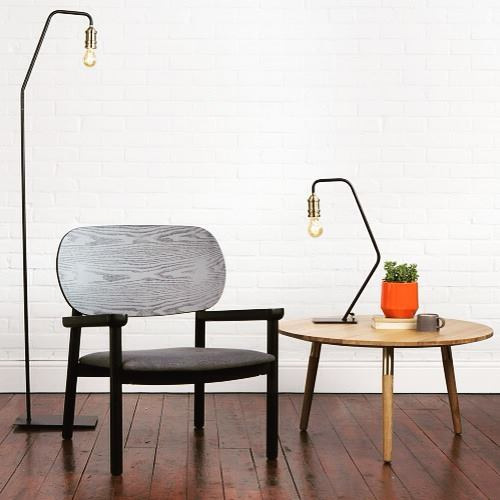 Furniture Care
Here you can find the comprehensive guide to take care of your furniture. This section gives you details about how to protect your furniture from damage and the cleaning tips keeping the material in mind. You can find the care guide for the following:
Wood and Veneer : Here you will find instructions to keep the wood and veneer furniture safe from the sun damage. Not only this, you can find the cleaning instructions for both veneer and wood.
Leather : Leather must be protected from direct sunlight and thus it is important to keep it safe. Here you can find the information pertaining to protecting and cleaning the leather furniture.
Upholstery : To make the house look good, it is important to keep your furnishing and upholstery neat and tidy. So, you can find the guide to keep the upholstery look good.
Gift Cards
Gift vouchers may be purchased through the Made.com site. Customers may opt to email the voucher directly to the recipient on a predetermined date. They may also print the voucher. If customers need to reprint or resend the voucher, they may do so by logging into their Made.com account.
Gift vouchers are valid for a period of 1 year from the issue date and cannot be extended. The value of the gift voucher will be deducted from the total of the order. If a balance remains, it can be used towards the next purchase in the future. There is no minimum spent requirement.
Gift can be purchased in amounts between £25 up to £200.If you are experiencing any issue with redeeming your voucher, please contact Customer Service. Decorate your home with latest design modern furniture and home decor products purchased by using the money savings vouchers available at our site.
Sign up for an account at Made.com and receive a £10 voucher off your first order. From time to time, Made.com hosts events at their showrooms.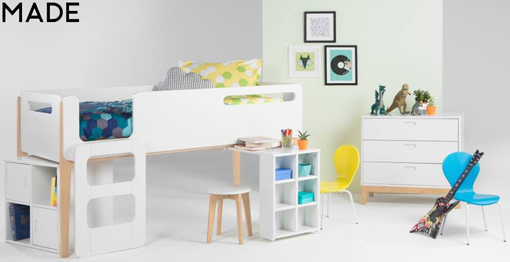 Delivery & Returns
Each product you order is subject to delivery charges. The total delivery charge will be summed and displayed at the checkout. Delivery costs are capped at £39.95. Delivery prices are based on weight and size of the product. The breakdown of the prices is as follows:
Bath towels and bed linen- free
Small items under £50- £3.95
Delivery will occur with 24 hours after dispatch. When the delivery is to be made, an SMS will be sent to your mobile to inform about the delivery time which will occur between 9 am and 5pm. If you are not at home, a card will be left at your door informing you to collect the item from your post office. You can also shop at Modern and Oak Furniture Land for more range of furniture products with discount offers.
Small items more that £50- £5.95
Delivery is made within 24 hours.
Mid-sized items such as large ottomans, coffee tables and benches- £14.95
Delivery will be made within 48 hours after dispatch. A text will be sent on the morning of the delivery. A further text will be sent 90 minutes prior to delivery.
Small furniture such as desks and armchairs - £29.95
Heavy furniture such as sofas and beds - £39.95
Return Policy
Customers have up to 14 days to return an item, regardless of whether it is damaged or not. After this period, Made.com will not accept any returns. Items cannot be purchase with a money order or cheque.
If your product arrives in damaged condition, please contact the Customer Care Team immediately. They will be able to assist you with a refund or repair option. In order to expedite this process, please send a photograph of the fault.
Social Media Links
Contact Info
Call: 03442 571 888
For media enquiries: press@made.com
For designer enquiries: designers@made.com