Laithwaites Discount Codes June 2019
Use our Laithwaites vouchers for a wide range of products and purchase them at incredibly low prices. These Laithwaites discount codes expire soon, so act today and save big.


---
Hosting a party? Save big on your bulk orders with up to £60 off your purchase.


---
Shop for your favourite wine from Laithwaites & get free delivery on a minimum order of 18 bottles. Check out the best sellers today!


---
Boasting an elegant appeal, these tumblers can add glamour to your crackling wine. Get 2 of them usually for £15 only.


---
New customers can now enjoy amazing benefits from the new wine plan offered by Laithwaites. Pick an introductory case of delicious mixed wines & save flat £60 on its purchase price plus additional benefits to look out for.


---
Grab an amazing experience of French grape wine on a purchase of 3 bottles of The Black Stump at half price from Laithwaites giving the best aroma & taste. Don't miss this offer!


---
Wines with real quality & delicious in taste are hard to avoid. Save up to £54 on 12 bottles of Pre-harvest Sale Reds Collection from Laithwaites. Grab the deal now!


---
Save up to £30 on the purchase of Luxury Black Reds, consisting a fantastic collection of 12 flavoured red wines bottles which are sumptuously elegant. Simply order now from Laithwaites & enjoy your shopping!


---
Enjoy a fantastic boozy bargain of savings up to £27 on a case of Winemakers' Top Picks which includes 12 bottles of wine from Laithwaites. It's certainly too good to miss such offer!


---
Celebrate any special occasion with family or friends with the new Split Rock Sauvignon Blanc 2016. Purchase a case of 6 bottles from Laithwaites at £7.99 only. Get the party started!
About Laithwaites
Established in the year 1969, Laithwaites is UK's number 1 wine merchant which not just operates through its physical stores but also through an online portal. It offers wine lovers over 1500 wines to choose from and is one of the most popular and trusted names in this industry. The company was founded and formed by Tony Laithwaites who initially took up a bottle washing job and was fascinated with wine and the people who make it.
Laithwaites gives you the wonderful option of home delivery so that you don't have to venture out to buy wine but rather receive it at your doorstep. The fact that it offers a 100% money back guarantee goes on to speak lengths about how the company wants its customers to be totally satisfied with the products they are buying. From excellent customer service to an impeccable collection of wines, you will find everything here. To know more about the company, you can read the following given information.
Amazing Deals & Offers
Shopping at Laithwaites is always a lot of fun. Not only do you get to choose from a large variety of wines but also avail amazing offers and discounts. There are always several deals waiting for you and these enable you to shop at reduced prices. The following are the top deals and discounts you can get right now:
Three bottles of The Black Slump HALF PRICE – limited period offer!
Get standard delivery at £7.99 only.
Besides these tempting deals, there is a category called 'latest offers' given on the website within which you will find all the latest deals and offers available to you at present. You can check this category out to save a great deal of your hard earned income.
Products @ Laithwaites
Laithwaites is primarily a wine merchant but also sells other kinds of spirits and drink options to its customers as well. The products are put into appropriate categories so that you don't have a problem in selecting and choosing. The following are some of the main product categories you will find at Laithwaites:
Wines-red, white, rose, sparkling, dessert wine, champagne etc.
Mixed cases-mixed red and white, mixed red, mixed white etc.
Fine wine-red, white, champagne, sparkling, fortified wines etc.
Gifts-gift sets, gin gifts, wine gifts, port gifts etc.
One of the best things about shopping at Laithwaites is the fact that you can shop according to the categories given above and also in several other convenient ways. For example, you can shop by wine country, wine type, price, brand and the grape from which wine is made etc. This helps you save time in browsing and finding your favourite wine.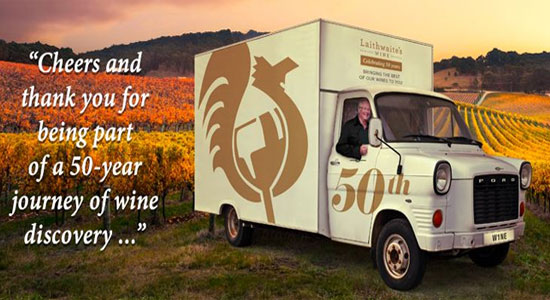 Redeem Your Shopping Vouchers
Another fabulous way to save when you are shopping at Laithwaites is to make use of shopping vouchers. Vouchers enable you to get excellent price reductions and hence help you enhance your shopping experience. If you are confused as to how to redeem shopping vouchers, you can go through the following given steps:
On the homepage, you will be able to see the various categories of products available to you.
Select a subcategory and then browse through the various products available in there.
Now select a wine or other spirit that you would like to buy and click on 'add to basket'.
At the end, go to your basket and proceed towards the checkout process.
At this process, you will be asked to enter the voucher code.
Enter the code and your discount amount will be deducted from your final payment amount
Hence your voucher will be redeemed.
The retailer is also present on YouTube and keeps uploading videos on it on a regular basis. These videos help you keep yourself updated about new wines and offers etc. The following given video shows OZ Clarke recommends his favourite wines.
A good party needs a great wine collection, regardless the occasion. Our food & drink section is where you might want to spend a little more time discovering latest promotional offers on quality brands. Top names include Waitrose Cellar who is known for their ravishingly rich collections.
Delivery & Returns
The company delivers anywhere in the UK except for the Channel Islands and the BFPO addresses it offers several ways of delivery including standard delivery, next day delivery and other delivery methods as well. If you are not happy with a bottle bought from the company, you don't have to pay for it. The company will arrange for a refund and you shall receive it back in the shortest time frame.
Customer Support
The customer support team of the retailer makes all efforts to help you with any questions and queries that you may have. You can contact them by post, mail, phone or even fax.
Gift Vouchers
Show your love and affection for your loved ones with wine making a perfect gift for them! Laithwaites offers a collection of gift vouchers starting from £5.
Mobile App
The goodness of rich & soothing wine is now available at your fingertips. Download the Laithwaites mobile app for your Android and iOS.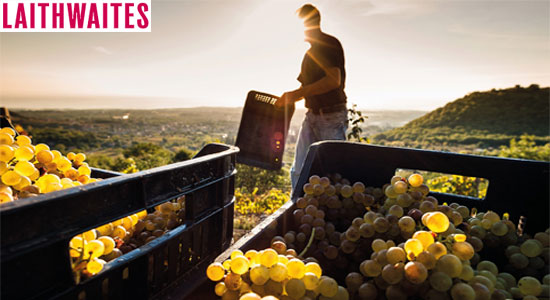 Social Media Connection
Laithwaites is also present on all the major social networking websites and has maintained active networks. These handles enable you to keep yourself posted on all the latest going on in the world of wine. You can click on the following given links to follow the company on social media.
Follow the company on Facebook through this link.
Keep posted on all offers and deals by following Laithwaites on Twitter.
Contact Information
Laithwaite's Wine Customer Services,
One Waterside Drive,
Arlington Business Park,
Theale,
Berkshire,
RG7 4SW
Tel: 03330 148 168
Fill up the details if you have any questions or queries.