JUST EAT Discount Codes November 2021
Use our JUST EAT vouchers for a wide range of products and purchase them at incredibly low prices. These JUST EAT discount codes expire soon, so act today and save big.
VoucherBin > Stores >

JUST EAT

:

9

Active Vouchers



---
Get up to 20% off food orders placed at any Brighton Restaurants via JUST EAT!



---
Place your order via JUST EAT and get it delivered to your doorstep without the extra charge.



---
JUST EAT offers up to 20% off Manchester restaurants! Place your order and save by paying lesser than usual.



---
Planning on ordering something that'll make your taste buds dance? JUST EAT will help you order food with up to 20% discount on selected Leeds Restaurants!



---
Crawley restaurants offer up to 20% off orders placed via JUST EAT. Call for your favourite dish right now!



---
For speedy ordering and delivery updates, download the JUST EAT app today.



---
Order takeaway online from over 27,000 restaurants with JUST EAT and without the hassle!



---
JUST EAT guarantees you'll pay the same price for a delivery meal ordered via them as you would order from the restaurant direct.



---
Call for your favourite dish from selected London restaurants and get up 20% off the same.
About JUST EAT
The JUST EAT story began in 2001, when a group of young Danes wanted to make ordering takeaway just a bit easier. They decided to gather the information of different takeaway restaurants, to ensure people have more options when the hunger strikes. The platform started operating in the UK in 2006 and it has since grown to become one of the country's leading online takeaway platforms. From the site, hungry consumers can pick deliveries from over 30,000 restaurants in cities like Manchester, London and Birmingham.
International Reach
The food delivery platform has operations elsewhere in the world, although you can't naturally order food outside of the UK from the English site. You can find the company operating in India, Ireland and Canada, for example.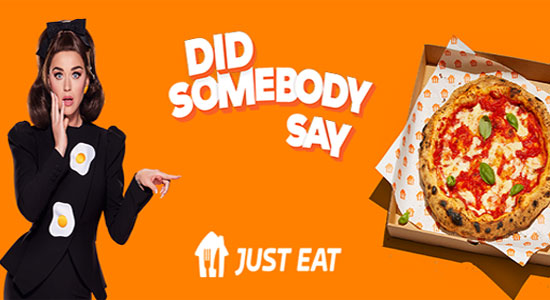 Sister Companies
JUST EAT has food delivery companies operating around the world. The sister organisations include HungryZone and Eatcity.ie.
Top Categories
JUST EAT is an online platform that provides its customers the option to order takeaway from different restaurants near their chosen location. Essentially, the customer inputs their unique postcode and the platform lets them know what takeaway options are available for them at that moment. The customer can then order the food and enjoy tasty treats. The different cuisines available include:
Restaurant Types: Italian, Indian, Chinese, Pizza, Hamburger and Halal, etc.
Delivery Locations: Dundee, Edinburgh, Birmingham, Manchester London, etc.
There are plenty of tasty options available at JUST EAT, but certain cuisines have become customer favourites. If you'd like to see what other hungry customers are ordering, then these are the current top categories on the online platform: Chinese, Indian, Italian, Japanese, Pizza Delivery. Planning for a lunch or dinner? Check out our food & drink category where you will get best vouchers on your favourite restaurants.
Shopping Guide
Ordering food on the JUST EAT platform couldn't be easier. You can find help from the customer service section and you'll be able to limit the restaurants to help you make up your mind. After entering your postcode, you can sort out the restaurants based on the cuisine. You can read customer reviews and pick the most reviewed ones. It's also possible to refine your restaurant search based on distance.
Get Inspired
Would you like to find out more about the country's takeaway obsession and perhaps get ideas for your next treat? The JUST EAT Mini Feed blog is the best place for information and ideas. You can find restaurant introductions, hear about new offers and events, and be inspired by takeaway ideas for different occasions. For example, you can learn how to make the most of the hot dog month!
Irresistible Deals
There are plenty of ways to save money while enjoying delicious meals. The participating restaurants are always running amazing voucher campaigns and you should keep an eye out for those. Just pop in your postcode and see what options are available.
Student Discounts
If you are a student, then ordering takeaway just got a bit cheaper. The online food delivery platform provides students with a valid ID with a 10% discount on all orders. To make the most of this offer, register and verify your student status with UNiDAYS online. You can access the site directly from the JUST EAT platform as well.
Save Using Voucher Code
If you've gotten your hands on JUST EAT voucher codes, using them will be simple. If your voucher code is about adding credit to your account, you need to check your Account Credit section after logging in. There you can add the code to a number field. Click 'OK' and the discount voucher is added to your order. Another voucher code type can be used directly when ordering. On the payment page, you'll see a link in green stating, "I have a discount voucher". Click it and enter your code. Click the 'Apply' button and the discount should be added to your order.
JUST EAT has a YouTube channel with plenty of fun videos to watch. The site features its classic TV ads, but you can also enjoy tips on eating healthy takeaway and figuring out what to do with leftovers! The below video is an example of its popular Manband TV ad:
Delivery & Refund
JUST EAT won't be in charge of the delivery policy of any restaurant. Any possible delivery charges and the times of delivery will be provided by the specific restaurant. You can find this information from the restaurants menu and information page. Also, check Waitrose to purchase quality groceries and wine with free delivery option by simply spending £60 on their website.
If you have a problem with the delivery, you should first contact the restaurant and make a complaint. They will provide any possible refund or reduction. If you can't solve a problem with the restaurant, contact the customer service at JUST EAT.
Mobile App
Make your ordering experience even faster and more customised by downloading the JUST EAT app. The app is free and available on the App Store and Google Play. You can benefit from its simple interface and make re-ordering easier with just a few clicks. Perfect for ordering on the go and ensuring your food will be ready just when you are.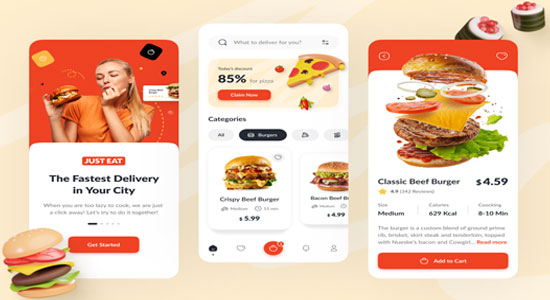 Customer Support
JUST EAT offers plenty of customer support options to help you relief your hunger without a problem. The Help section has a handy tool for asking questions and finding ways to sort out any issues you might have. You can also find a direct contact for speaking with the customer service representatives to ensure you can enjoy your meal.
Social Media Presence
If you'd like to stay on top of the latest restaurant additions, find out about exclusive offers and participate in competitions with appetising prizes, check out JUST EAT's social media activity. You can find the food delivery company in the following platforms:
Contact Details
JUST EAT
Imperial Place (IP4),
Maxwell Road,
Borehamwood,
WD6 1JN,
United Kingdom
Call: 0344 243 7777
Contact form available on the website.