Hungry House Discount Codes October 2020
Hungry House offers a wide range of products at incredibly low prices. These Hungry House promo codes expire soon, so don't forget to bookmark this page now.



---
The Hungry House free Android or iOS mobile app is out now! Get direct access to 10,000+ takeaways and over 60 cuisine types.



---
Enjoy your savings to the fullest by using discount offers on pizza delivery at Hungry House.



---
Follow this link to choose from variety of Indian takeaway offers only at Hungry House.



---
Time to pull the trigger and enjoy the rush of savings on chinese takeaway deals only at Hungry House.



---
You can receive 50% discount on your 6th order when you book from the same restaurant with Reward Stamps.



---
Hungry House allows you to enjoy latest delicious foods from new restaurants and also provides 20% discount on your first order.



---
Click on this link to grab huge deals on various takeaway deals. Hurry!



---
Your Thai takeaway will be on its way to your door in a matter of minutes! Simpy enter your postcode at Hungry House, browse all the Thai takeaway restaurants that deliver to you, order your favourite dishes online and pay with card or cash.
About Hungry House
Hungry House, a UK based platform for ordering takeaway food online. It is more than just a simple restaurant directory, rather an easy one stop shop that bridges the gap between the hungry customers and their favourite food. It allows all the users to search for restaurants as well as browse local takeaway menus before placing an online order. Users just need to enter their postcode to browse through the high quality local takeaways nearby for a variety of cuisines. Hungry House has partnered with over 10,000 takeaway restaurants in the major UK cities like London, Leeds, Birmingham, Liverpool, Glasgow, Sheffield, Manchester and the list goes on.
With a burning ambition to be running their own business, Shane Lake and Tony Charles thought of plenty of weird yet wonderful ideas, amongst which was online food ordering. Their months of research and number-crunching made the way and finally HungryHouse.co.uk was founded in the year 2003. Its online platform was launched in the year 2006 and later in the year 2013 it got merged with a Berlin based global online food ordering network, Delivery Hero, operating in a total of 19 markets worldwide with over 60,000 restaurant partners.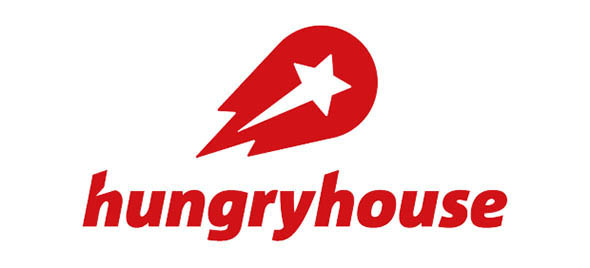 Top 3 Hungry House Deals
Now ordering food is as simple as that, you just need to visit hungryhouse.co.uk and look for the appropriate restaurant according to your postcode, order a takeaway and your food is delivered right at your doorstep! Apart from just ordering your food & drink, you can also look for some fantastic and money-savings deals available. Check out the top 3 deals that can save you more on your order-
Delivery in 45 minutes or your next meal free
Find your favourite Thai takeaway at Hungry House for home delivery
The best Sushi - from sashimi to uramaki, order it online for a fancy feast!
Order Takeaway Online
Hungry House also offers express service that is available in select restaurants across the UK. The Hungry House express provides delivery of your order in 45 minutes or gives your next meal for free! Follow the steps given below while ordering online -
Firstly, your need to know which all restaurants offer express service, so either enter your postcode and look for the restaurants with Hungry House Express icon or you can sort by participating restaurants.
Once you get the list of restaurants and finalize on the one, you need to order takeaway for ASAP delivery and make sure you make the payments online (and not in cash). After you are done with placing the order, the restaurant will confirm the delivery time by email.
And, your food will be delivered in next 45 minutes! If not, you then need to claim for next meal free and fill in the form with appropriate details. Don't forget to submit the claim with 3 days of your order.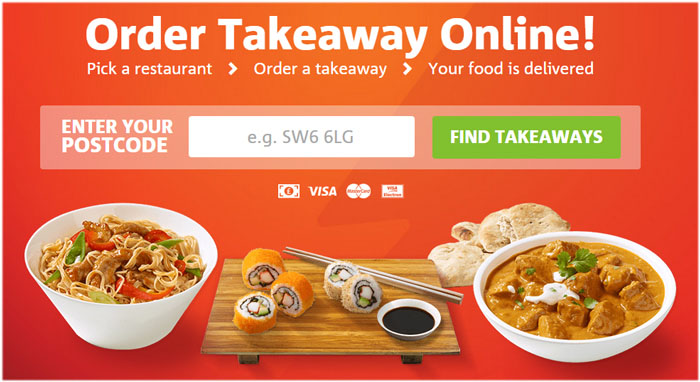 Further Savings at Hungry House
Right from Pizza to Chinese and Indian to Thai, Hungry House offers different types of cuisines to suit all takeaway tastes. Apart from a variety of cuisines, it also offers a number of offers and deals that help you save big on your pocket. You need to enter your postcode and you can then view the latest deals as well as hottest offers currently going on for all the restaurants in your particular area. Go through it carefully, which will help you chose a great restaurant in a timely manner. Check for various vouchers and voucher codes available at Hungry House and save big on your next order. You can also check out Saints & Slimmers for fantastic savings and deals. Subscribe to the Hungry House's YouTube Channel to see the latest advertisements and storewide deals. It is very active in connecting with the customers via the various social media platforms. Watch this video about the usage of mobile app and how to order foods using mobile app.
Hungry House Mobile App
Hungry House also launched its mobile app, to make scoring great deals and ordering from restaurants that easy and convenient. With this app, you can easily browse through the various restaurants, check the menus and directly order at the restaurants. You can pay for a takeaway for delivery with the lift of a finger. The app features a personalized and real time directory of takeaways for delivery. Moreover, the app is free to use, with no added charges. The Hungry House app can be found on both iTunes as well as the Google Play Store. Check out now, as ordering food online has never been so easier!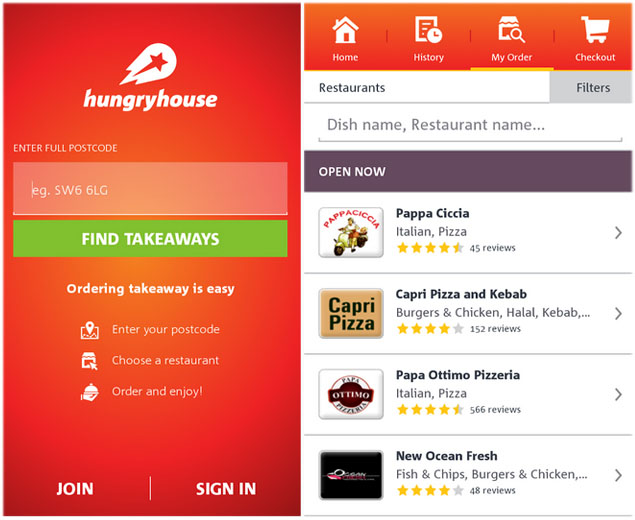 Further Links
Contact Information
Hungry House Limited
78 York Street
London
W1H 1DP
United Kingdom
Customer Care Number: 0800 612 3333
E-Mail: Contact form available on website