Hotels.com Discount Codes January 2018
Hotels.com offers a wide range of products at incredibly low prices. These Hotels.com promo codes expire soon, so don't forget to bookmark this page now.
About Hotels.com
Hotels.com is a leading provider of hotel accommodation worldwide. It offers booking services through its own network or localised websites and call centres with 85 websites in 34 different languages.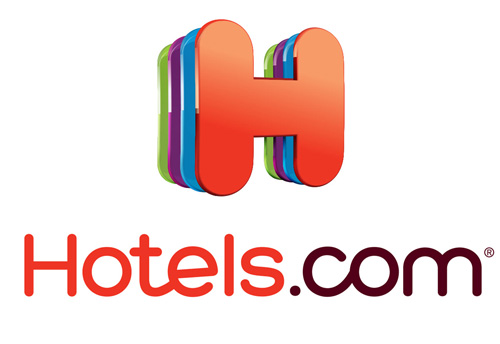 Hotels.com for Everyone
With over 325,000 hotels in approximately 19,000 locations, Hotels.com will have the hotel to suit you. It has more than just hotel rooms with also having B&B's, condos and lodges listed in its inventory.
Hotel Deals – finding a hotel deal
Travel Guides – the low down on the best places to stay
Welcome Rewards – giving you a night free
Best Deals
Deal of the Day - Save up to 50% on hotel booking
Grand Plaza Service Apartments from £80
Kensington Close hotel & spa from £72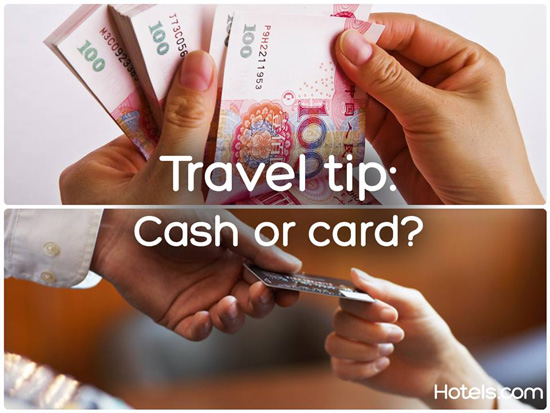 Save Money Using Vouchers
You can save money at Hotels.com by using money off vouchers and deals.
Find the money off voucher or deal you want to use at Hotels.com.
Click the Show Voucher and Visit Site button.
You are taken direct to the Hotels.com website and the money off voucher or deal is activated.
Search or browse for the hotel you want to book.
Once you have chosen you can select the hotel to read more about it.
Once you have found the right hotel you can use the book now button and add your voucher to receive the discount.
Get The Best @ Hotels.com
When you are looking for the perfect place to stay on your travels, Hotels.com is a great place for finding budget-friendly hotel rooms without forgetting quality and luxury. The award winning website will help you find the perfect room in a variety of locations around the world.
You can look for your room based on the city you are travelling to and the date your travels will take place. But what's better is how you can also find the best hotels near a specific location such as a popular landmark. This could be the Eiffel tower in Paris or a specific shopping centre in Budapest. If you have a favourite hotel chain, you can see if they have offers available at the time of your holiday.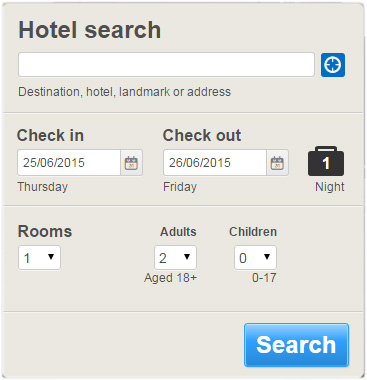 You can also browse the hotels based on how many adults or children are staying for the night. This way you can immediately see if the hotel you are booking is offering any discounts for children.
The Hotels.com website always runs a scheme for last minute bookings, so if you haven't had time to plan your trip, start your journey on the website. You can find all the best last minute deals, with savings of over 15% at your fingertips.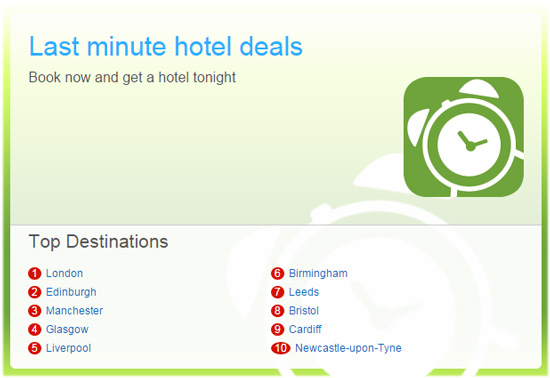 Lastminute.com is one of the UK's leading online travel company. Here you can book your hotel stay by choosing from fantastic range of top secret hotels with up to 40% savings.
You should also participate in the Hotels.com reward scheme. When you join the scheme, you'll get one hotel night free after you've spent 10 nights in a hotel booked through the website.
Furthermore, the website always runs a special daily deal discount, which is often up to 50% off from your stay. You can also get a 50% discount on hotels that are recently added on the website. Checking out new hotels has never been more fun!
You can also see which destinations and hotels are the best ranked on the website. This is great for picking locations that are enjoyed by other people.
Find Your Hotel
To find a hotel is easy. Select the destination, hotel, landmark or address. Then the days you would like to check in and out. Choose how many going and how many rooms you need. Click search and see the results.
The results are very detailed and you can see the price, how many rooms are left, rating and distance all very clearly. You can sort the results by Hotels.com favourites, star rating, distance, guest rating or price. You can then narrow down your results by using the price slider to the budget of your choice. Filter by star rating, guest rating and then also by payment preference, neighbourhood, landmarks, accommodation type, facilities, themes/types and accessibility features. For similar vouchers and money saving offers checkout Hotels Click and Booking.com.
On each hotels page you can see a map of its location. Reviews from Trip Advisor. And a good description and images of the hotel. You can save it to your favourite's to help you choose later. Further down the page are the room types and costs of rooms. There is even more information on the hotel like check in policy's and other key facts you would need to know.
Destinations
Hotels.com has 325,000 hotels in approximately 19,000 locations. Places like Bahamas, Colombia, Fiji, UK, France, Maldives and Spain. They have 349 deals in London, 862 deals in Paris, 85 deals in Manchester and 919 deals in New York.
Travel Guides
The travel guide section offers help if you don't know where to stay. They have articles on where to stay in Singapore and top 10 hotels in Singapore. Top 10 hotels in London, whether it's a quirky boutique hotel in Soho or Georgian elegance in Mayfair, their guide to the top 10 hotels in London will help you find a hotel that suits. There's guides on Nevada with the top 10 hotels in Las Vegas and a very good guide on the famous casinos and spectacular floor shows. Guides on Virginia from 18th-century cobblestone streets and stately mansions to sweeping canyon vistas of wildflowers – memorable moments unfold on a Virginia vacation. The Australian travel guide tells you all about a visit to a vast land of sultry jungle, arid desert, endless beaches and cosmopolitan cities. From the tropical far north to Tasmania's rugged far south. There really are many guides to help you choose the right area to visit.
Hotels.com Mobile App
Hotels.com mobile app is available on all leading operating platform. Now, you can book hotels anywhere in the world at the tip of your finger with the mobile app. It is available on Google Play Store and iOS platfrom.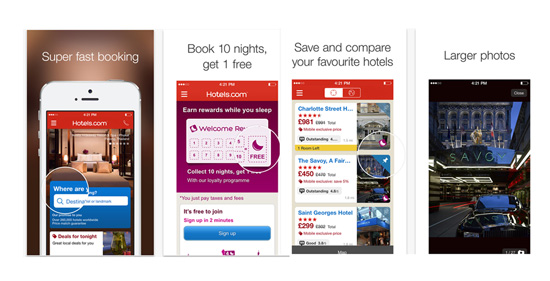 Gift Vouchers
Customers of Hotels US and Hotels Canada sites can purchase and redeem gift cards. However, they do not offer any gift cards or gift vouchers on Hotels UK at this time.
Hotels.com has its own YouTube channel where their Captain Obvious gives you some ideas on hotels.
Welcome Rewards at Hotels.com
You earn rewards while you sleep with Hotels.com. Get one night free by collecting 10 nights through Hotels.com. It's free to join and you can collect nights when on business trips, summer holidays or weekends away. When you book and stay 10 nights at one of their eligible hotels you will get 1 night free to redeem at another.
Social Media Links
Don't forget you can also follow Worldstores on all of your favourite social channels, including YouTube, to keep up to date on all of the latest news, deals, product information and offer.
Contact Information
10440 North Central Expressway
Suite 400
Dallas
Texas 75231
Customer Service: 020 3564 5815