Hotelopia Discount Codes March 2021
Use our Hotelopia vouchers for a wide range of products and purchase them at incredibly low prices. These Hotelopia discount codes expire soon, so act today and save big.
VoucherBin > Stores >

Hotelopia

:

8

Active Vouchers



---
Book tickets via Hotelopia for Barcelona city tour price ranges from £27.23 for adults and £16.14 for kids. Book now!



---
Stay at Elegance Dania Park in Spain by booking through Hotelopia for a price of £41.82 per night only.



---
Book a stay in top hotels at Edinburgh via Hotelopia price range starts from £38. Check out now!



---
Enjoy your Halloween Long Weekend by booking a hotel through Hotelopia price ranges from £189.60 per night.



---
Check out for the wide range of low cost shuttles or private transfers with different options and enjoy a very high-quality service from Hotelopia. Book now!



---
Treat yourself and head away before the summer months end with this offer by Hotelopia to some of the best UK destinations!



---
Hotelopia offers you the chance to plunge into the wonders of Greece with a trip of 3 nights to the cultured capital of Athens or a vacation in one of the fascinating Greek Islands. Hurry up!



---
Make the most of your stay with this Islands & Cost Resorts in one of the establishments intended for entertainment, fun and relaxation. Book with Hotelopia starting from £47.92!
About Hotelopia
If you are looking for a reliable website to help plan your travel, Hotelopia is one of the best choices available. A part of the leading Europe-based travel firm TUI Travel PLC, which provides services to over 30 million people across 180 countries, Hotelopia helps you book hotels quickly and safely.
Hotelopia has been designed for independent travellers look for and book hotels easily and safely at the best prices. It caters to those travelling for business as well as fun. It has a number of hotels on offer, with a wide range of prices and amenities that you can choose from. From modest hotels and apartments to top-end five-star luxury suites and hotels, you can book them all here.

Hotelopia offers accommodation at some of the most popular tourism destinations across the world, and it is constantly adding new destinations to its website. At present, you can select from over 55,000 hotels across over 7,500 destinations in world. Also you can visit Park Resorts for more such offers on hotel deals.
International Reach
Hotelopia lets you book hotels and apartments across Europe, Asia, North America, South America and other locations. Here are some of the countries were you can book through Hotelopia:
Germany
United States
Denmark
China
Canada
Hotelopia Offers What
Hotelopia offers the following services:
Hotel bookings
Transfers
Tickets for tours and buses
Purchasing, Modifying & Cancelling Tickets
You can make a booking at Hotelopia by calling customer service or by clicking on Hotels, Transfers or Destinations. Enter the dates and other necessary information and you will find a listing of hotels to choose from. If you like a hotel listing, click on the 'Book' button at the foot of the page and then proceed to the payment process. You can make a payment by card or by bank transfer. To make the payment by bank transfer, you need to contact Hotelopia's customer centre. The customer representative will then provide you the necessary documentation for the payment through e-mail. Once you make the bank transfer, you can send the payment receipt through e-mail. The payment is then validated, after which you get the final booking confirmation. You can also access your booking through the website directly. Click on 'Your Booking' on the top right corner of the website and enter your e-mail address and booking code.

You can also make the payment at the hotel for your reservation when you arrive. This option is available to you during the payment procedure or right at the hotel search page, where you can search for hotel bookings based on payment procedure. Once you make the booking through the usual way, you can print out the voucher from the website.
In the case of transfers, you can make a booking by clicking on 'Transfers' on top of the page and then selecting your location, destination and other details. The transfer service has to be reserved at least 48 hours before the departure time, unless the destination or service provider requires more time. The booking confirmation is made by Hotelopia after the transfer booking is done. Once you make the booking, you get a voucher and a reference number that has to be printed as proof of booking. The voucher will also have all the information you need for locating the departure point for the transport and the contact phone number for verifying the reservation and calling in case of contingencies.
You can cancel your bookings at Hotelopia at any time, but there may be cancellation fees applied. You will be notified for cancellation fees for your reservation and the time period in which they are applicable. Once you confirm a booking, you give approval for the aforementioned cancellation fees to be applied. At the same time, you will also get a refund for the amount paid, from which cancellation fees and other amounts will be deducted. You can make the cancellation from the website, but not on the day of the booking. In this case, you need to contact Hotelopia customer service to make the cancellation.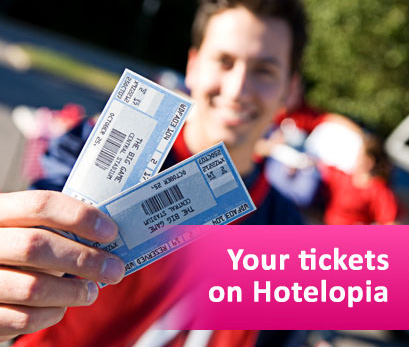 Top Deals
When you book at Hotelopia, you get:
Best price guaranteed; no additional charges or card fees
Payments via bank transfer
Full refund on ticket cancellations
Search for Best Hotels to Stay
Need a little break? Then Hotelopia website is the perfect place for finding your dream holiday, with a fantastic selection of hotel rooms, transfers and car hire available. You can find amazing accommodation in destinations around the world from Mumbai to Los Angeles.
The search function on the website makes it incredibly easy to find amazing offers. You don't even need to book just based on the destination of your choice – you can even find hotel rooms near a specific tourist attraction! So, if you are looking to stay in a hotel with a view of the pyramids in Egypt, you can find all the available options in cheap prices at Hotelopia.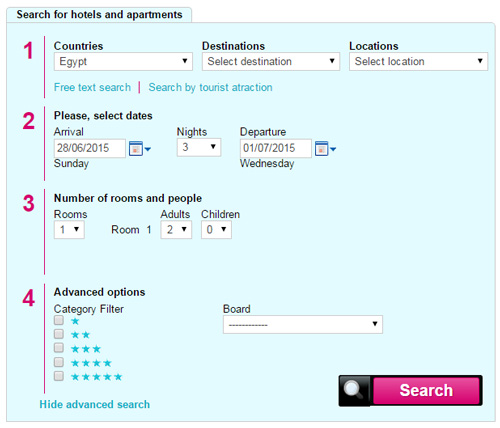 You can also view the hotels from a specific chain or pick one from the recommended range. Hotelopia doesn't add any additional charges to your booking, so you can be sure to find the best accommodation for your stay. The website has a range of amazing offers available to make booking even more exciting. Enjoy the Majorcan sun for just £19 per night or have a cultural holiday in the stunning city of Barcelona for just £24 per night.
Furthermore, if you are hoping to experience one of the more exotic locations, check out offers in South America or Asia. Hotel stays in Buenos Aires, Argentina currently start from just £18 per night and you could stay in the Sri Lankan capital of Colombo for just £43 per night. The website also offers plenty of deals for specific hotel chains. For example, all Iberostar hotels and resorts currently have 15% off!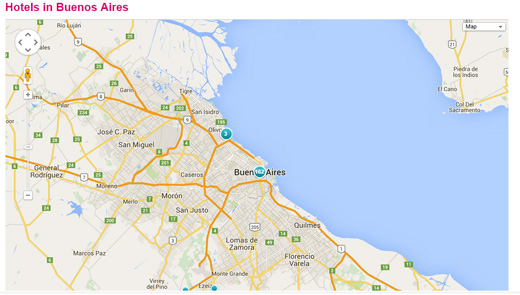 If you are looking for things to do at your destination, don't forget to check the Hotelopia Tickets section. You can find amazing deals to enjoy city tours. For instance, you could book tickets to the Camp Nou Experience from just £20 or take the Manhattan Experience tour in New York for just £14!
Having a holiday has never been as fun and budget-friendly!
Best Deals Using Vouchers
With Hotelopia, you get the best price guaranteed. If you find a better rate with another online accommodations provider on the same location and date, the difference in rates is refunded to you. You can visit the site to avail or know more about the guarantee. Follow the below steps to avail huge discounts.
Once you have decided for a holiday, click on the "book now" button.
You will be taken to a screen that will clearly show everything about your booking like, date and duration, destination, accommodation and party size.
Enter the discount voucher code in the box provided.
Click the "next step" button to continue.
Enter the required details for booking.
A final summary will be presented.
Proceed to the billing process.
After the payment your booking will be confirmed.
Looking to find out more about Hotelopia? Visit its YouTube account and find out about its latest offers and promotional videos and check out what you can do with its services.
Social Media Links
You can contact Hotelopia on social media at:
Contact Info
Telephone: 0871 711 9494
Email: Headoffice@hotelopia.com