High Street TV Discount Codes May 2021
Use our High Street TV vouchers for a wide range of products and purchase them at incredibly low prices. These High Street TV discount codes expire soon, so act today and save big.



---
New High Street TV discount vouchers: Get a 25% discount on car cane with built in flashlight, available at High Street TV.



---
Enjoy free delivery with High Street TV promo code: Purchase any products from High Street TV and receive free standard delivery with your all orders.



---
Limited time High Street TV discount codes: Make delicious, nutritious food with Nutribullets, available with up to £29.05 discount at High Street TV.



---
Save huge with High Street TV vouchers: Purchase Copper Chef (10 piece) nonstick 9.5" Deluxe pan with £20 discount from High Street TV.



---
Limited time High Street TV discount codes: High Street TV offers clearance products under just £10.



---
New High Street TV discount vouchers: At £49.99, you can order 4 in 1 multi cooking QuadraPan professional pan with glass lid and serving trivet.



---
Check out this exclusive High Street TV voucher code: Get Pressure King Pro 12-in-1 digital pressure cooker from High Street TV for just £69.99!



---
Save huge with High Street TV vouchers: Order this muscle-toning Wonder Core 2 system for just £89.99 from High Street TV.
About High Street TV
There are many ways in which people purchase products these days, such as from High Street retailers, online or from catalogues. However, there is also another popular means of purchasing products and this is through multi-channel retailers that sell a wide variety of products through dedicated shopping channels. Shopping via these channels has become a very convenient and simple means of buying products, as you can get a great idea of what each product is like as well as being able to get a great deal. In addition, you can benefit from shopping from the privacy and comfort of your armchair or settee as you relax at home. High Street TV has become a big name in the world of multi-channel retail over the years, with dedicated shopping channels that operate around the clock and are available via platforms such as SKY and Freesat.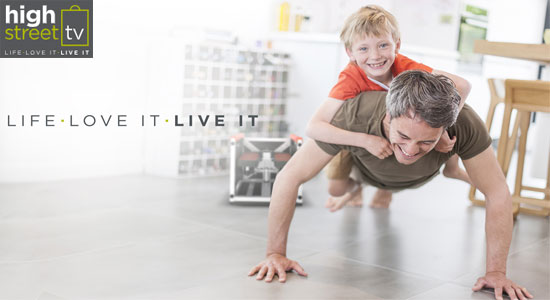 The company also advertises on many popular channels including ITV, Channel 4 and Channel 5. This company also has products that are sold through many hugely popular retailers such as John Lewis, Argos, and Selfridges. You can browse the website and learn more about the company and its products with ease, as the company has a very nicely designed website that is easy to navigate.
Top Products
There are a number of different products that you can purchase through this company both through its shopping channels and via the website. Some of the products that you can purchase here include:
Home and Kitchen, including nutri-gadgets, cooking, pans, cleaning products, homeware, and bathroom products.
Health and Fitness, such as home fitness equipment, superfoods, cholesterol products, weight loss, and golf.
DIY & Garden, including XHOSE products, garden equipment, car products, and tools.
Beauty & Fashion, including women's shapewear, makeup, hygiene products, men's shapewear, hair and nails, and jeans/leggings.
Kids, such as slippers, bedding, accessories, and toys.
Purchasing everyday essential items from leading international brands can make you overdraft your budget. But now buying innovative and suitable products from around the world is possible, thanks to a vast range of vouchers in our health & beauty section, promoted by top retailers like Debenhams offering best & lucrative deals around.
Fantastic Deals
We all love to be able to save money when we shop, particularly if we are able to do this without compromising on quality, choice and design. With the products available through High Street TV you can enjoy great prices and quality with all products that you purchase. You can even benefit from additional ways of saving money when you shop here, which includes:
Clearance: The High Street TV website has a dedicated Clearance section and here you will be able to enjoy access to a wide range of products from across the site at knock down prices. This provides a great way of saving money with ease when shopping on the site.
Free Standard Delivery: This retailer offers free standard delivery on all orders, which means that you can reduce the overall cost of your shopping because you won't have to pay to have it delivered.
Social Media: You may also want to consider following the company on social media platforms, as this will enable you to stay up to date with the latest products and news as well as accessing special deals and offers.
Newsletter: You can also sign up for the email newsletter from this company, and this means that you can get special offers and deals emailed direct to your in-box.
Save Using Voucher Code
If you are keen to save even more money when you shop on the High Street TV website, there is another fast and simple method that you can use. The use of online voucher codes has become more popular over recent years, and they provide a very convenient way of making significant savings. These codes are extremely simple to apply on the High Street TV website, as all you have to do is:
Browse the site and add your items to your basket.
Go to your basket once you are finished.
Click on checkout.
Add the voucher code when prompted to do so.
Apply and continue with checkout.
If you want to find out more about this retailer and the products and services available, you can also watch the online video for High Street TV. You can do this by subscribing their YouTube channel. This video gives a brief demo of the newly launched product Maxi Climber.
Mobile App
Customers of High Street TV can now enjoy even greater ease and convenient thanks to the mobile app that is available. You can download this app for both iOS and Android devices, enabling you to browse and purchase even when you are on the go. Also you can be keep yourself updated with the latest offer and app exclusive deals by using this app.
Delivery & Returns
There are a number of options when it comes to delivery of the products you purchase from High Street TV. You can enjoy free standard delivery on all orders, which is a great way of making savings. However, if you are in a rush for your order you can also opt for next day delivery seven days a week as long as you order before 7.30pm, and this postal service is available at a very reasonable cost.
If the product you received is not as expected or not satisfied you can return it to the High Street TV back.
Customer Services
You can also look forward to excellent levels of customer service when you shop from this company, so any issues can be sorted out quickly and conveniently. When it comes to getting hold of a member of the customer services team you can use one of a number of contact methods, which includes making contact through social media sites, sending an email via the website, calling a member of the team, sending a fax, or writing a letter and sending by post.
Social Media Presence
Contact Details
High Street TV
PO Box 724,
Altrincham,
WA15 5BJ
Call: 0844 800 0631 or 0344 800 0631
Email: customercare@highstreettv.com