Hertz Discount Codes January 2018
Use our Hertz vouchers for a wide range of products and purchase them at incredibly low prices. These Hertz discount codes expire soon, so act today and save big.
VoucherBin > Stores >

Hertz

:

10

Active Vouchers



---
Simply book today from Hertz and save Up To 20% money on your USA rental service.



---
Use Mastercard while booking your vehicle and receive 15% savings on best available rates.



---
Hertz offers up to 15% savings on regular car hire rates when you book and make the payment online before the trip.



---
Earn 500 nectar points by using Hertz to receive £2.50 savings on next car hire.



---
Just join Gold Plus rewards using Hertz to win one day international tickets.



---
Get the SuperCover while booking a vehicle from Hertz and also if your vehicle gets stolen you don't need to pay extra.



---
Use Hertz for hiring your next car services to grab free valet for every month.



---
At Hertz, you can get long term rentals with great possible rates.



---
Hertz offers 2500 miles allowance in every 28 days plus business or personal use.



---
Grab one-way rental service using Hertz available for £1 a day.
About Hertz
Hertz is an American car rental company functioning in more than 150 countries across six continents internationally. Established in 1918, Hertz has been under the ownership of multiple people and organizations. Today it is owned by Hertz Global Holding which is the world's largest airport general use car rental company.
Hertz's website is a simple but a detailed one. As Hertz is present in most of the countries, you can view information by applying the region filter. So, to look for any service or availability you have to enter your local regional code to get more details. The website also automatically identifies customer's location and resets the menu as per the country.
To give a world class service, Hertz has air partners, hotel partners, rail partners, service partners and others spread across the globe.
Hertz has an age limit when it comes to renting a car, which is 21. The age limit can also change depending on the model of the car that needs to be hired.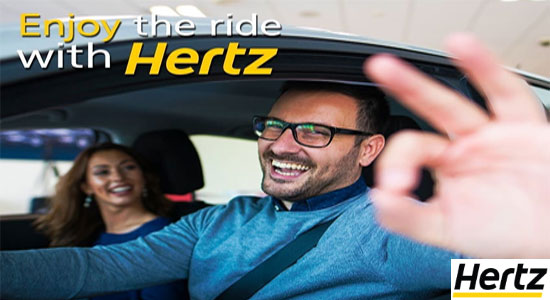 Products & Brands
Products
Being a car rental and sales company, all the products and services provided by Hertz are associated with cars only. Although, Hertz has a long list of products and services, the availability of each one varies based on region. The most common services provided by Hertz are car leasing, chauffeur drivers, car rental for special occasions, airport transfers, and selling used cars.
In 2006, Hertz took a "Green Collection" initiative wherein the company listed all the environment-friendly vehicles they owned from a variety of manufacturers.
The NeverLost GPS feature lets one have a safe drive. This enables tracking of the vehicle anywhere on the earth.
Brands
For a very long time cars listed on Hertz for rent were only Ford models. Later as General Motors took over, most cars for rent were of General Motors. Today Hertz has a list of multiple automobile brands on its menu. Hertz has a variety of luxury, sports and hybrid cars to fulfil every customer's needs. But, as we mentioned before, not all of the car models might be available in all geographical locations.
In the 'Vehicle Guide' section on the Home Page, you can check all the cars available in the region. Few of the listed brands include:
Ford
Renault
Audi
Volkswagen
Mercedes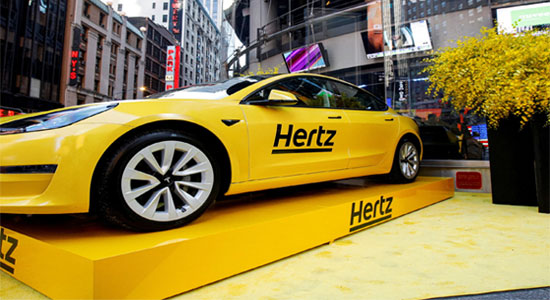 Top Deals
In the 'Special Offers' section of the main menu at Hertz, one will find all the current top deals and offers available on various sections. Simply click on any offer of choice and proceed with the booking.
Here are some of the offers available with Hertz currently.
15% off weekend bookings
20% on student van rentals
25% off on Nordic car bookings
Avis & Zipvan are some of the few retailers providing car rental services of top branded cars that makes your journey an unforgettable one.
How To Redeem Voucher Codes
Check out the top brands offering deals with huge savings. Follow the below mentioned steps on how to redeem the voucher codes:
Visit the site & search for various offers for booking a car on rent.
A discount or voucher code can be used while booking a rental car.
After booking the car of your choice, the option of 'Enter Voucher Code' has to be selected and then the voucher code has to be entered.
After you click on Apply, the total amount will automatically decrease and you can continue with the payment.
Hertz has its own channel on YouTube. The current featured video is about introducing the 50th Anniversary Edition Ford Shelby GT-H. This is a huge achievement, and they have left no stone unturned to make their customers feel special on this occasion.
Don't miss out the latest deals & offers available at our travel & services category on your favourite leading brands. Travel vouchers will be valid for limited time so check out before they expire.
Delivery & Returns Policy
Delivery Policy
You can choose a pickup and drop location for your rental car. Though to avail this service, the booking has to be done well in advance. Multiple offers are available for advance booking. The company does not charge extra for pick up and drops unless you are dropping the car to a different location.
Returns Policy
The customer is solely responsible for any harm done to the car when under his/her possession. They are liable to pay for the damages done. If the company finds any damages, they will inspect the entire car and charge you for the total damages.
Gift Cards & Membership Cards
Gift Cards
You can transfer points to their spouse or a domestically related person's account. This could be a gift to them on an occasion, provided that the receiver is also a Hertz Gold Plus member.
Membership Cards
Being a member of Hertz Gold Plus, you can win points for each rental that you take. Later these points can be redeemed to rent a car. To redeem for weekend rental a minimum of 800 points are required, while for a weekday at least 900 points are required. These points cover only the basic charges and not the surplus ones like taxes, permit fees, and toll.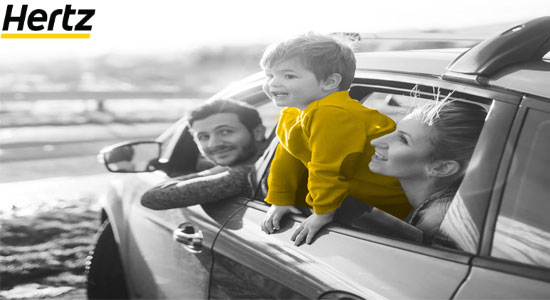 Customer Support
Details to contact are available in the 'Contact Us' section. We recommend reading the FAQs section thoroughly before calling the customer support. This will ensure Hertz to help in a better way. Their customer support normally replies within 24 hours.
Also, Hertz has its own mobile app on various platforms including iOS, Symbian, Android, and Blackberry. This makes accessing Hertz very easy as it is always at the tip of your hands.
Social Media Links
Contact Hertz
You can find the 'Contact Us' option under the 'Customer Support' section at the bottom of the website. One can reach Hertz by e-mail, mail, fax or phone. Look for the details of the nearest center for help.
Call : 020 7026 0077 or 020 7365 3369