Halfords Discount Codes May 2022
Halfords offers a wide range of products at incredibly low prices. These Halfords promo codes expire soon, so don't forget to bookmark this page now.
Halfords
Halfords got established in the year 1892 by Frederick Rushbrooke. It is UK's largest company supported by over 460 stores.
Halfords is a one-stop destination where you can find everything that you need for your bike and car. Whether you want new tires for your mountain bike, a sat-nav for your vehicle, or even a new tent, don't miss out on the great deals we have on offer.

Halfords is the most renowned retailer of car parts and bicycles in the UK. It aims to be the number one destination for products and services that enhance customers lives.
Halfords strives to provide its customers with excellent service and amazing products.
Top four Halfords Deals
It offers a range of discounts on cycling, motoring and sat nav products. It offers free delivery on all the purchases over £30. You can save further by using various discounts available at Wiggle. Check out the top four deals offered by Halfords-
1) 50% off Apollo Feud Men's Mountain Bike
2) Free delivery at Halfords on all orders over £30
3) 30% off select items
4) Clearance Sale – Sat Nav, Audio & Fitness
Usage Of Voucher Code
Halfords is One Stop destination to shop for your favorite product.
Follow the steps below to make your shopping at Halfords a memorable one!
First, look for the appropriate item that you wish to buy. Select the brand, size, color and click on "Reserve or Buy."
1) Add the desired product to your shopping basket.
2) Click on the basket and check whether all the desired products are in your basket.
3) Select from the various delivery options.
4) Fill in your details like your name, delivery address, the preferred mode of payment.
5) At the time of payment, you need to enter the promo code.
Check out this video, that gives you the lowdown on how to clean your bike.
Delivery & Returns
Halfords have a customer friendly delivery and return policy.
1) The standard delivery option delivers the items within four days at £2.99.
2) If you want the delivery on the following day, it will cost you £4.99.
3) Free home delivery on orders above £30.
4) Halford's charge one-time delivery fee. So if you want to order multiple items, you have to pay a one-time delivery fee.
5) Halfords delivers their products from 9 am till 5 pm.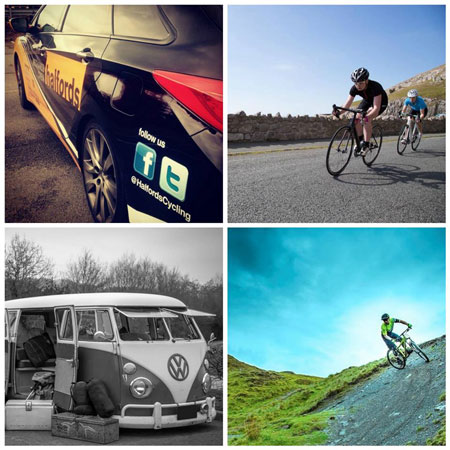 If you aren't at home, they will hand it over to your immediate neighbor. All packages need a signature for you to receive them.
If you don't like your product and want to return it, you can do so. Halfords provides their customers with 28 days for returning a product. All you have to do is show the original receipt and the packaging. They will refund your purchases as long as you meet their requirements. If the product you received is faulty, you will receive a new product in return.
FAQs
1)Does Halfords do free delivery?
Yes, on orders over £40
2)Nearest Halford Store?
465 stores are operating in the UK, so you won't have to travel a lot
Use the online Store Search by entering your city or town to find your nearest store.
3)Do Halfords offer bike service?
Cyclists will be familiar with the wear and tear that comes with riding your bike. The Halford Bike Care plans could be what you need to prevent maintenance costs. It offers an annual care plan and 3-year premium care plan. These plans will ensure you receive repairs and at no additional charge.
4) How do I pay?
You can use any of the following cards for payment:
a) VISA
b) Mastercard
c) Paypal
d) Switch
e) Maestro
If you're paying in store, you can use any of the above cards, as well as high street vouchers, gift cards, cash.
5) Can I track my order?
At Halfords, you'll be able to know at what point in its journey your order is at. You need to enter your email id and order number on the website to track your order.
Contact Details
Customer Care Number: 01527 517 601
E-Mail: resourcing.team@halfords.co.uk