Gtech Discount Codes August 2019
Use our Gtech vouchers for a wide range of products and purchase them at incredibly low prices. These Gtech discount codes expire soon, so act today and save big.
About Gtech
When it comes to looking after the home, we all take pride in making it look as good as possible. We want our homes to look good from both inside and outside. You can get all the right tools at Gtech that will help you make your home look beautiful. At Gtech, you can enjoy access to a wide range of floor care and garden products to help make the task of making your home and garden look great.
You can enjoy excellent quality and innovative design when you purchase products from this specialist retailer. The clean, well-designed website is easy to get around so you can find and buy the products you require with ease.
Gtech Products
You can look forward to a choice of floor care and garden products when you shop at Gtech. Amongst the products that are available are:
1) Vacuum Cleaners including AirRam, AirRam K9, multi, and in-car
2) Power Sweepers with a choice of models available
3) Garden Tools including innovatively designed trimmers and lawnmowers
4) Gtech eBike, which is an electric bike that comes with a pedal assist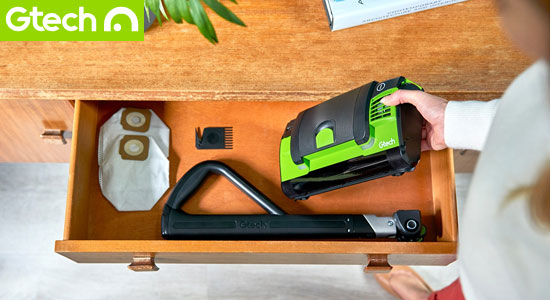 Sizzling Hot Offers
Gtech offers its products at competitive prices. However, if you are keen to save even more money, there are many ways in which you can do this.  Ways to save money:
1) Signing up
When you sign up as a member to this retailer, you can enjoy getting speedy and straightforward access to some great deals and offers. You will also find that this is the ideal way to stay informed about new products and the latest company news.
2) Google+
It is also a good idea to follow the company on Google+. It will make it easy to keep abreast of the latest deals and offers and also makes keeping up with new products lines easy.
3) Free next day delivery
When you order online or speak to an advisor by phone, you will be able to benefit from free next day delivery. At Gtech, you can get your products delivered with speed while also saving money on the overall cost of the items that you purchase.
4) Limited time half-price sale: Gtech Multi + Car Accessory Kit for £173.95
Using Vouchers to Save Money
There is another option available for those who want to enjoy even higher value for money on the cost of floor cleaning and garden products. Using online voucher codes means that you can quickly and easily cut the cost of the products that you purchase from this retailer. You will find it easy to use these codes, as all you need to do is:
a) Add the items that you want to purchase to your online cart.
b) When you are ready, click on the checkout tab.
c) Add the voucher or discount code in the space provided.
d) Continue with the checkout process.
You can rejig your home at cheaper price by redeeming vouchers listed at home & garden section on our site.You can also explore stores like Mantis, it is one of the popular brands in the UK offering high quality and powerful gardening equipment at a discounted price.
You can learn about this company, its values, mission, and its products by browsing through the well-designed website. You can also learn about them by watching an online video. This promo video is about the features of their new product launch Gtech eBike.
Delivery Policy
When it comes to deliveries, you won't have to worry about shipping costs. The company enables you to benefit from free next day delivery on the products that you purchase. All you need to do is place your order online in the usual way or speak with an advisor on the phone.
Getting support from Gtech
You will find it easy to get the help you need from this retailer so that you can get your inquiries, or any issues addressed. The company offers support concerning warranties, spares, AirRam, and multi support. To get in touch with the customer services team, you can choose from a range of contact options. You can contact them via Google+, phone, in writing to the UK head office, and via the online messaging facility.
Social Media Presence
Contact Information
When it comes to getting in touch with Gtech, you will find many contact options. Amongst the different contact options that the company offers are:
Gtech
Brindley Road
Warndon
Worcester
Worcestershire
WR4 9FB

Call: 0845 519 3281
Contact form available on website.