About Garden Buildings Direct
Garden Buildings Direct is a retailer, accessible online and via mail order, specializing in home, garden and leisure within the UK. They are the retailing arm of manufacturers, Kybotech, who design and make the BillyOh outdoor buildings range.
With a huge emphasis on excellent customer service, Garden Buildings Direct care about their customers and are widely knowledgeable in order to share their expertise when asked queries and questions. They aim to combine this with a fantastic product range, at an affordable price range.
Under their specialism of home & garden and leisure comes everything from manufacturing and supplying their own sheds, cabins and garden houses, to furniture and barbecues. Their sister companies, also under the arm of Kybotech, include RedShed, Simply Garden Furniture, Flaming Barbecues, Outdoor Toys Direct, Garden Centre Direct, Kyatu and Simply Greenhouses.
Top Categories & Brands
When shopping with Garden Buildings Direct, you'll find exactly what you're looking for from their most popular categories. With Garden Furniture, Barbecues, Garden Sheds, Log Cabins, Play Houses, Summer Houses, Garden Storage, Green Houses, Workshops, Garden Structures and Accessories available to browse, there is a world of items to choose from.
As well as their specialist brand BillyOh, Garden Buildings Direct also stock products from Lifetime, Smoby, Gardeco, Bosch, Flymo, Hondo and many many more. Choose to shop by brand, or also you have the option of sorting by price when browsing so you know that you're within budget.
Top Deals for Extra Savings
To coincide with their fantastic product range and already affordable prices, Garden Buildings Direct offers a selection of really great deals. We've collected together some of their finest to bring you a wide range of savings -
Save 5% on all orders.
Get over 30% off the BillyOh 20 Range.
Bunny Playhouse Collection starting at only £89.99!
Special Offers
As well as their fantastic seasonal offers, Garden Buildings Direct also offer a great selection of sale and discounted items online. Choose from their Warehouse Sale items, Mega Sale items or Low Priced Bargains to find exactly what you're looking for an unbeatable prices.
Did you know that Garden Buildings Direct have YouTube? You'll find videos on their popular BillyOh range as well as reviews, how to's and handy information. For more details on products, tips and tricks, you really have come to the right place. Take a look at their clip on the Carrington Metal Shed for example and find out why you should subscribe today, as well as spotting great deals, promotions and offers.
How to Save Using Voucher Codes
If you're new to saving online with discount codes or you just need a little refresh, there's no need to worry as we've got you covered without simple saving steps below:
Click through to the Garden Buildings Direct website and browse the categories or search what you're looking for.
Add items to your basket as you go.
View your basket when you think you might be done and check that you've got everything.
When you're done, head to the checkout.
At checkout, enter your discount code and click 'apply'.
Review your payment and delivery information to make sure you've entered it all correctly.
When your order has been submitted, keep an eye out for the delivery and you're done.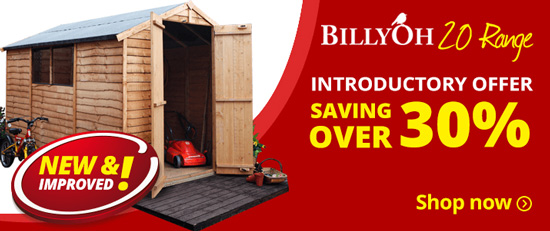 Customer Support
For support on all of your buying needs, order queries or questions relating to purchasing, delivery and wholesale, you'll find a wealth of knowledge is available in Garden Buildings Direct's Customer Support Centre. Here you can read up on commonly asked questions, track your orders and much more.
Garden Buildings Direct also have a blog, accessible from the website, that posts articles on the subjects of Home, Garden, DIY, Home Interior, Kids Corner and News with information, tips and news on all sorts of related topics.
Delivery & Returns
Garden Buildings Direct make accessing your most wanted products as simple as finding them online. Once you've chosen your item(s), you have a range of options for UK deliveries based upon the type of item you've ordered; Buildings, Storage and Log Cabins. You then also have a range of delivery options to choose from, including 48 hour and 5 working days.
Alongside this, Garden Buildings Direct offers a cancellation and returns policy that is accessible within their terms and conditions on site. More information on both can be found by contacting their customer services team.
Social Media
Garden Buildings Direct are social! Are you following them? If not, find them on your favourite social media platforms today to keep up to date with brand and product information, news and the latest deals and offers.
Contact Garden Buildings Direct
Kybotech Ltd
Parry Business Park
Grassthorpe Road
Sutton on Trent
Nottinghamshire
NG23 6QX

For Sales : 01636 858 377
E-Mail: sales@kybotech.co.uk