Fred Olsen Cruise Lines Discount Codes March 2021
Use our Fred Olsen Cruise Lines vouchers for a wide range of products and purchase them at incredibly low prices. These Fred Olsen Cruise Lines discount codes expire soon, so act today and save big.



---
Embark on epic adventure with Warmer Cruising and save up to 40% on your booking.



---
Take advantage of the excellent facilities on board Braemar with Fred Olsen Cruise Lines short break away offer & save up to 40%.



---
Set your trip to Madeira, Lisbon & the Canaries and enjoy the 13 nights sun-kissed relaxation. Book now at Fred Olsen Cruise Lines and save up to 25%.



---
Book Dubai mini cruise with Fred Olsen Cruise Lines and save up to 25%. Grab to save more.



---
Travel from Southampton to Honfleur's greatest attraction, Vieux Basin with France Mini Cruises. Price starts from £259.



---
Get in to festive spirit amongst the busy Christmas markets of beautiful Irish cities. Tickets price starts from £519.



---
Visit Cape Verde, Canary Islands & Morocco along with vibrant culture, gorgeous natural landscapes and much more with Fred Olsen Cruise Lines. Booking starts from £889 per person.



---
Fred Olsen Cruise Lines is delighted to offer free upgrade on all inclusive.



---
Don't miss the captivating scenery, sprawling countryside, ancient historical sites which you can enjoy with the British cruise tour starting from £599 only.



---
Start your world tour filled with majestic views and exotic destinations with Fred Olsen Cruise Lines. Cruise starts from Southampton on 12th November 2018 price starting from £10,699.
About Fred Olsen Cruise Lines
Fred Olsen Cruise Lines started out in a small town of Oslofjord in Norway in 1848. Three Olsen brothers started their own international shipping company, which has since become a famous cruise and passenger shipping company. The company has also moved its headquarters to the UK, operating from Ipswich in Suffolk. It has also branched out parts of the organisation to other fields, such as luxury hotel development and shipbuilding. Throughout its operations, Fred Olsen Cruise Lines have been awarded plenty of accolades, making it a popular holiday option for many people.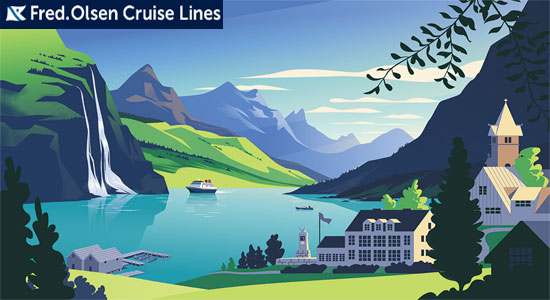 Sister Companies
Fred Olsen Cruise Lines are part of the Fred Olsen Group and therefore, they have a few other sister companies. These include Fred Olsen Tankers, Fred Olsen Energy, Fred Olsen Production and Timex, are to name a few.
International Reach
You can book your Fred Olsen Cruise Lines holiday even outside of the UK. The website also allows you to change the currency, with the options including the US dollar, euro and South African rand. A selection of language options is also available.
Retailer Is Into
The Fred Olsen Cruise Lines website offers plenty of products and services. If you are looking for a cruise holiday, then the online platform is a comprehensive stop for catering to your needs. The products and services available include:
Cruise Holidays
Including European, South and North American, Asian and Australasian cruises
Including seasonal cruises such as Christmas and New York cruises
Including special cruises, such as river cruises, adult-only cruises, themed cruises and taster cruises
On-board Services And Entertainment
All-inclusive packages
Dining tickets
Drinks
Entertainment and activities, including dancing, and photography
Spa and fitness facilities and treatments, including massages, hair styling and waxing
Off-shore tours in the selected locations
Travel Insurance
Holiday extras insurance, including room confinement and misses port departure cover
Hotels & Transportation Solutions
Pre-cruise hotels, including airport hotels
Airport parking, including meet & greet parking
Coach & car transfers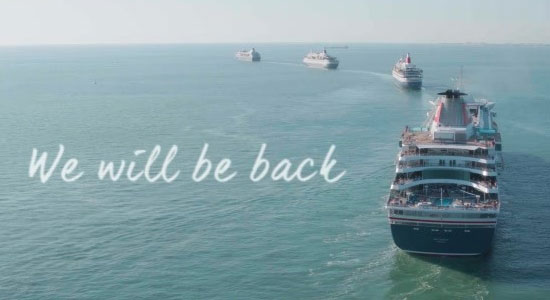 Top Categories
The website has so much to see and it can be easier to start browsing the options by focusing on the top categories. They are currently promoting these popular categories:
The Fred. Difference
View our latest cruise deals
Already booked a cruise?
Shopping Guide
Finding your dream holiday is made just a bit easier with the help and support available on the Fred Olsen Cruise Lines website. You can find information under the Before Your Cruise and Help & FAQ section, which is perfect for knowing just what to expect from your holiday. In terms of the destination ports, the Places We Visit is great for picking out the locations that seem the most stunning and interesting. You can even view information based on the cruise shop! Once you are ready to start shopping, you can search for the options based on the location, time and duration of the cruise. Don't forget to check out the special cruises, like themed cruises for something different.
Deals for Extra Savings
Looking for a holiday deal that doesn't break the budget? Fred Olsen Cruise Lines regularly provides extra deals on top of their affordable holiday packages that can see you save even more. For example, it currently offers savings of up to 40% on its Warmer Cruises deals. The available cruises could see you escape to the Canary Islands or Portugal without paying for the real deal. Furthermore, you could also upgrade your cruise to All Inclusive on all of the Summer 2017 sailings without having to pay anything!
Clearance Section
If you like the sound of the above deals, remember to check out the Cruise offers and deals section on the website. There you can find deals in different categories such as Last Minute Cruise Deals and Christmas Cruises. It's the perfect way to enjoy a bit of holiday magic without paying the full price. Planning for a cruise trip is not that easy due to the large financial expense it charges for the quality services offered. It includes a complete holiday package with beautiful sceneries at ports plus luxurious accommodation, entertainment & much more, attracting tourists to a great extent. Find a huge range of money-saving vouchers in our travel category & make your dream of a trip to your favourite holiday destination more affordable.
How To Save Using Vouchers
Choose the destination, departure port, date and duration at the website. Check for the cost and availability of rooms based on the location you have chosen. For booking you can use the contact form or call the customer service team. When filling the required details you can enter the available valid promotional code that adds savings to your order.
Travelling is always an adventure & if on a cruise it becomes much more exciting but the cost will definitely give you a headache. Don't drop your plan of a holiday just because of the high-end prices as Direct Ferries guarantee you of lowest travel prices through stunning discounts & promotions. Enjoy hopping on board the ship & earn benefit of a discount on regular prices.
The Fred Olsen Cruise Lines YouTube channel is perfect for that holiday information. If you are picking out your cruise and want to know more about the different destinations, the channel is perfect with its informative videos. There's also plenty of inspiration, especially if you've never been on a cruise before. For instance, check out the below video of an introduction to the Balmoral ship and its services:
Delivery And Returns
Once you have completed your online booking, you will receive a confirmation on your e-mail address. You'll also receive the cruise tickets and any additional tickets/passes to your e-mail. You can also request them to be delivered via post, which will be delivered up to 21 days before the travel. If you have any problems receiving your tickets, do contact the customer service.
Returns and Refunds
You can cancel your cruise holiday by writing to Fred Olsen Cruise Lines. All the cancellations will include a fee, which means you cannot receive a full refund. The cancellation fee is typically higher the closer to the cruise time you make the cancellation. The fee ranges from 15% to 100% of the full price. You need to fill out the cruise cancellation form, available on the website. It's advisable to have a travel insurance to cover the costs in case Fred Olsen Cruise Lines cancels your holiday for some reason. If you like to cancel one of the tours booked through the website, you can do so by e-mailing the details to Shore Tours. A 10% cancellation charge will apply if you cancel once on-board the ship.
Customer Support
Fred Olsen Cruise Lines offers a number of helpful tools to make booking easier. Visit the Help & FAQ section to find out more about booking, the life on-board of the ship, and special requirements, such as mobility and dietary options. Furthermore, the Manage My Cruise is great for making sure you book extras on time. The On Board Experience section helps you prepare for the fun ahead of you and don't forget to contact the customer service if you have any more questions.
Social Media Connection
If you'd like to stay in touch with the company, you can do so on social media. The different platforms are perfect for being inspired, learning about new offers and finding new cruise routes. You can hit the follow button on the following social media channels:
Don't forget to subscribe to the online newsletter. It can see you find out about exclusive deals, receive introductory offers and be the first to book new holidays for the coming season.
Contact Information
Fred. Olsen House
White House Road
Ipswich
Suffolk
IP1 5LL

Customer Care: +44 (0) 1473 746 167
Email id: customer.relations@fredolsen.co.uk