Flamingo Land Discount Codes June 2022
Use our Flamingo Land vouchers for a wide range of products and purchase them at incredibly low prices. These Flamingo Land discount codes expire soon, so act today and save big.



---
At Flamingo Land, you can easily adopt an animal pricing from just £55 only.



---
Purchase single season 2017 pass from Flamingo Land available at £120.



---
Purchase Family Season Pass 2017 for just £410 and enjoy your stay at Flamingo Land.



---
You can get daytime animal shows for free with Flamingo Land admission.



---
Flamingo Land is now offering lemur encounter, for as low as just £20 per person.



---
Become a zookeeper using Flamingo Land available at £175 for one participant.



---
Get animal trainer experience for your zoo career available from £200 at Flamingo Land.



---
Get ideal holiday homes at fantastic location from just £26,500 available at Flamingo Land.
About Flamingo Land
Situated in good old Yorkshire and winner of Yorkshire's most magnificent attraction, Flamingo Land - the zoo/amusement park houses over 1,000 animals, making it one of the largest animal holder's of its kind in Europe! Baboons, lions, tigers, chimpanzees (and many more) aside, Flamingo Land boasts a number of fantastic nail-biting attractions too. 'Cliffhanger', for example is the first and tallest S&S Combo Tower in the United Kingdom, whilst the terrifying 'Mumbo Jumbo' rollercoaster featured the steepest drop in the world at the time. Most recently, 'Hero' was created, a Suspended Flying Coaster that is an absolute must for every extreme coaster fan out there, whilst 'Velocity' will have you accelerating from 0-60mph in just 28 seconds, speeding through over 2000 feet of adrenaline-fuelled race-track; extreme inclines and hairpin turns galore!
Family & Season Passes
Flamingo Land offers a discounted family passes for just £100 for the whole family including either 2 adults and 2 children or 1 adult and 3 children, a total saving of £24 if booked online, add our discount voucher code to that for an even greater saving!
With far too much fun to be had for just one day, Flamingo Land offers two fantastic Season Passes so you can enjoy its hundreds of animals and attractions all year round! A Season Pass Single is £115 whilst a Family Season Pass is £395, add the voucher code in the box and watch your saving grow even further! Also visit Disneyland Paris GB for more similar exciting offers.
Fantastic Deals
20% discount off 2015 holidays
Save up to £10000 on Holiday Homes
Family Pass for just £100 when booked online
Children 3 years and under go free
Adults and children only £31 booking online (usually £37)
Two Consecutive Days Ticket £44 booking online (usually £50)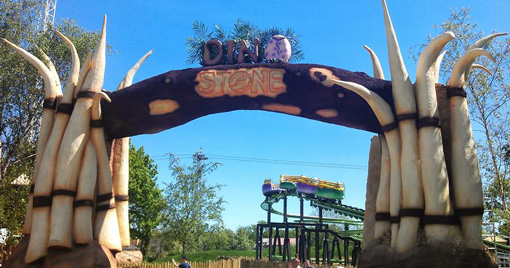 Extra Experiences & Freebies
Flamingo Land offers a range of added exciting experience days such as 'Be a Zookeeper' where you can experience hands-on what it's like to care for some of Flamingo's rarest and most exotic creatures. You'll gain a breadth of knowledge on care-taking whilst getting really stuck into the daily routines as one of the staff. Just one of the unique opportunities on offer, Flamingo Land also has the 'Animal Trainer Experience', 'Adopt an Animal' and many more, all of which make fantastic gifts!
For no extra cost at all Flamingo also offers 'Keeper Talks' on a variety of different animals, each one for half an hour, every half an hour throughout the day. The keepers will tell you all about giraffes and hippos, baboons, tigers, lemurs, flamingos, penguins as well as a talk on South America! The next super fun experience on offer is the  'Zoo Trail' where you'll have to use your map and animal knowledge skills to answer questions and find your way through the trail! Last but definitely not least is 'Meet a Creature' where you'll get the opportunity to meet and greet snakes, snails, frogs and a selection of super creepy crawlies! Three great experiences that you won't want to miss, totally free! In addition to all of this there are also (totally free) daily shows including 'Bongo Warriors', 'The Bird Show' and 'Sea Lion Show' four times a day, so there is always something happening for entertainment!
Holiday Bookings
If you fancy making a weekend out of your trip why not stay in one of Flamingo's accommodation options? With a choice of Camping and Caravans, Gold Holiday Homes, Log Cabins and various Lodges, you're sure to find one that suits you and your family perfectly, and whilst you're there you can make the most out of their fabulous Leisure Complex and Golf Course too!
Terms Of Admission
E-Tickets will be e-mailed directly to you for printing.
Tickets are non-exchangeable and non-refundable.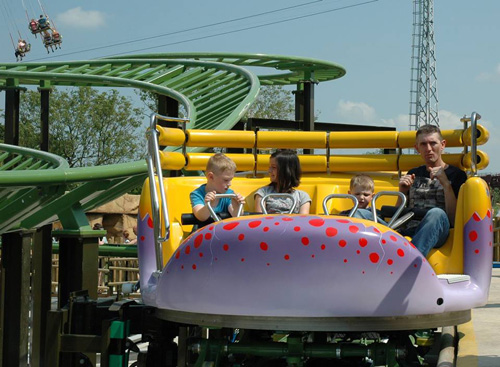 How To Redeem Your Voucher
Click 'Plan Your Visit' on top of the page.
Choose 'Buy Tickets' from the drop-down menu.
Pick dates from the calendar provided or add a single or family Season Pass into your basket.
Enter your voucher code in the Voucher box below and click 'Apply Voucher'.
Proceed to payment option for confirmation on your trip.
Subscribe for Flamingo Land YouTube channel and know more about their latest offers and adventurous event.  Watch this hair-raising video of the Mumbo Jumbo in action!
Social Media Links
Find Flamingo Land on social media and be the first to find out about all the great offers and deals as well as extra background info on all the animals!
Newsletter: Sign up on right-hand-side of website homepage.
Contact Details
Kirby Misperton
Malton
North Yorkshire
YO17 6UX
Call: 0871 9118000
Email: legal@flamingoland.co.uk