---
Purchase brand new iHit dry herbs vaporizer from EveryoneDoesIT with 45% savings.



---
Purchase stylish Blunt bubbler pendant from EveryoneDoesIT with 40% less price.



---
Buy sleek design black mamba vaporizer with 29% savings from EveryoneDoesIT.



---
EveryoneDoesIT is now offering new stylish genius pipe for 27% less price.



---
Save 13% on Pokemon glass spoon pipe available at EveryoneDoesIT.



---
Shop for EveryoneDoesIT glass and accessories to receive 10% savings on RRP.
Click to copy & open site



---
Shop for G Pen Pro vaporizer by Grenco Science from EveryoneDoesIT available with 3% savings.



---
For just £38.99, you can purchase mini tree percolated glass bong from EveryoneDoesIT.
About EveryoneDoesIT
EveryoneDoesIT started out as a shop that sold smoking paraphernalia, piercing jewellery and giftware. The company opened the first shop in St. Albans around ten years ago and has since opened a few more shops in UK locations.

But EveryoneDoesIT also moved to the field of online shopping and opened up online stores. One of their sister sites is focused on jewellery, while the EveryoneDoesIT website is focused on providing anything you need to have a good smoking experience.
The website is focused on providing bongs, vaporizers, papers and blunts and other smoking related paraphernalia. According to EveryoneDoesIT, the website has 50 million hits each month and it is one of the world's largest smoking focused online retailers.
Sister Companies
The company also runs a similar website focused on jewellery. You can find great jewellery deals at BodyJewelleryShop.com. Grab massive discounts on all your favourite products by picking Tobacco discount vouchers on our site. If you are looking for electronic cigarettes then Gamucci Electronic Cigarettes is a perfect choice to look for.
Range of Products
If you are looking for smoking related items, you will definitely find it at the EveryoneDoesIT website. The place is perfect for anyone interested or involved in the culture. The range of products includes:
Bongs and water pipes – glass bongs, water bongs, ceramic bongs, shisha bongs, mini hookah, percolator bongs, bong accessories, etc.
Papers and blunts – filter tips, kingsize papers, pre-rolled cones, regular papers, cigarette tubes, blunts, etc.
Vaporisers – digital vaporizers, vaporizers pens, portable vaporizers, vaporizer accessories, etc.
Smoking accessories – ashtrays, lighters, storage, scales, gauzes, spare parts, rolling accessories, cleaning products, etc.
Lifestyle – candles, camping and festival gear, incense, contact lenses, merchandise, gadget and toys, clothing, etc.
Smoking paraphernalia – smoking pipes and bubblers, herb grinders, etc.
Featured Brands
The EveryoneDoesIT also has plenty of branded products on sale. If you are looking for a specific brand, then the website's featured brands include:
Weed Star
Rizla
Royal Blunts
Juicy Jays
Golden Wrap
THTC
DMC
Vapir
Herborizer
Flame Homeware
EasyLeaf Grinders
Killer Grinders
Customisation
EveryoneDoesIT sells regular smoking related products, but they also have quite a bit of custom made products available. For instance, you can buy a number of exclusive glass bongs on the website. Some of these products are very much sought after and even class as collectible.
Top Categories
The EveryoneDoesIT website actively promotes its new product lines, which it regularly grows. This includes different bongs and vaporizers. It also focuses on providing smoking related information by promoting its videos and competitions on the website.
Shopping is very easy as all products are clearly divided into sections that make finding the right product easy. You can view the products by material, purpose and even price.
Sizzling hot deals
The website has 100's of products at reduced prices at all times, so it is easy to find great offers. Some of the hottest deals at the EveryoneDoesIT website include:
American Glass bongs at reduced prices
Incense and candle deals at reduced prices
Up to 50% reduction on clothing
Free worldwide delivery in celebration of 4/20
Check out clearance section
You should check out the website regularly and follow EveryoneDoesIT on social media to find out about clearance deals and daily deals.
How to Redeem Codes
Saving money on the website is very simple. If you have a voucher code, you can redeem it on EveryoneDoesIT without much hassle. Just have the code at hand when you are shopping, once you are done, head down to the basket. Once you are there, you can see a section for adding your discount code. Apply the code and your new price with the discount will be calculated.
EveryoneDoesIT runs a Youtube platform where it regularly posts product and smoking related content. This E-Livi8 Portable Vaporizer is a brand new unique vaporization device which can be used with dried herbs and flowers as well as tobacco and aromatherapy blends.
Delivery & Return Policy
The company takes great pride in ensuring your package is always delivered in a discreet manner and in good condition. All orders that are placed before 4:20pm between Monday and Friday are despatched on the same day (Subject to availability). Orders placed after 4:20pm or during the weekend are despatched on the following working day.
You can either choose a standard delivery or a recorded delivery within the UK. Standard delivery typically takes 3 to 4 working days. Delivery time for recorded delivery is generally the same, but you need to be home to achieve it. International delivery is available, but the courier options depend on your location and preference.
Return Policy
You can return your purchase within 14 days of receiving your order. All returned orders must be new and unused. If you don't want the product or if the goods were faulty, you must confirm with EveryoneDoesIT either by phone, post, fax or e-mail before you send them back.
If the item is unwanted you will need to pay for the costs. For damaged items you must provide evidence the item is faulty and you will then be provided with a replacement. You may need to return the faulty item and your costs will be refunded. You will be refunded for your products and this is typically done within 7 days from the company receiving the return.
Customer Support
EveryoneDoesIT is a great website for learning more about smoking related items. You can view the company's shopping guide for more information on the products, how to use them and how to take care of them. These guides come in both video and written format.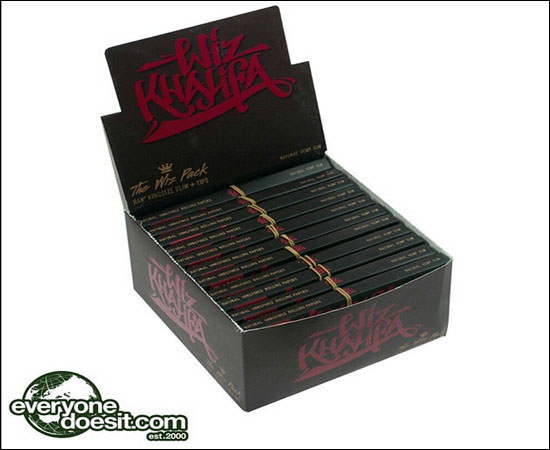 Social Media
You can find EveryoneDoesIT on the following platforms:
Contact Information
Unit B2
Phoenix Industrial Estate
Rosslyn Crescent
Harrow
London HA1 2SP
United Kingdom
Call: 08456 420 420
Email: For all general enquiries please raise a support ticket on Website