eSpares Discount Codes October 2018
Use our eSpares vouchers for a wide range of products and purchase them at incredibly low prices. These eSpares discount codes expire soon, so act today and save big.
VoucherBin > Stores >

eSpares

:

8

Active Vouchers



---
Carpet cleaning is a easy task now. Buy Universal Floor Tool with vacuum extension tube from eSpares and save up to 45%. Specially designed for maximum pick-up and fast removal.



---
eSpares thoroughly follows the saying "At your service" principle. Next day delivery of any product is now possible with eSpares. Keep Shopping!



---
Best deal to protect yourself & your family from fire with Kidde multi purpose fire extinguisher. Buy this extinguisher for £16.49 and save 28%.



---
Planning to bake something & don't have grill pan? Visit eSpares and buy Universal Grill Pan Assembly only for £14.99.



---
Missing morning breakfast in a hurry, then you must buy Pure Four Slice Toaster with a cool satin white finish from eSpares only for £14.99. No compromise with health!



---
Switch to your favourite channel with the quality remote control devices from eSpares. Buy it for just £8.99 only.



---
Keep water clean and safe with the efficient filters from eSpares priced at £14.35 only.



---
Keep the vacuum in these affordable bags for just £6.49 from eSpares.
About eSpares
eSpares is a UK-based online retailer, which focuses on spare parts and accessories for different electrical appliances. The company started operating in 2003, with the focus on domestic vacuum cleaners. The retailer has since increased its product category and the company currently sells over 500,000 spares. During its operations, the retailer has won a number of accolades and re-branded its image.
International Reach
You can order from the eSpares platform for international deliveries. The site delivers to both EU and non-EU countries, with the delivery charges varying between £6.99 and £12.99 per order. In terms of local currencies, the website can only be viewed in either the British pound or the euro.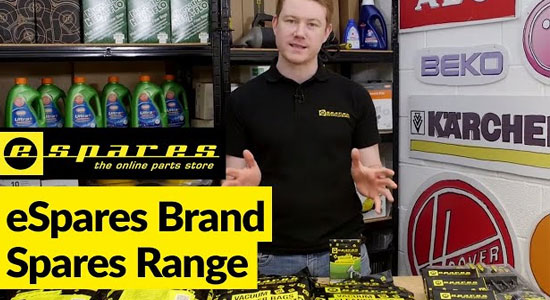 What Does The Retailer Provide?
As mentioned above, the online platform carries over 500,000 different spare parts for a number of different electrical appliances. The product categories on the eSpares website consists of the following:
Kitchen Appliances
Including cookers, hobs, microwaves, water filters and fitting tools.
Including parts for the above products.
Cleaning Appliances & Products
Parts for washers & dryers including belts, door locks, drums and fan parts.
Parts for vacuums & floor care including bins, buttons, belts and filters.
Cleaning products for hobs, ovens, audio equipment, outdoor cleaning etc.
Garden Appliances
Pressure washers, lawnmowers, chainsaws, shredders etc.
Sells parts for the above products.
Sound & Vision Appliances
Including remote controls, HDMI leads, laptops, camcorders and digital cameras.
Home & Office Appliances
Including parts such as bulbs, batteries, shavers, fans and printer control.
Irresistible Offers
When it comes to saving money, eSpares provides you with plenty of options. The website regularly runs offer campaigns that will make ordering new parts easier and cheaper. Some of the current offers include the following:
35% off selected pressure washer spares.
55% off selected Cook Shop offers.
Half price sale on selected garden spares & accessories.
Selected car cleaning products with 50% discount.
Offers Section
For more similar offers, you should head down to the eSpares Offers section. There you can find seasonal offers, such as the current Summer Sale and shop for offers in the different categories on the platform.
Top Categories and Brands
Top Categories
eSpares has a range of products available and they actively promote the most popular categories. These include:
Kitchen appliances
Washers & Dryers
Vacuums & Floor care
Garden
Cleaning Products
Sound & Vision
Home & Office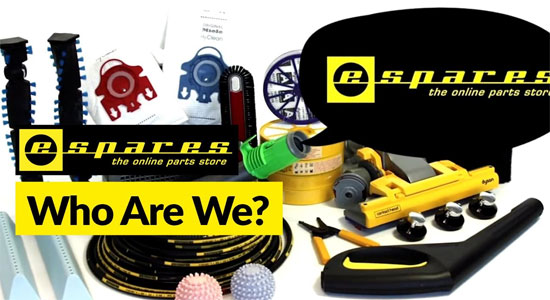 Shopping for products and spare parts is easy on the platform. You can search for your items based on the brand, part of model type. You can also view the Help Me Find My Part section, which ensures the professionals guide you through the process. Finally, the User Manuals on the website are available for most household electronics, which ensures you can check a solution on the site first.
Featured Brands
When it comes to spare parts, eSpares has a selection of the most popular brands available. You can rest assured that your part is available on the platform. The brands on the site include the likes of:
Bosch
Dyson
Samsung
Hotpoint
Well-known electronic brands are constantly releasing wide range of new and innovative equipments & gadgets. Check out discrete voucher codes for various electronic products on our site & attain plenty of savings.
How To Save Using Vouchers?
It's also possible to save money with your shopping by utilising voucher codes. You can shop your chosen items and find a way to apply the voucher code as you click the My Basket page. On your shopping basket, you can see the items and below them, a text field stating, "Voucher Code". Enter your code in the field and click Apply Code. The saving should now show in your order total and you can continue with the secure checkout or continue shopping.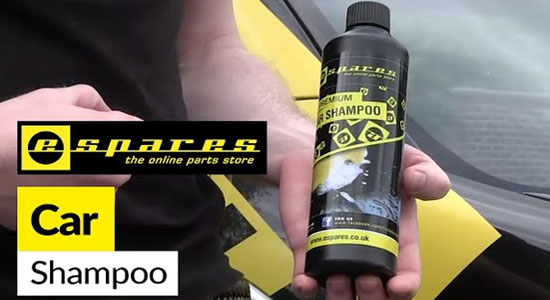 The online retailer is always offering ways to help you, the customer, make the most with the products. The eSpares YouTube channel is just another addition to this customer service and the platform is the perfect way to find help when your electronics are causing you issues. On the channel, you can find How-To videos and guides to fix your issues or turn your machines into something a bit more powerful. For example, the below video shows how to replace Smeg's dishwasher drain pump:
Shopping electronic goods is desirable due to its enhancement in our day to day lives. There are also various medium for relaxation and utilisation of free time. A leading retailer and supplier of electronic items, ao.com, provides similar range of products with irresistible offers.
Get Ideas
If you are looking for help or advice, the Advice Centre is the place to be. But it isn't just beneficial for finding tips on repairing items or selecting replacements; you can also find tips on how to make your home more energy efficient and comparisons between different products.
Delivery & Returns
Delivery Policy
You can choose between three delivery options when ordering on the eSpares platform. The options are:
UK Standard Delivery – delivery time 3 working days of despatch, cost varies depending on order total and is between £1.99 and £3.99.
Next Day Delivery – items will be delivered within the next day, when the order is placed before 9pm, the cost is £6.99.
UK Saturday Delivery – the items can also be ordered for a Saturday delivery, the cost for the delivery is £8.99.
Please note the delivery options for the Next Day Delivery and UK Saturday Delivery are only available on items that say "In Stock". Other items will have information regarding the estimated despatch time.
Returns and Refunds
You can return your items for a refund within 14 days of delivery. The items must be in re-sealable condition, in unused condition and in its original packaging. You need to request a return number from My Account page in order to be able to return the order. The items will be refunded upon delivery and you'll receive a refund on the return costs. Furthermore, if your items were delivered faulty, please contact the company and return the items within 14 days. You will be able to either receive a replacement part of to arrange a refund.
Customer Support
If you are looking for help, the eSpares website is full of ways to get answers to your questions. The Advice Centre is the place to start, as you can find answers to the most common questions – not just regarding your order, but in terms of fixing your home electronics. The site also has a section for User Manuals and guides on how to find your spares. Finally, you can chat with a customer service representative directly to ensure your shopping experience is smooth.
Social Media Links
You can find out more about the products, the offers and the new product additions by following eSpares on social media. You can hit the follow button and get involved with the retailer at the following platforms:
You can also sign up with the eSpares eNews e-mail letter, which guarantees you get all the information you need. The e-mail newsletter will provide you information regarding tips, how-to videos and special offers that won't be for everyone's eyes!
Contact eSpares
eSpares Ltf
Medco House
Bordesley Green Road
Birmingham, B9 4UA
United Kingdom
Call: 0333 4007 888
Contact form is also available on the website.