Create and Craft Discount Codes October 2019
Use our Create and Craft vouchers for a wide range of products and purchase them at incredibly low prices. These Create and Craft discount codes expire soon, so act today and save big.
About Create and Craft
Create and Craft is an ideal shopping direct brand specialized in item crafting. Create and Craft is an inspirational TV shows and a crafting website (createandcraft.tv) where people can watch DIY tutorials and purchase the necessary merchandise for their next crafting project.
All products sold on createandcraft.tv can be delivered internationally for a small postage fee (which varies according to destination).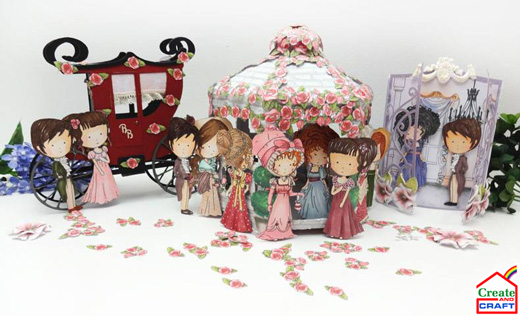 Video Tutorials
The site features over 1000 inspirational videos for knitting, sewing, baking, jewellery making and home crafting. They offer step by step instructions for unique and extremely useful products. Also, they show all the materials/ingredients used in the crafting process so that you can purchase them directly from the website.
Create and Craft Products
Create and Craft is a crafter's heaven as it holds a great variety of product and ingredients used in do it yourself projects. The products are grouped under categories, for a fast and easy shopping session. Shoppers can find:
Paper craft materials in the Papercraft section (cards, embellishments, glues, special tools, dedicated books and magazines, etc.).
Sewing items and equipment in the Sewing section (sewing machines, fabric, felting, quilting techniques, embroidery, sewing kits, etc.).
Cake and baking supplies in Baking section (bakeware, cake decoration, confectionery, aprons, gloves, recipes, etc.).
Jewellery making supplies in Jewellery section (wire, cords, beads, charms, storage, jewellery making books and DVDs, etc.).
Knitting items in Knitting section (kits, needles, wool and yarn, crochet, tools and accessories, storage, etc.
Items and ingredients for household projects in Home Crafts Section (home decor, mosaics, clay&pottery, gift wrapping, etc.).
Art-making supplies in Art section (pens, markers, pencils, canvas, air brush, etc).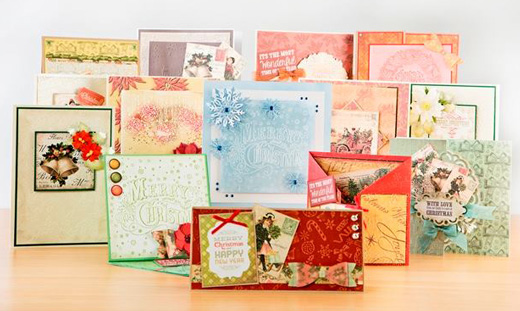 Delivery & Return Policy
UK delivery usually takes 3 to 5 days and requires a pre-set packaging and posting fee. International delivery is also available for a specified fee.
The store has a simple return policy. The customers can return goods in 14 days from the receiving date.
Top Brands
Create and Craft reunites a great selection of brands, including Tattered Lace, Martha Stewart, Simplicity, Graphics 45, Couture, Docrafts, Chameleon, Tonic Studios, Spellbinders, Beads Direct, Singer, Pergamano, American Crafts, Cake Lace, Craft-e-Liza, Stamps Away and Spectrum Noir. But there are many more brands to discover, so go at Top Brands section to discover your favourites. If you have a set price in mind, you can select only those products that fit your budget, to avoid unnecessary detours. You can shop at our site for similar range of art & entertainment and jewelry products from leading sellers like Hobbycraft and Crafters Companion Limited.
Great Money Savings Deals
From seasonal sales to weekly promotions, Create and Craft offers regular discounts for their products. Seasonal offers are usually marketed on the first page, so that it is impossible to miss. Students have a 10% discount on every order and so do Create and Craft Club members. And if this is not enough for you, check out the Clearance section, where you can get extraordinary crafts products at a fraction of their original price.
£120 off Janome 8050 Computerised Sewing Machine
60% off Inkadinkado Round Stamping Gear Intro Set
ScanNCut Erasable Pen Set £7.99
Get £45 Craft Cash when you spend £150
Flexi-Pay
Now, take a break from those traditional methods of payment and start using 'Flexi-pay' mode. It won't only provide you easiness to complete your financial transactions but also lets you use this mode without charging any kind of interests. It sounds awesome to pay monthly installments rather than incurring lump sum costs while buying any item from Create and Craft. It will be obligatory to bear the first payment at the moment you place the order, while the rest of the installments can be paid in the coming months. Wait no more and prepare yourself to use 'Flexi-pay' method in a smart manner.
In order to know if the product you wish to purchase holds the option of 'Flexi-pay' or not, you are required to check the symbol mentioned on this shopping platform.
If the product offers this cool mode of payment, click on 'Flexi-Details' page, where you will receive detailed information about the number of payments to be made, amount of each installment and related Flexi Plans.

Grab this amazing source of payment to your 'Flexi-Basket'. The good news is that you are completely free to add those items to this 'magic basket' as well who are not supported with this Flexi-pay option.
Once the items have been added, you will be asked to differentiate between the products which are Flexi Pay enabled and not, at the time of 'Checkout'. After making a perfect selection, select your plan and confirm the related options.
Go through the basket summary to check if the first payment matches your expectations. However, you must ensure that the payment is made via debit or credit card.
Finally, you will be provided the letter at your home stating that the order has been placed in confirmation with the payments and the time periods when the amount needs to be submitted as an installment at the end of every month.
Redeeming Voucher Code
Visit the website.
Select the product of your choice and the quantity.
Click 'Buy Now' and then click 'Checkout'.
Give in the delivery details, billing details, payment options.
Next in the Promotional Code box, enter the voucher code to avail lucrative discounts.
Next place the order.
Create and Craft has a dedicated YouTube channel, where clients can watch tutorials, commercials as well as informative videos on popular craft subjects. Check out this video about quilting for beginners by Jennie Rayment.
Create and Craft Community
Mobile App
Create and Craft launched a mobile application which can be used to watch the channel live from your Android and iPhone tablet, use the TV chat, purchase any product featured in the TV shows and set reminders so that you do not miss your favourite show.
Community
Create and Craft Club is a community of people sharing the same passion: crafting. As member of the club, clients get 10% discount on all orders, access to exclusive events, free magazines available online and for delivery, exclusive competitions, regular gifts on orders, £10 welcome credit to spend on goods, monthly newsletter and a VIP Club Badge. The club subscription costs £20.
Community contests
The Create and Craft site has regular contests where people are invited to show off their skills. The prizes consist of discount vouchers or promotional offers.
Create and Craft Awards
The site has gathered quite a collection of prizes and external recognition. It now owns two The British Crafts Awards (2014 and 2015) and six Crafts Awards (2009, 2010, 2011, 2012, 2013 and 2014).
Ideal Shopping Direct
Create and Craft is part of Ideal Shopping direct, alongside other interesting and highly useful brands, including Ideal World, Craft Extra, Ideal Extra, Lead the Good Life, Sew.co.uk, Deramores, Birdco, Love Pets and Ideal Sourcing.
Social Media Links
Crafting passionate can also find Create and Craft on:
Contact Details
Create and Craft
Ideal Home House
Newark Road
Peterborough
PE1 5WG
General Enquires - 08717 123455
Email: customer.service@createandcraft.tv