Craft Company Discount Codes September 2018
Use our Craft Company vouchers for a wide range of products and purchase them at incredibly low prices. These Craft Company discount codes expire soon, so act today and save big.



---
This House of Cake Glitter Icing Tube in shimmering gold glitter adds a classic touch to cupcakes, cakes and decorations. At Craft Company, this product is available for £2.49.



---
Go for Craft Company online shopping and avail free standard delivery over the purchase of £50+. This applies to Mainland UK only.



---
With the help of this FMM Easy Rose Cutter, you can make multiple roses in a short span for beautiful decoration purpose. Costing £6.95, buy them now from Craft Company.



---
This FMM Tiara Cutter - Set of 2 is perfect for any princess themed party or celebration as they are beautiful sugar tiaras for cake toppings & cupcakes. They are available at Craft Company for a price of £9.99 only.



---
This handy pack of 8 Sugarflair Ultimate Paste helps in colouring sugarpaste, buttercream, cake mix, etc. costing £15 only at Craft Company.



---
From Craft Company, get this Cake Star Modelling Paste Bundle item, an ideal for creating sugar flowers and models with ease. Pay as low as £21 on buying this for your celebration cakes.



---
Add a finishing touch to cakes & other decoration items with this Colour Splash Cake Decorating Airbrush Kit. Craft Company offers this item for £82.50 only.



---
Any occasional & seasonal based cake decorating items are offered by Craft Company at unbeatable prices. Hurry up to enjoy every occasion with great pomp.



---
Sign up at Craft Company to get access for the latest products, offers & recipes directly in your inbox.
About Craft Company
Craft Company is known for its innovative cake decorations and cake decorating supplies. This is truly, a one-stop-shop for all your cake decoration needs. You can buy cake boards, cake decorating equipment, cake boxes, baking tins, cake toppers and ingredients.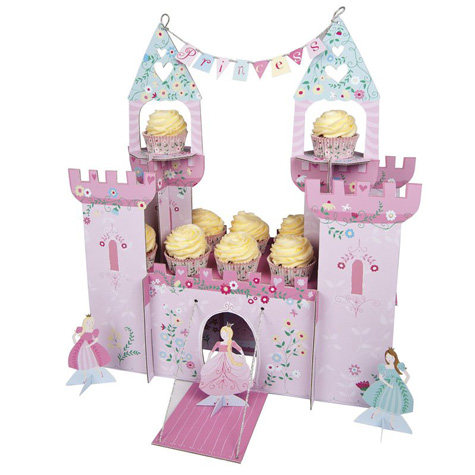 If you are looking for cupcake decoration supplies, the store will not disappoint you. This section features a huge array of cupcake courier, cupcake decoration boxes, baking cases and cupcake decorations.
This cake shop has an amazing collection of cake decorations for all occasions- Birthday, Anniversary, Easter, Christmas, Christening, Valentine, Engagement, Theme cakes, Mother's Day and other special days.
At present The Craft Company send the international orders to countries like Austria, Latvia, France, Romania, Portugal, Greece, Cyprus, Germany, Switzerland, Ireland, Italy, Spain, Malta, Czech Republic and many more.
The Helpful Advice
Craft Company aims to help you make your occasions perfect by helping you have the right cake or cupcake or cake pops to tickle your taste buds.
The company has an online catalogue that offers helpful advice to the customers related to wedding cake, product information, sizing and quantities, equipment and tool help and instructional help.
Cake Decorations: One-Stop-Shop
Cake Packaging: Cake boards, cake boxes, cupcake boxes, gift boxes, treat tubs, etc.
Cake Decorations: Spiderman cake decorations, Disney cake decorations, cake bunting decorations, sugar flowers, sugar leaves, sprinkles and glitters, etc.
Ingredients: Filling and butter cream, bread mixes, cake mixes, flavorings, edible glue, marzipan, edible wafer paper etc.
Cupcakes: Cupcake bases and boxes, decorating sets, cupcake stands, cupcake tins, sprinklers, glitters and cupcake wrappers, etc.
Cookies: Cookies decorations, cookie icing, cookie cutters and cookie bags and boxes.
Equipment: Cake leveller, airbrushing, brushes, crimpers, veiners, edible printing, embossers, flower nails, formers and foam pads etc.
Ribbon: Polka dot and striped ribbons, metallic ribbon, ribbon bows, cords, frill ribbon, paper banding, trims, etc.
Jam Making: Jam making equipment, jam making kits and jam labels and jars.
Baking: Kid's baking, baking accessories, greaseproof paper, food covers, baking aprons, cake storage tins, etc.
Books: Christmas cake books, sugarcraft modelling books, cake decorating books, DVDs, patchwork cutter books, etc.
Cake Pops: Cake pop boxes and stands, candy buttons, melts, lollipop sticks, push pops, decorations, etc.
Occasions: Halloween, Christmas, wedding, baby shower, gift ideas, anniversary, saint days, mother's day, Valentines, etc.
Refined and Easy Search
Shopping at Craft Company is a breeze. The products are carefully under various categories to choose from easily. You can choose the products on the basis of their type, use, material, theme or price.

Top Deals to Watch Out For
Up To 54% Off Cut Price Ribbons.
Up To 50% Off Christmas Products.
Up To 50% Off Cupcake Cases Sale.
50% Off Christmas Icons Sugar Pipings.
Free Delivery On Orders Over £50!
Bulk Discounts and Promotions:
Spend £150 (excluding VAT and delivery) and receive a 7% discount.
Spend £200 (excluding VAT and delivery) and receive a 10% discount.
Spend £250 (excluding VAT and delivery) and receive a 12% discount.
Spend £400 (excluding VAT and delivery) and receive a 15% discount.
How to Use Voucher Codes
Craft Company runs promotional discounts on regular basis. If you are wondering how to avail the discounts when you are ordering online, here is your guide:
Add the desired items to your shopping basket.
Check the shopping basket and proceed to checkout.
Paste the discount code into the 'Voucher Code' box and click 'Apply Voucher'.
Once the code will be applied, the discounted price or free delivery will be applicable.
If you want to know how to use the cake decoration tools or watch tutorials or make sugar decorations, Craft Company channel is the ideal place. Also, there are videos demonstrating how to make sponge cakes, transportation of cupcake and fill the cupcakes. Watch this exclusive video where Kathryn Shayler demonstrates how to cover a sponge cake with sugar paste.
Delivery and Refund Policy
Craft Company has a well-defined delivery policy. You must choose the relevant option at the time of check out. In case you want the products to be delivered urgently, select 'Express Courier'. But remember, to place the order before 3 pm for assured next working day delivery.
In case you place the order over the weekend for next day delivery, the order will be dispatched on Monday. The delivery charges are applied keeping the location and weight in consideration. You can get an estimate about the delivery charges by using the 'Estimate delivery and Tax' table on the shopping basket page. For money saving offer check out Chocolate Trading Company.
Social Media Presence
Contact Details
Eileen Grace Ltd t/a The Craft Company
Unit 4 Hermes Court
Hermes Close
Warwick
CV34 6NJ

Telephone: 01926 888507
E-Mail: info@craftcompany.co.uk