VoucherBin > Stores >

Cosyfeet

:

10

Active Vouchers


---
Find a great seasonal style and on-trend footwear at Cosyfeet with 20% savings.


---
Order any products from Cosyfeet and receive standard delivery for just £4.99!


---
Get a soothing Aloe Vera gel for your sensitive skin available with £3 savings at Cosyfeet.


---
Purchase any 3 packs from Cosyfeet's selected socks range with the price of just 2.


---
Make your nails more stylish using Cosyfeet's nail care products available at £5.


---
Check Cosyfeet's extra roomy HH+ slippers available from just £20.


---
Cosyfeet offers stylish extra wide, deep, roomy fabric shoes from £28.


---
Keep yourself cool and comfy with Cosyfeet's stylish and extra wide roomy sandals for as low as £32.


---
Look and feel good with Cosyfeet's stylish collection of women's shoes available under £69.


---
This roomy boots which helps you to stay warm and comfy available at Cosyfeet for £95.
About Cosyfeet
Cosyfeet opened its doors in 1983 with the simple idea to create attractive footwear, hosiery and socks for feet that required extra room and or special care. Since, their humble beginnings, Cosyfeet have vastly expanded their product range to include a wide variety of items such as premium foot-care solutions, novel mobility products and comfortable hosiery and socks.

Cosyfeet's success can be attributed to their passion for providing the best services and quality products to thousands of people all over the world. Cosyfeet's products are also recommended by more than 11,000 Health Care Professionals. Modainpelle.com happens to be another similar and reputed brand that specializes primarily in women's footwear yet is the best in its class.
International Reach
Cosyfeet does dispatch products to countries outside the UK except to Canada and the USA. Free deliveries are not available to countries outside the UK.
Niche @ Cosyfeet
This retailer carries a broad range of products in the following categories:
Women's Footwear- Extra Roomy Sandals, Extra Roomy Fabric, Extra Roomy Stretchy, Extra Roomy Shoes, Extra Boots, Extra Roomy Extensions, Extra Roomy Slippers and Shoe Care
Foot Comfort- Heel Solutions, Nail Care, Bunion Relief, Toe Solutions, Underfoot Comfort, Specialist Insoles, Ankle & Knee Support, Bathing, Creams & Lotions, Smart Gel Technology
Men's Footwear- Extra Roomy Sandals, Extra Roomy Fabric, Extra Roomy Stretchy, Extra Roomy Shoes, Extra Boots, Extra Roomy Extensions, Extra Roomy Slippers and Shoe Care
Keep Active- Travel & Motoring, Shopping, Walking, Reduce Swelling, Pain Relief, Back Comfort, Bathing, Handy Helpers, Exercise, Relaxation & Hobbies
Keep Active- Shopping, Walking, Travel & Motoring, Reduce Swelling, Back Comfort, Pain Relief, Bathing, Exercise, Handy Helpers, Relaxation & Hobbies, Creams & Lotions, Healthy Backpack
Socks- Softhold Socks, Extra Roomy Socks, Lightweight Socks, Diabetic Friendly, Cool and Warm Socks, Bed Socks, Specialist Socks and Knee Length Socks
Hosiery- Hold Ups, Tights, Stockings, Knee Highs, Foot Socks, Ankle Highs, Extra Roomy Range, Petite Collection, Hosiery Helpers, Light Support Range
New In- Features the latest in footwear fashions
Featured Products
Some of their featured products include:
Roomy boat shoes for men and women made from premium, soft leather
Shoes made from lightweight fabric
Shoes constructed from Elastane, and available in many colours
The Spicy Shoe- a product designed for people with bunions
New Belle- a product that is sporty, supportive and adjustable
Socks for everyone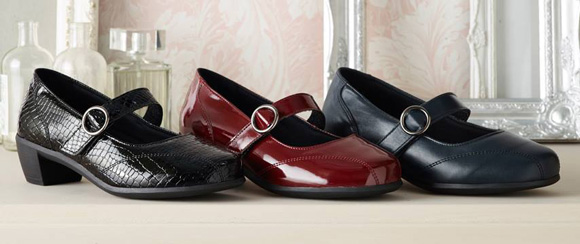 Ease of Shopping
To ease the search of product and add to the customer experience, at Cosyfeet website you can narrow down your search on the basis of:
Shop according to the category of your product.
Shopping using the buying guide.
Shop according to your medical condition.
Steal Deals to Look Out For
Up to 50% off in the Sale at Cosyfeet
Mens Extra Roomy Shoes from £39 at Cosyfeet
Free Delivery On £50+
Allsole and Office Shoes are stores offering formal & casual shoes with voucher codes available at our site.
Redeem Your Savings Code
If you would like to redeem your coupon code or voucher, please follow these steps:
Visit Cosyfeet website.
Complete your selection by adding the preferred items to your basket.
Once the cart is ready click on 'Add to Basket" and Proceed to Checkout.
At the checkout, simply enter the code.
The discount will be automatically applied to the final total.
You can watch some great Cosyfeet videos featuring promos and product information via YouTube. This provides a great way to get a better feel for the retailer and the products that it offers.
Delivery and Return Policy
For residents in the UK, there are two delivery options: Standard and Next Working Day.
Standard- Orders are dispatched within 24 hours. A charge of £4.75 per order is applied. Deliveries are made within 4 working days. Items from the Keep Active range may take longer to be delivered.
Next Working Day- This service is available for orders placed between Monday and Thursday, up to 2pm. All deliveries are made using Parcel Force. Deliveries are not made on bank holidays. This type of delivery requires a signature. A small number of items are not eligible for this type of delivery. Please read the Delivery & Returns section for more information. A charge of £6.50 per order is applicable.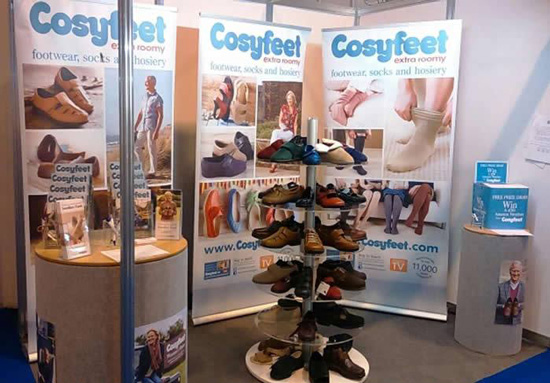 Return Policy
All items except for mobility and electrical products are eligible for the "No Quibble Money Back Guarantee". If you are not completely satisfied with your item, you may return for a full refund or exchange. You will be required to pay for the postage of the item. Mobility and Electrical Products are covered by a different money-back guarantee. Please refer to the Returns and Delivery tab for more information.
Social Media Links
Contact Cosyfeet
Cosyfeet
The Tanyard
Leigh Road
Street
Somerset
BA16 0HR

Customer Care: 01458 447275
E-mail: comfort@cosyfeet.com