Canadian Affair Discount Codes December 2019
Use our Canadian Affair vouchers for a wide range of products and purchase them at incredibly low prices. These Canadian Affair discount codes expire soon, so act today and save big.



---
Book ahead of time and save up to £300 on your booking made via Canadian Affair.



---
Take advantage of the exclusive Air Transat flight to Canada for a price of £344. Book with Canadian Affair and save!



---
This two-week self-drive tour by Canadian Affair is perfect for those wanting to see the Canadian Rockies and beyond for a starting price of £1615 per person.



---
Plan your summer holidays to visit Toronto with your loved ones. Tickets from London Gatwick to Toronto flight tickets cost £378. Hurry up!



---
Experience the vibrant city with an unforgettable city breaks in Canada starting from £609 per person. Offer valid for a limited time!



---
With one of the longest bear-watching seasons in the world, you'll have endless opportunities to view them. Purchase your ticket today for as low as £1706!



---
Experience the romance and hospitality of the West in charming mountain resorts, prairie frontier towns and sophisticated port cities with the Western Journey Holiday From only £1,395 per person.



---
This escorted tour by Canadian Affair is fabulous as it takes you to all of the most popular cities in Eastern Canada from a minimal price of £1187 per person.



---
From Toronto, you will visit the enchanting historical and french-speaking cities with the Canadian Contrasts Holiday for a starting price of £2399 per person.



---
Set off on Canadian Affair's most popular Eastern Canada tour around Ontario and Québec's famed cities as well as sights from a price point of just £1246.
About Canadian Affair
Because Canadian Affair represents one of the best countries in the world to visit, they have made sure that they offer their customers the best services in the world. Canadian affair are one of the best providers of trans-Atlantic flights on today's market. When Canadian Affair began, it only offered direct flights from the UK to Canada all year round. Twenty years on and they are still offering the same great flight experience, but now that's not the only thing they can provide for you! They offer great deals on holiday excursions like rail tours or cruises on top of flights, car hire, hotels or a mix and match of any and all. So no matter what kind of holiday you want to experience, you can find it here. Travel safe and travel smart, travel with Canadian affair.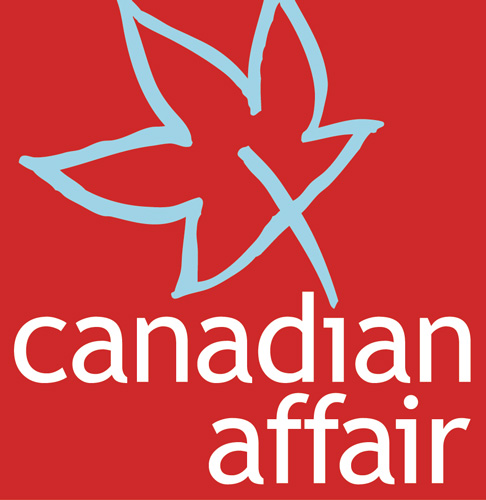 Come and visit one of the most beautiful countries in the world with Canadian Affair. Prefer to indulge in some cultural history whilst exploring the diverse ranges of art, music and food? Then Quebec should be your destination. Do you Love the bustling atmosphere of the big city? Then Toronto is exactly where you want to be. View the city from the CN Tower or check out Dundas square, the Canadian Times Square! If all you want to do is get away from it all and relax then look no further than Nova Scotia where the beautiful coastline can host seaside walks or soothing boat trips and if you are lucky, you might spot a whale or two!
Flights
Non-stop flights
Round the year availability
4 UK airports to 5 Canadian cities
Kids Club for young passengers
Hotels
Great rates across the country
Choose from a number of cities or towns
Toronto to Banff and everything in between
Holidays
Deals on Car hire and Cruises
Great Train fares to help you explore
Cheap motorhome hire for every adventure
Despite everything Canada has to offer, Canadian Affair also has a range of holidays based in the US so you can explore North America in all its glory with flights landing at several major airports across the US. For similar packages and savings, you can also put a glance at Otel.com.
Experience Canada Best Holidays
Interested in experiencing the best that Canada has to offer in terms of holidays? Then consider the great offers available from Canadian Affair. You'll find enough variety and great deals to suit your tastes and needs. Canada is a big country with plenty to see, which means you might have to take more than one trip to enjoy the comprehensive amount of variety on offer. With that thought in mind, read on for some of their top offerings: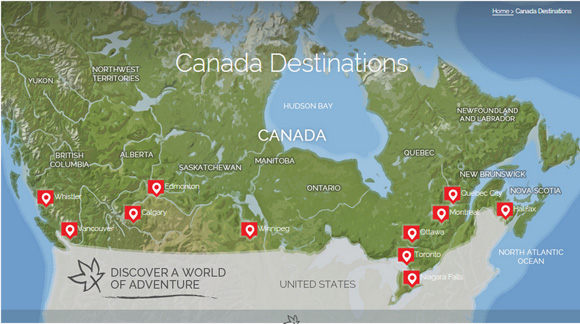 Alaskan Cruise
From only £665 per person you can enjoy one of the most enjoyable cruises that Canada has to offer. You can set sail from Vancouver to Alaska for some breathtaking sights, on a state of the art cruise ship. The cruise will take 5 nights, but it will seem to go by so fast you'll be intrested in coming back for more at some point in the future.
You will be able to see a wide variety of wildlife, and the wonderful views that accompany them. The cruise ship itself is a great place to have fun due to the large amount of entertainment options. You can also enjoy a wide variety of foods to eat. The cabins to sleep are also spacious and comfortable enough for you to spend some time to relax from it all.
Rocky Train Tour
For an unconventional, but memorable holiday you could opt for a train tour. Canadian Affair is offering a 5nights train tour through the mountains from £1,209 per person. You will be immersed in some wonderful sights, as you will weave in and out of the mountains of Canada.

There will be plenty of opportunities to take scenic photographic that you can share with family and friends back home. The train journey itself is quite comfortable too, with great quality cabins and a variety of food on offer.
West Coach Coast Tour
You can take advantage of the West Coach Coast Tour offer from Canada Affair, which is only £579. The tour will include plenty of outdoor sightseeing and the popular landmarks on the west coast of Canada. The coach will make plenty of stops on a daily basis, so you will not find yourself getting bored too easily.
You will even get so see the rich wildlife that inhabits the area. With such a coach trip you'll also have an opportunity to make some friends along the way.
Top 3 Deals for Extra Savings
Save up to 15% in some of Canada's most popular hotels
Save up to £75 per person on cruises
Flight for just £368 per person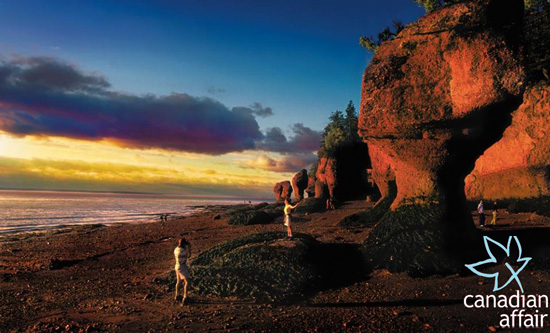 How to Save Using Vouchers
To book your Canadian Affair flight, just follow these simple steps:
At the top of any page on our website select the "Search Flight only", "Find Holidays" or "Search Hotels".
Select your "flying to" and "flying from" details from the drop down menus.
Input you "return from" and "return to" details from the drop down menus.
Choose when you would like to go and when you'd like to return.
Specify how many people are going with you and then select "find flights".
Select the outbound and return fares and click "continue".
Input all your personal details and click "continue".
Input your card details and/or enter the voucher codes to pay or subsidise your charge.
Finish by clicking "confirm booking".
Check out the YouTube channel for a range of videos that detail the vast array of things to do, see and experience in Canada. Check out this exclusive video that features Canadian Affair's new website.
Gift Vouchers
If you want to give a gift that you know will go down well, give the gift of Canada. The retailer has vouchers in both GPD (£) and CAD ($) up to the value of $50 or £25 respectively. If you want to book some vouchers to give as a gift, then call 0207 616 9184 / 0141 223 7517 and your voucher(s) will be dispatched within 7 days. If you received vouchers as a gift and want to redeem them, all you have to do is give the Sales Consultants a call on 0207 616 9184 / 0141 223 7517 to partially, or fully pay for a trip.
Customer Support
Every flight & holiday it sells (including package holidays) in the United Kingdom are ATOL Protected by the Civil Aviation Authority ("CAA"). When you buy an ATOL protected flight or a flight inclusive holiday you will receive a Confirmation Invoice from us confirming your arrangements and your protection under our Air Travel Organiser's Licence number 3971. We are not obliged by law to refund any or all of your funds if you have to cancel your trip for any reason.
Social Media Links
Contact Canadian Affair
Hillgate House
13 Hillgate Street
London
W8 7SP

Customer Service: 020 7616 9184
Contact form available on website.