Build-A-Bear Discount Codes September 2018
Use our Build-A-Bear vouchers for a wide range of products and purchase them at incredibly low prices. These Build-A-Bear discount codes expire soon, so act today and save big.



---
Buy Fuchsia Hello Kitty slippers with savings of 60% at Build-A-Bear. Don't miss out this great offer.



---
Shop exclusive toys and enjoy low cost UK UPS delivery. Grab these Build-A-Bear vouchers for huge savings.



---
Get amazing Disney Frozen collection and save £10 at Build-A-Bear. Go for this offer before it runs out.



---
Grab savings of £6.50 on Strawberry Monkey soft toy at Build-A-Bear. Shop now!



---
Purchase and save £2.5 on Zipper Bracelets. Enjoy this offer at Build-A-Bear.



---
If you are a staunch follower of Transformers you need to have these cool slippers available for £5. These cosy slippers feature Optimus Prime and make a cool gift.



---
Present your loved one with the gift cards available in the various price range from £25 to £100 and send some happy hugs someone's way.



---
You can now get your kid fun toys and gifts without breaking the bank. Check out the clearance sale at Build-A-Bear today!



---
Shop for two stuff toys for just £28 from Build-A-Bear and save big.



---
Dave can make a fun addition to your kid's toy collection with its happy personality and wide-eyed wonder, Buy it for £19.50 only.
About Build-A-Bear
Build-A-Bear has put forth a very innovative concept of preparing customisable teddy bears. Build-A-Bear was created by Maxine Clark whose insight to spot the emerging trends in retail and the desires of the American customers helped her in designing something that not only gave her a chance to make the world's favourite stuff toy but also give a chance to others to do the same.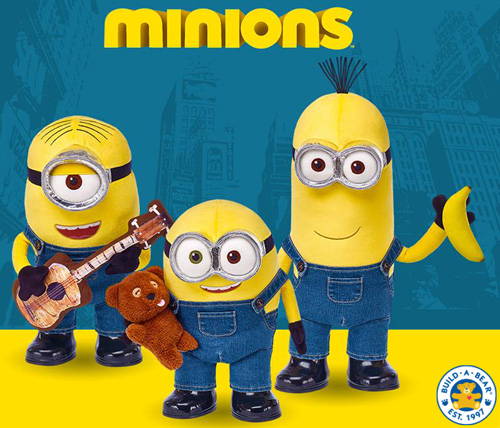 This was quite a bold decision as an innovation calls for a mix of creativity and hard work. Her passion did pay off and the business expanded to over 400 stores all over the world spanning U.S., Puerto Rico, Canada, the United Kingdom and Ireland, and franchise stores in Europe, Asia, Australia, Africa, Mexico and the Middle East., with over 70 million teddy bears.
How Do You Build-A-Bear?
Build-A-Bear workshop is a magical place which teaches you everything from scratch. In fact, this is something which is not restricted to a particular age group but anyone can be a part of this wonderful journey which can teach you instilling life in some materials which you would have not otherwise cared about. Their interactive bear-making stations help you create your own personalised stuffed animal with a choice of almost 30 furry friends with a plethora of outfits and accessories to pick from.
Top Categories
If you are feeling nostalgic and wish to get back to your childhood, the Build-A-Bear crew will ensure that it does take you back to your childhood with its amazing workshops. You will find all the amazing elements which were a part of your childhood reminiscent of friendship, comfort, love and all the tender feelings which kept you secure when you were a kid.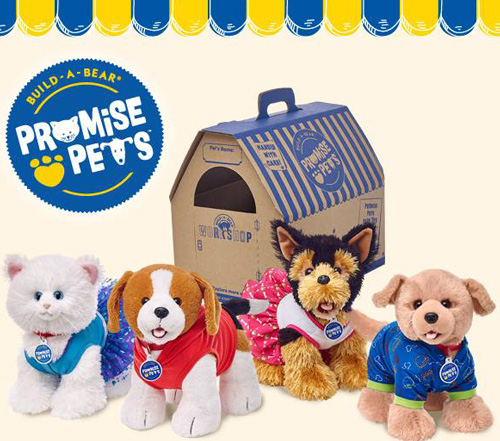 Here are a few amazing categories which you can shop for on the website:
Stuffed Animals: Bears, bunnies, cats, dogs, wild furry friends
Top brands: Build-a-bear buddies, Children in Need, Disney, Disney's frozen, My Little Pony, Minions, Princess, Promise Pets, Superheroes, Disney princess palace pets
Clothing: Outfits, dresses, bottoms, tops, costumes, sportswear and a lot of other accessories including pyjamas, sets, shorts, skirts, tops and a lot more for boys and girls
Top brands: Build-a-bear buddies, Children in Need, Christmas, Disney, Disney's frozen, Hello Kitty, My Little Pony, Minions, Princess, Promise Pets, Superheroes, Disney princess palace pets, Teenage Mutant Ninja Turtles, Star wars and many others
Accessories: Bags, eyewear, footwear, headwear and miscellaneous accessories
Top brands: Christmas, Disney's frozen, Hello Kitty, Minions, Princess, Promise Pets, Superheroes, Disney princess palace pets, Teenage Mutant Ninja Turtles, Star wars and many others
Gifts: You can opt for gift cards or choose gifts as per the occasion or theme
Top brands: My Little Pony, Teenage Mutant Ninja Turtles, Superheroes, Build-a-bear buddies, Disney, Disney's frozen, Minions,Promise Pets
Top Money Savings Deals
Saving money is something which would cheer anyone. It's not only the customised teddy bears that will make you happy but an extra helping of savings will certainly make your day. All you have to do is visit the website and you will find some amazing offers to cash on. Here are some great offers which you may find on the website:
Robe, pyjamas and slippers for £10 by Disney's Frozen
Minions Banana for £2.50
Buy the entire Avengers collection for only £45
MY LITTLE PONY Best Friends Skirt Outfit for £6
Bear Buddy Bob @ £39
Happy Hugs Teddy - £13.50
While shopping, you can make the most of the deal by checking out the items under the On Sale category. Generally, you will see this under the category you have opened. So, you can make the most of your shopping by checking those items that have been placed under this category and increase your savings.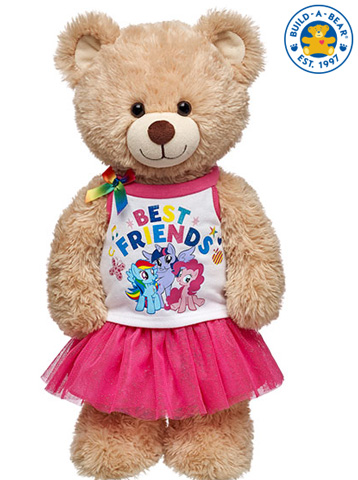 How To Save Using Vouchers
Here's a tiny set of instructions that tell you how you can make savings even if there is a dearth of offers on the website. Vouchers can always come to your rescue and give you even more reasons to shop! This is what you are supposed to do:
Shop for your favourite items. You can refine them on the basis of category, colour and price rage.
Once your shopping bag is filled with everything that you like, you can proceed for the payment.
Log in using your email id.
Navigate to the shopping box to check the details. Search for the code box where you need to enter your discount code.
Simply paste your discount code in the box and enjoy your scoop of savings!
The bear building workshops cover the exciting part here. Ever since childhood, we have just stocked our home with toys and played with them. Building your own teddy bear is something which most of us have never done! This can get fascinating and enjoyable for everyone irrespective of the age. Here's how you do it:
Choose your toy from the plethora of choices given to you.
Animating the toy can breathe life into you. Probably, you can choose from a wide variety of music and soundsor to make things interesting, you can create a recorded message.
Stuff and stitch your bear. Pamper it even more fluffing and combing its hair!
Give it a sweet name and a nice set of clothes and you're done.
Delivery Policy
Build-A-Bear follows different types of delivery polices. Royal Mail delivers within 3 to 5 days and it also delivers on Saturday. If you choose UPS standard shipping it takes 2 working days to deliver the product. For Next Day UK UPS orders must be placed before 12.30pm from Monday to Friday. International delivery are made using UPS. Free Cub Condo is available at Build-A-Bear to send the product purchased as a gift.
Return or exchange of products must be done within 90 days of purchase. For this you need to keep the copy of the receipt for the product purchased. Make your loved ones feel special by using exclusive gift and fashion disocunt voucher available at our site from top rated retailers like Toys R Us and Campus Gifts.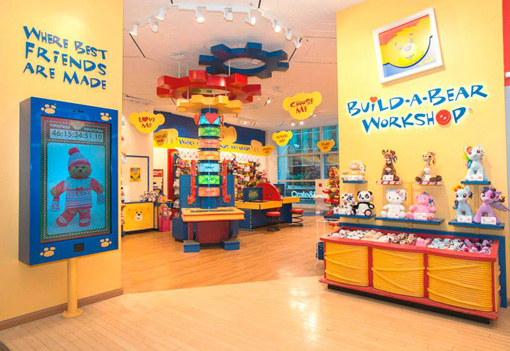 Social Media Links
Contact Information
Build-A-Bear Workshop® UK
St Stephens House
Arthur Road
Windsor
Berkshire SL4 1RU
Call: 0800 542 0635
Email: UKGuestservices@buildabear.co.uk