VoucherBin > Stores >

Bench

:

9

Active Vouchers



---
Sign up for Bench newsletter to receive 10% price cut on your first order!



---
Go for online shopping at Bench and shop for Short-Sleeve Sweater and pay 60% less on your order!



---
Purchase stylish, trendy sweats and hoodies for women available at Bench from just £20!



---
Purchase the slim fit Plain Hoodie with Shiny Bench from Bench offered at £21 only. Shop now!



---
Available in a Soft cotton quality with Lycra this Soft Hoodie from Bench is perfect for the cold weather. Grab it at half the price!



---
Order men's fashion products include jackets, shirts, accessories and more available under £110 at Bench.



---
Elastic cotton sweat with a soft feels this Casual Sweatshirt from Bench is perfect for a summer day out. Grab it with 40% savings!



---
Purchase the skinny fit Colourful Intensive Leggings from Bench offered for £27 only!



---
Silky smooth and transparent fabric this Transparent Jacket from Bench is perfect for a bike ride. Purchase it now with starting price from £18 only!
About Bench
Established in 1989, the Bench brand has transformed itself from a small menswear brand to a global fashion brand and is the first choice of everyone for edgy style and youthful flair. Bench offers a plethora of choices for men, women and kids with its handsome range of products including apparel, accessories, bags and a lot more.

So much for everyone!
Bench has amazing offerings for men, women and kids. Something which is common to all the categories here are the Bench hoodies which the brand exclusively promotes. In fact, it banks on the hoodies since its very inception. So when it comes to the urbane fashion and trends, the iconic pieces of the Bench heritage do not fail to leave their mark.
Get the London Look
Want to get the authentic London look? Browse the London's Blogger looks section and start shopping. The experienced style specialists at Bench handpick these products for you, so that you can set your own style trend. In addition to this, you can also browse the Lookbook to see what's in vogue. Depending on the season you can check out the Spring Summer collection, the Autumn Winter look and a lot more for women, men and kids.
What's in vogue?
Bench allows you to set your own style statement with whatever it has in its offering. The bench pieces are so designed that you need not follow a specific trend but rather create one of your own. If you are confused and need expert guidance, you can always refer the lookbook or blog.

Irresistible Offers
Bench offers a good deal of discounts and lucrative offers on its products. The voucher codes can be availed by signing up for Bench. In addition, lots of vouchers offer you discount up to 60% on your purchase subject to terms and conditions and availability. Even if the discount vouchers expire, you can wait for fresh deals which might be even better. Also, you can avail free delivery on orders over €75. If you want to make additional savings, you can always check the ongoing sale through which you can avail end of season discounts on the products.
Make sure you look the best in town without burning a hole in your pocket with our affordable fashion discount vouchers from brands like STORM and Dorothy Perkins.
How to Redeem Voucher Codes
Availing promo codes to redeem handsome discounts at Bench is quite easy. Here's how you do it:
Browse the website and different categories to check the collection. Once you have done loading your cart, you can proceed for checkout.
You can check the contents of your virtual shopping bag by clicking over it anytime at the upper right corner.
When you are on the checkout page, you have the option to update the contents in case you are not satisfied.
You can see a box under the text Enter your Discount code. Paste your code in the space provided and click on Apply discount. Now you can continue to checkout.
If you are already registered, then you can continue to login. In the other case, you will have to enter your billing address, delivery method and payment details.
Finally you can review your order and then hit the Place order now button. You are done!
Heard anything about the #Lovemyhood campaign? Bench has recently launched this initiative to celebrate the blend and interchange of different style cultures worldwide. Participate and you can win a chance for travelling to Spain, 2 x VIP festival tickets, £500 spending money and loads of huddies or rather a year's supply of huddies.
Delivery Policy
To know, whether Bench delivers at your location, you can visit the website and check the countries that have been listed. The standard delivery charges are €8.99 in case you do not spend a minimum cap of €75. Depending upon your location, the delivery time will vary. If your country does not feature in the delivery list of Bench, you need not be disappointed. You can fill the contact form and the support would try to get you in touch with a local stockist who can help you.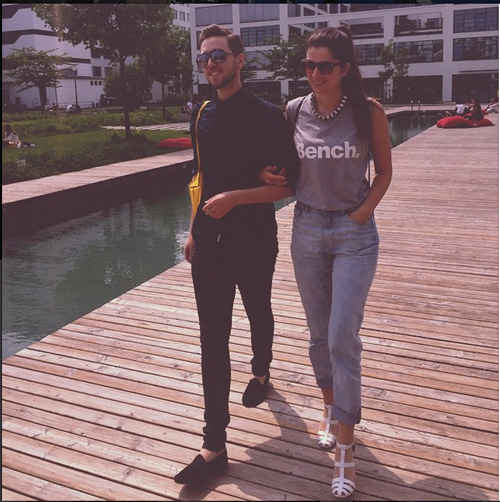 It might be possible that you are not happy with the purchase. Bench offers you the facility to return the product within 14 days of purchase and you can either opt for an exchange or return the product altogether. The money will be refunded to your account once the item has been inspected and the item/s is/are in unused condition. In case you have opted for an exchange but the item is unavailable, then the amount will be automatically refunded to you. Bench makes sure that the entire process is hassle free and everything is done conveniently.
Reach Through Social Media
Love following Bench? They would love to hear from you. You can subscribe to the below links for all the latest offerings from Bench:
Contact Info
Bench
London Unit
1061, Westfield London Shopping Centre Ariel Way
White City London
W12 7GB

Customer care: 0180 5 444907-445
E-Mail: customercare@bench-clothing.com