About Baker Ross
Baker Ross is the online platform of a family owned and run business whose innovative ideas made it one of the leading suppliers of arts & crafts to schools, playgroups and organizations in the UK. Currently, the offer is of over 4,000 items through website and catalogues.
Baker Ross knows shoppers might feel dizzy in front such extensive listing of items and helps shoppers with 'Best Sellers' sections under each main category of goods.  Additionally, shoppers can purchase products specially designed for different occasions like Christmas or Valentine's Day.

International Reach
Baker Ross is happy to deliver to all European countries as well as to some of other international locations such as East Asia or Middle east all of them listed in a table at the stated weight-related cost.  Shoppers just have to sure they enter the country details correctly when placing anorder and the website will work out the delivery charge for them.
Customer support
Baker Ross employs over 80 dedicated and hardworking staff located in London. The customer services are covered via email, telephone and through the dedicated section on the website providing a list of FAQs as well as information about, delivery, returns and refunds, guarantees and how to place an order.
Sister companies
Baker Ross has expanded its operations during the past few years by establishing Yellow Moon UK Limited, a fundraising scheme. The aim is to offer organizations the chance to raise funds all year round.
Baker Ross is Into
Baker Ross has been importing and distributing arts and crafts, educational and fundraising products to schools, playgroups, charities etc. in the UK and abroad by mail order since it started and now supplies thousands of different organisations every year. The website offers a wide range of baby & child items for:
Christmas
All Occasions
Arts & Crafts
Pocket Money Toys
Fundraising Products
Themed Crafts
Educational Supplies
Super Value Packs
Featured Brands
All those interested in shopping with Baker Ross will discover a wide range of popular branded items the site lists. Apart from Baker Ross own label the site showcases brands like:  Berol, Blu Tack, Carioca,  Crayola , Hobbyline - BR Exclusive, Brian Cleggand so on.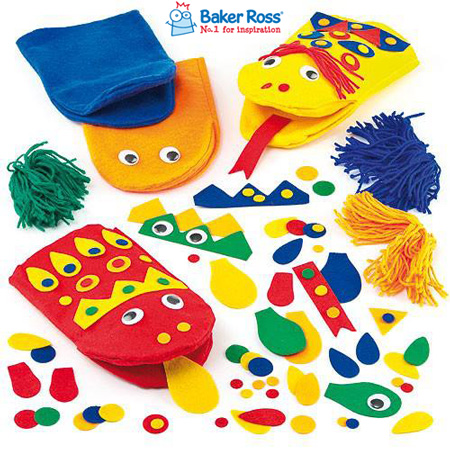 Shopping Guide
For quick and easy shopping on the website shoppers can use the following features when browsing.
Search Box - Simply enter a keyword or product code in the SEARCH BOX and click Go. A Search Results product listing page will appear displaying relevant items.
Shop By Menu - This side bar tool enables shoppers to search desired items by category, by price, by product type, by material, by theme, by occasion and by brand.
A very unique feature on the site is the QUICK VIEW button which appears on the product listing page below a product. When used a pop-up appears showing details of the product that shoppers can both view and purchase without having to leave the page.
Delivery Policy
Baker Ross offers various types of deliveries.  If shoppers are based in UK they can use Standard, 2 Day Priority, NextDay delivery or Click and Collect options.  For international orders the shipping period is typically 15 working days or less. Shoppers have a 28 day returns policy. However personalized items are not eligible for a refund.
Top 3 Deals
As shoppers are always up for a good bargain, the site offers quite a bundle of them so they should check the deals listed on the main page with colourful images. The best right now are:
10% off on top brands.
Save up to £9 on Super Value packs.
Super savers- up to 50% off.
Check out Christmas Sales
Christmas is knocking on every person's door and the stockings need to get filled up. Shoppers can get ready for the festive season with up to 50% off selected Christmas products- stationery, sewing Kits and many more, a whole range of goodies for even less than before.
If shoppers are looking for some visual inspiration for their Christmas gifts they can take a look at the new Baker Ross Christmas advert, full of festive fun and crafting delights on YouTube or on TV. The video manages to present the latest top offers in a fun way.
How to Save Using Vouchers
Looking for a great deal or voucher code? Baker Ross provides a whole lot of them. Note that only one voucher code can be used per transaction. Offers cannot be used in conjunction with any other offer or redeemed against previously placed orders. Shoppers just have to quote their offer code at basket page to claim the discount.
More precisely, in order to redeem the discount or voucher code, shoppers need to press the 'view basket' button and then simply enter the relevant code in the 'Got a promotional code?' box on the basket page.  Discounts will be applied only if the code is valid and meets the minimum value required.
Get Social with Baker Ross
Besides the YouTube channel, the website is also very well connected socially. A blog, a community, corner, an adult craft ideas page, a fundraising station and a fact forum , all help shoppers get inspired and involved.  Additionally, they can also check the website accounts on social media platforms where competitions, new arrivals and hottest deals are constantly on display.
Membership Benefits
Individuals and organizations can become registered members with Baker Ross. If they set up an account they will have new shopping options such as faster checkout, online order tracking, manage address book, check order history.
One of the best features of the site is the 'Credit Account'. Schools, groups, charities and companies can setup an Invoice Credit Account. Here are just some of the benefits:
Buy now & pay later, up to 30 days credit.
Exclusive account only special offers.
Dedicated account only customer hotline.
You can order by phone, fax and email.
Contact Info
Baker Ross Ltd,
2-3 Forest Works,
Forest Road,
Walthamstow,
London, E17 6JF.
Contact: 0344 576 8933 or 0844 576 8922
Email: enquiry@bakerross.co.uk